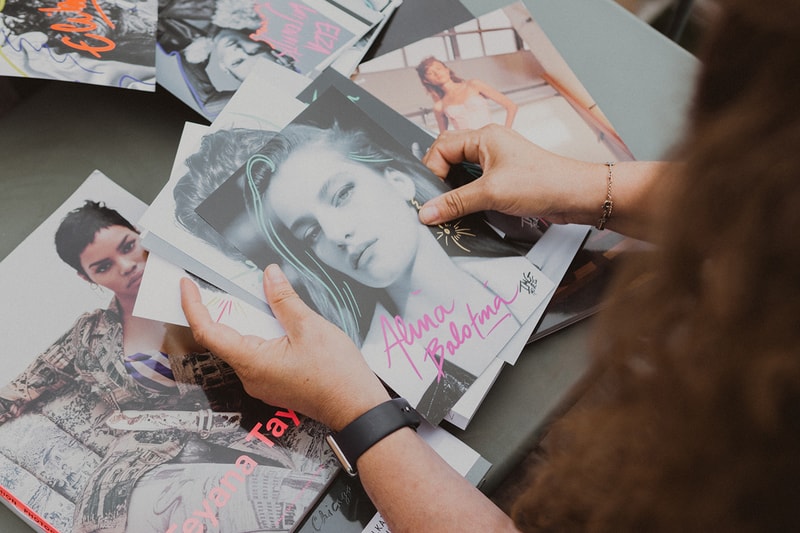 Fashion
How To Get Scouted by IMG Models
An industry leader shares tips for getting recruited by the top modeling agency, even during quarantine.
How To Get Scouted by IMG Models
An industry leader shares tips for getting recruited by the top modeling agency, even during quarantine.
From Kate Moss, to Alek Wek, to Gisele Bündchen, some of the industry's most in-demand supermodels were scouted on the street. An oft-told fashion tale, these chance encounters have launched the careers of numerous catwalkers. However, in the midst of a pandemic that has halted travel and limited face-to-face interactions for months now, scouting is taking a different form at IMG Models.
A digital initiative first launched in 2014, IMG's We Love Your Genes is a social media-based program that makes it easier for aspiring models to be noticed or get scouted by the agency's worldwide development scouts. By using the hashtag #WLYG, which has been tagged over a million times on Instagram to date, anyone can get a chance to be recruited by the top modeling and talent agency, home to the Hadid sisters, Halima Aden, Hyunji Shin and more familiar faces on the runway and magazine covers. New-gen models, such as Lameka Fox and Inka Williams, are among the IMG talent discovered through WLYG.
Though it was introduced pre-quarantine, the WLYG strategy has proved particularly fruitful for the agency in recent months, according to IMG's Senior Vice President Jeni Rose. "We normally have nine scouts that are traveling the world. If this pandemic had happened 15 years ago, things would be very different" Rose told HYPEBAE. "We've been busier than ever in our scouting. People from across the globe are creating content by the minute and we've been spending hour upon hour going through it all, finding new faces and interesting personalities."
In our conversation below, Rose spoke more in-depth about WLYG and its expansion into TikTok, as well as tips for getting scouted by IMG Models — even in the age of social distancing.
How did IMG's We Love Your Genes initiative come about?
Between 2013 and 2014, I spent about four months in Australia to open up an office there with the team. At that time, everything was about Instagram in Australia — much more so than it was in New York, LA or Europe. The Australians were really immersed in the platform. So I decided to make my own Instagram to promote some of the newer models. What I quickly realized was that there were a lot of young girls [on the platform]. With Instagram, you could see pictures of people and if they were right, you could contact them. And if they were not, you could just move on.
After reaching out to several accounts, eventually I thought it would be so much easier if we could figure out a way to contact people in a more legitimate manner. Our colleagues at the digital department made some great suggestions, including making an Instagram account separate from IMG Models' official account and creating a clean hashtag. We finally came up with the name We Love Your Genes with the hashtag #WLYG. We launched the account and immediately we got a lot of press organically. It has been super successful for us to scout new faces, and easy for the young demographic to put themselves out there with minimal commitment.
What are some qualities that you look for in an aspiring model?
There are so many models in the business now, more than there ever was before. It's more and more difficult to be able to have a look that's original and to stand out as a model. For us, it's really important that a model has a story and that she has something to say — she's curious, interesting, well-read and also interested in the job she's doing. A model that constantly evolves is what keeps clients coming back.
In addition to Instagram, IMG has also begun scouting on TikTok earlier this year. What would you say are the main differences between looking for new faces on Instagram and on TikTok? 
TikTok-scouting now is what Instagram-scouting was five years ago, that's probably the biggest difference. Five years ago, when you looked at Instagram, it was really organic and it wasn't a way to promote your business or your brand. It was a bunch of people having fun and posting pictures. Now, it's become something other than what it used to be. Even for younger girls, the way their pictures look, they all already look like celebrities. Everybody has a handle that's "original" and "real," and you realize that it's not what it was — it's no longer [just] a picture-sharing platform.
However, TikTok is really still that. It's a lot of teenagers just having fun and posting stuff. The fact that they are dancing and all of the kids are doing the same dance…it's really fun to see, when it's millions of people around the world doing the same thing. Videos from India, Chile, Kansas — it's really fun to look at.
Tell us a bit about the scouting process on TikTok. How does your team search for talent on the platform?
The community is so vast that there almost doesn't even need to be a system or format to go about it. It's sort of like a black hole — you keep going through and you just see stuff. If you sit down for 10 minutes, you could really find somebody.
How can model hopefuls get scouted by IMG models during quarantine?
A few of the girls have done really cute videos, after looking on our website and seeing we are scouting on TikTok. I have to say, we do look at all the followers that we get on our personal accounts and also on our WLYG account. We look at all the girls who follow us and that's a good way for us to see you — to hashtag as well.
The other thing is if they are really interested, then they should have their TikTok account associated with their Instagram so that we can contact them. Sometimes we get girls we really love and there is no way we can contact them. The way that TikTok works means you can't message somebody unless you both follow each other. We don't tend to follow people from our accounts unless we signed with them, so we really need their Instagram account associated to their TikTok account so we can message them.
There is an urgent call for diversity and inclusion across different parts of the fashion industry. How does the WLYG program help work towards these goals and ensure representation of Black models and other models of color?
We are going through a pivotal moment of change and more diversity and inclusion is something the industry has needed for a long time now. We launched [the Instagram account] in December 2014, as a means to discover new talent and expand access to the fashion industry. WLYG has helped break down barriers and underscores IMG's mission to democratize access to the fashion industry worldwide.
WLYG allows potential models to use social media to hashtag their photos using #WLYG and engage with IMG scouts directly. No longer do they have to spend money on building a portfolio, organizing a photoshoot or traveling far from home to get noticed. This has vastly broadened the talent pool we have access to and has ensured for greater representation of models from every corner of the globe.
While the modeling industry has evolved rapidly over the last few years, are there any changes or improvements that you wish to see in the future?
Our society has a long way to go when it comes to diversity and inclusion. Each of us has a responsibility and must play a role in creating change. At IMG, we've always prided ourselves on giving our clients a platform to use their voice and have encouraged them to speak up, regardless of factors like their race, age, size, gender or sexuality. What I hope to see from the fashion industry and media in future is a true reflection of what our society looks like today.
Photos were taken at the IMG Paris office in September 2019.
---
Share this article