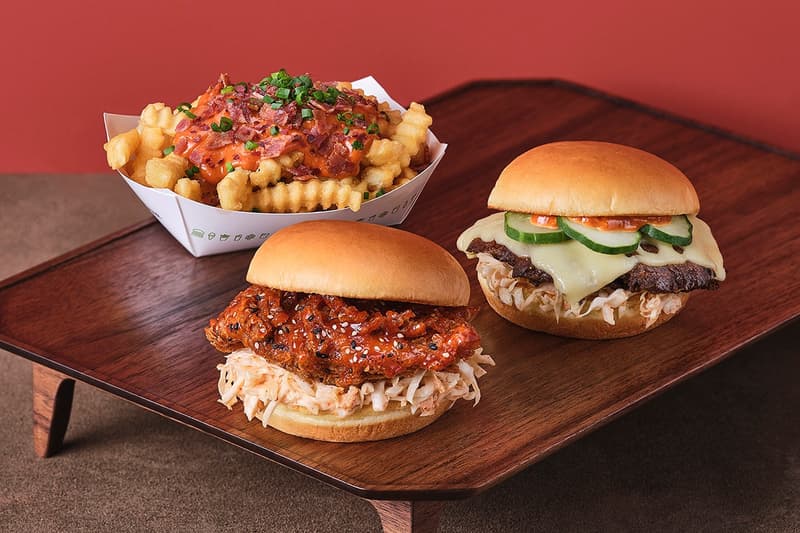 Culture
Shake Shack Adds Korean Flavors to Burgers and Fries With Gochujang Set
Featuring Kimchi-slaw, gochujang mayo sauce and more.
Shake Shack Adds Korean Flavors to Burgers and Fries With Gochujang Set
Featuring Kimchi-slaw, gochujang mayo sauce and more.
If you're in love with Korean food, get ready to head over to Shake Shack soon. The New York-bred chain has now added gochujang flavors to its burgers and fries.
For those unfamiliar, gochujang is a red chili paste made with glutinous rice and meju powder, often used for cooking or on its own as a dipping sauce. Inspired by his latest trip to the country, Shake Shack's culinary director Mark Rosati developed new menus based on some of his favorite finds. Kicking off the range is the Gochujang Chicken Shack, a burger influenced by Korean fried chicken. It features a sous-vide patty with gochujang glaze and sesame seeds, accompanied by Kimchi-slaw and mayonnaise for a sweet-and-spicy flavor. Meanwhile, the Gochujang Shack is a combination of emmental cheese atop an Angus beef patty with pickles, Kimchi-slaw and gochujang mayo dressing. Finishing off the set are Gochujang Fries, which are topped with gochujang mayo, bacon, gochugaru (red chili powder) and chives.
If you're based in Korea, head over to a nearby Shake Shack location to try out the limited menu from September 29 to the end of October.
Share this article