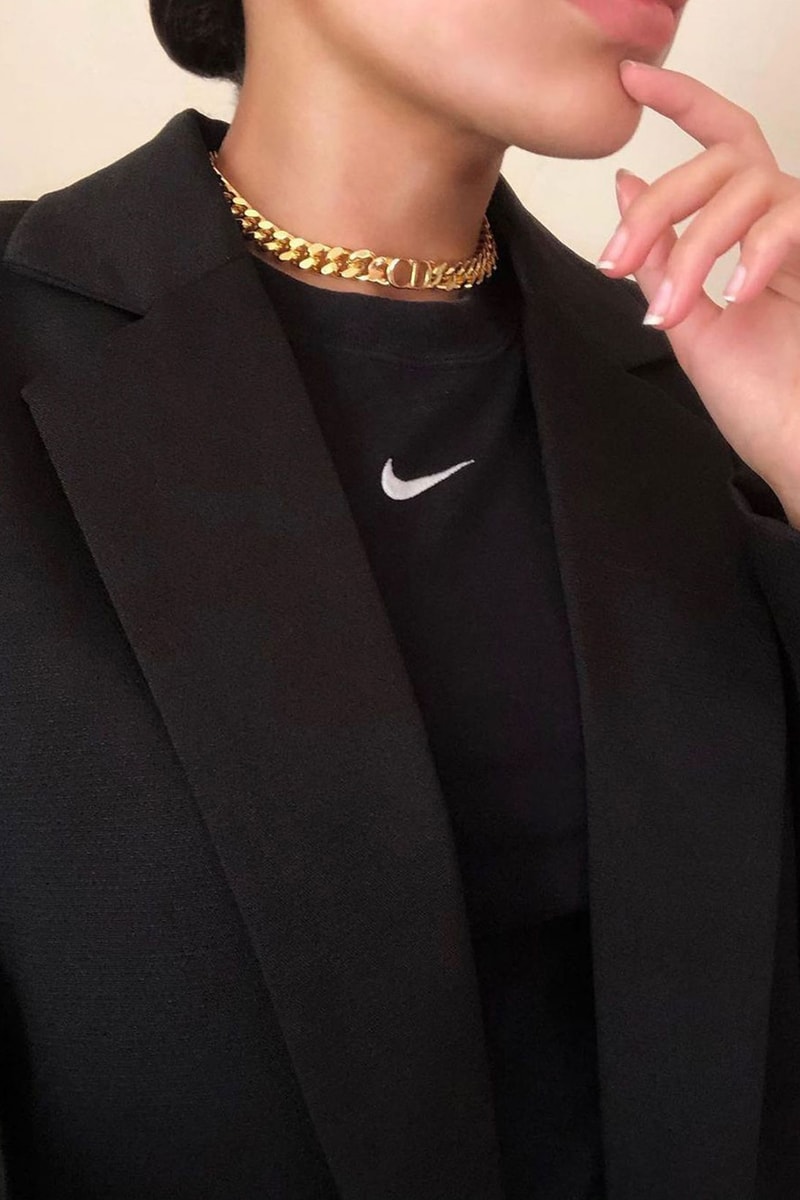 5 Non-Boring Ways To Wear Black
Stay on top of your outfit game with our editor's style guide.
Fashion
5 Non-Boring Ways To Wear Black
Stay on top of your outfit game with our editor's style guide.
Black is one of the most universal and versatile color options when it comes to coordinating outfits. While some believe it is for "boring" people who steer clear of trying out new color combinations, black is perfect for creating a classy and elevated ensemble, or a casual and street-ready look — it all depends on how you mix and match your items. In the latest installment of our editors' style guides, we're exploring all the non-boring ways to wear black, featuring clothing and accessories from brands like BY FAR, Nanushka, Acne Studios, Raey and more.
Continue reading for five stylish all-black outfit ideas. While you're here, check out our favorite ways to wear tracksuits.
All-Black Chic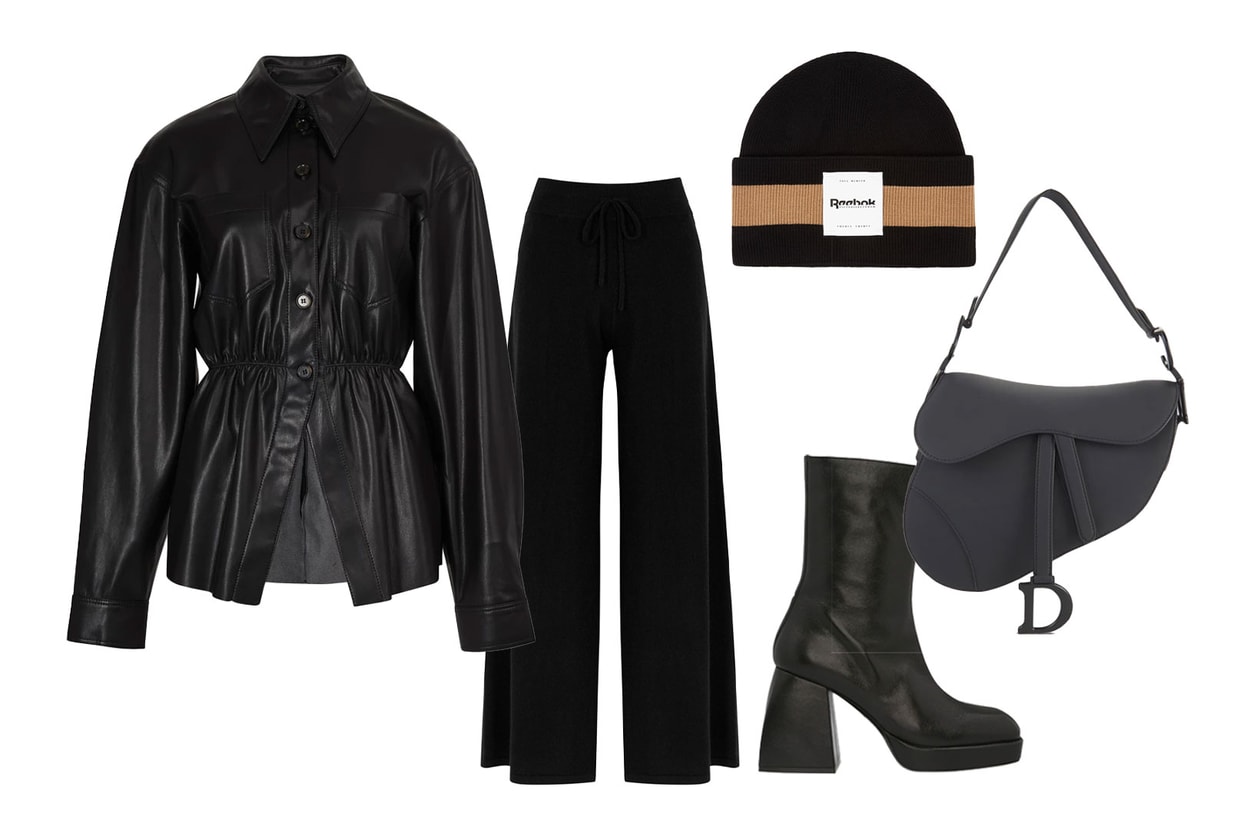 While some may consider it to be uninteresting, an all-black look is one of the most classic and effortless outfits that anyone can pull off. For a tonal 'fit, focus on playing with different fabrics and silhouettes. Here, we've selected Nanushka's vegan leather shirt accentuated with gathered details at the waist. The piece is styled with Lisa Yang's flared trousers and statement ankle boots by Nodaleto. To keep the overall mood casual yet dressy, carry a statement handbag like the Dior Saddle and wear a cozy beanie, like this one from Reebok and Victoria Beckham's collaboration.
Business Casual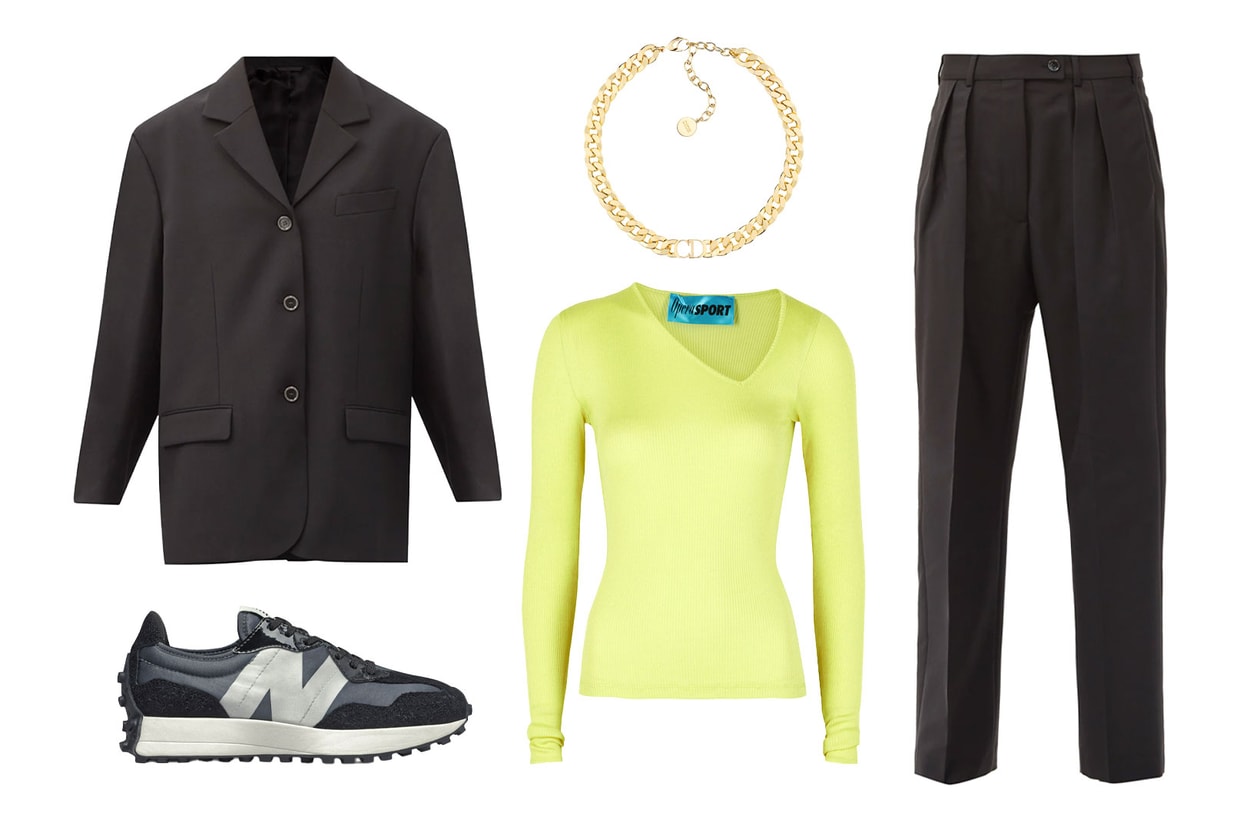 If you're looking to brighten up your outfit, adding an accent color is the way to go. We're styling Acne Studios' black suit set with OpéraSPORT's asymmetrical neon yellow top for that contrasting effect. For an elevated feel, wear a golden chain necklace like Dior's choker, and keep it casual with some comfy sneakers (New Balance's 327 is on our wish list this season).
Crisp Black and White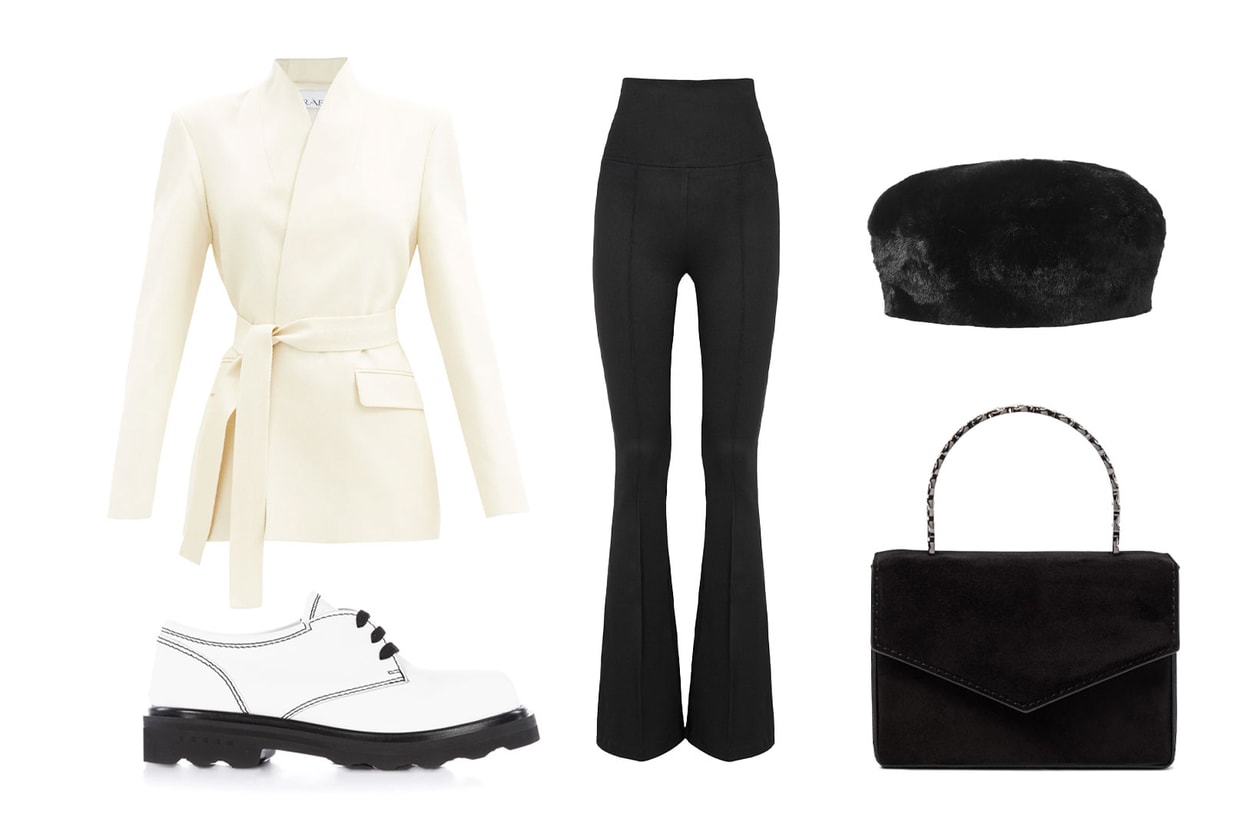 I'd like to call this the Oreo-inspired look. Coordinated with just white and black items, this outfit is ideal for meetings (in a post-pandemic world), or simply when you want to look dressy. We've matched Raey's wrapped wool jacket with flared jersey trousers by Helmut Lang. Marni's derby shoes add an extra touch of cool, while Amina Muaddi's suede tote and Eugenia Kim's faux fur beret complete this sophisticated look.
WFH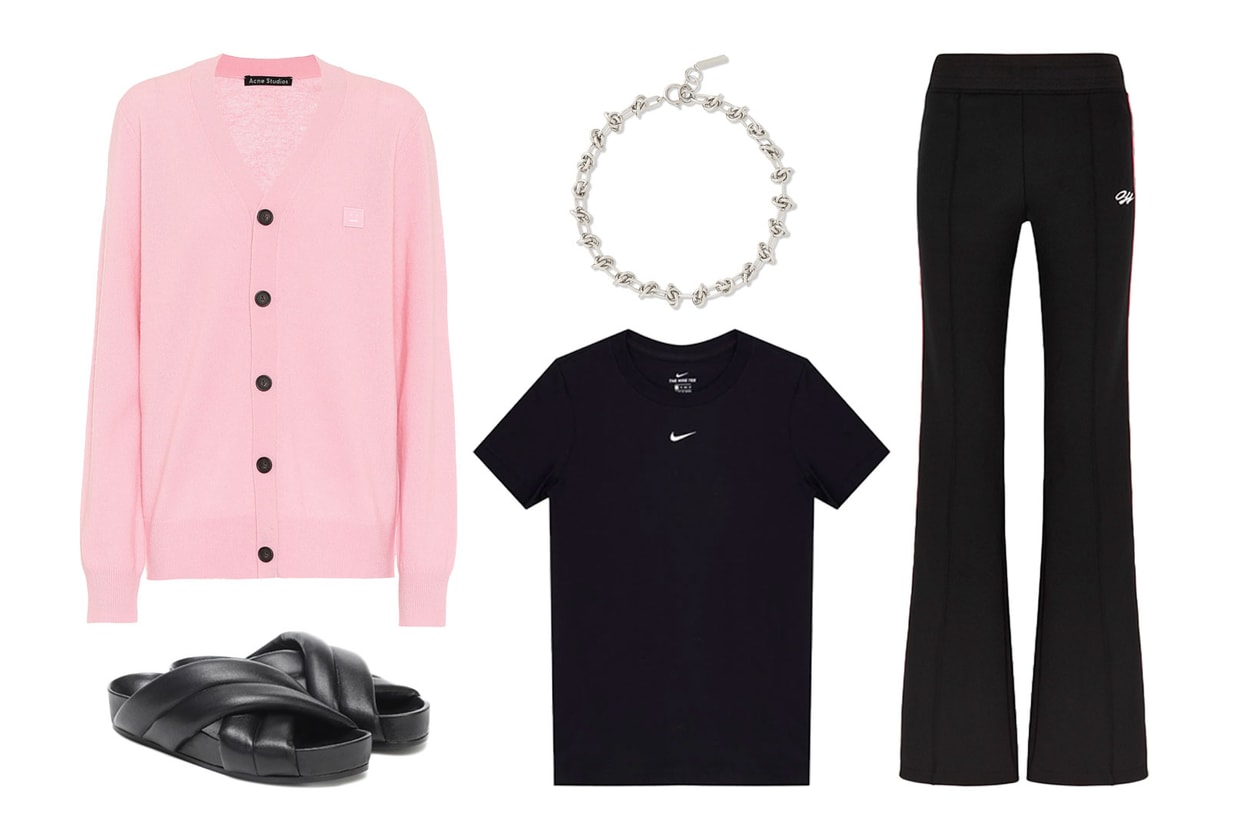 We miss getting dressed up, but comfy sweatpants and hoodies are more realistic for those of us working or studying from home. Throw on a Nike logo tee with Off-White™'s stretchy sweatpants to start off the day, and wear a colored knit cardigan like Acne Studio's Face design to keep warm. We're rounding off this easy outfit with Jil Sander's quilted slides and Justine Clenquet's silver choker for a Zoom-ready 'fit.
Monochrome Black-to-White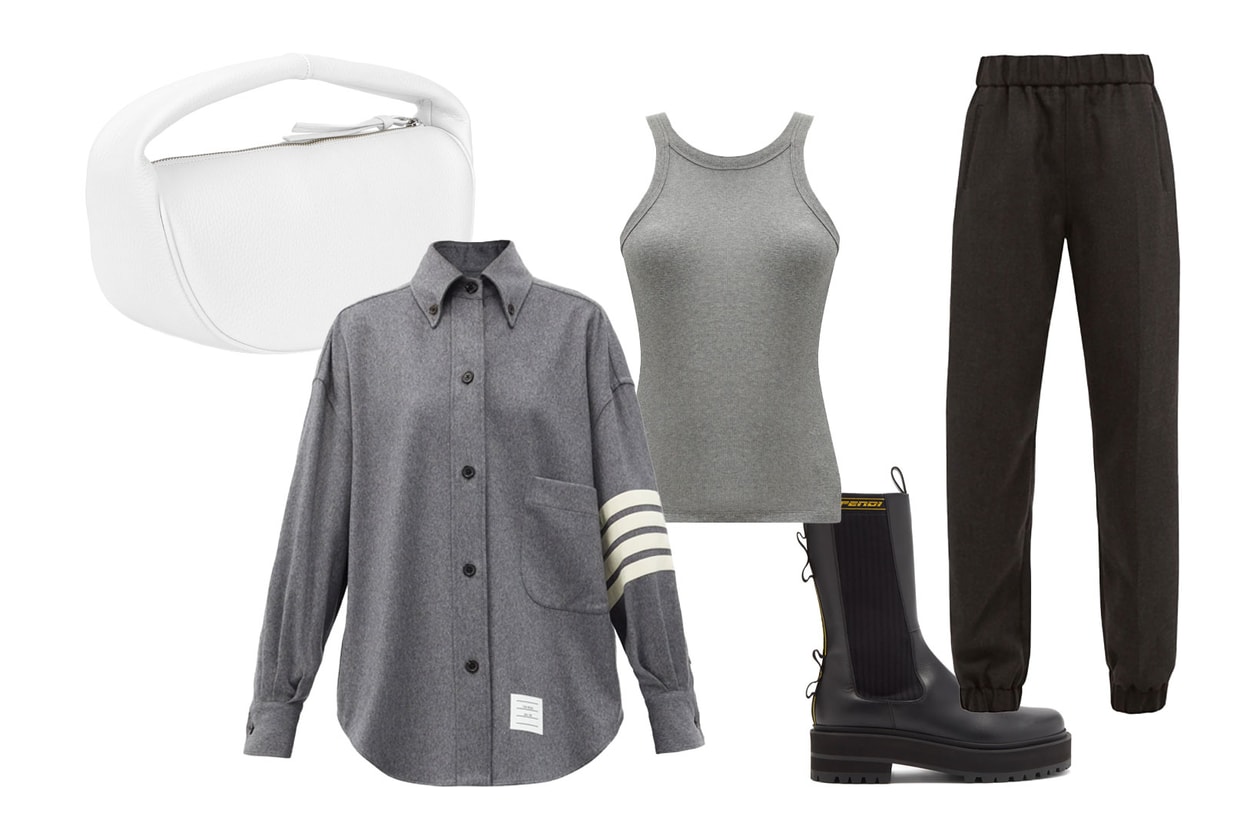 Tone-on-tone is another fun way to experiment with a monochrome palette. With Fendi's black logo boots serving as the base, we're creating an overall gradient look with charcoal sweatpants. On the top, layer wardrobe staples such as Totême's cotton tank top and Thom Browne's gray flannel shirt. A white purse like BY FAR's shoulder bag ties everything together.
---
Share this article