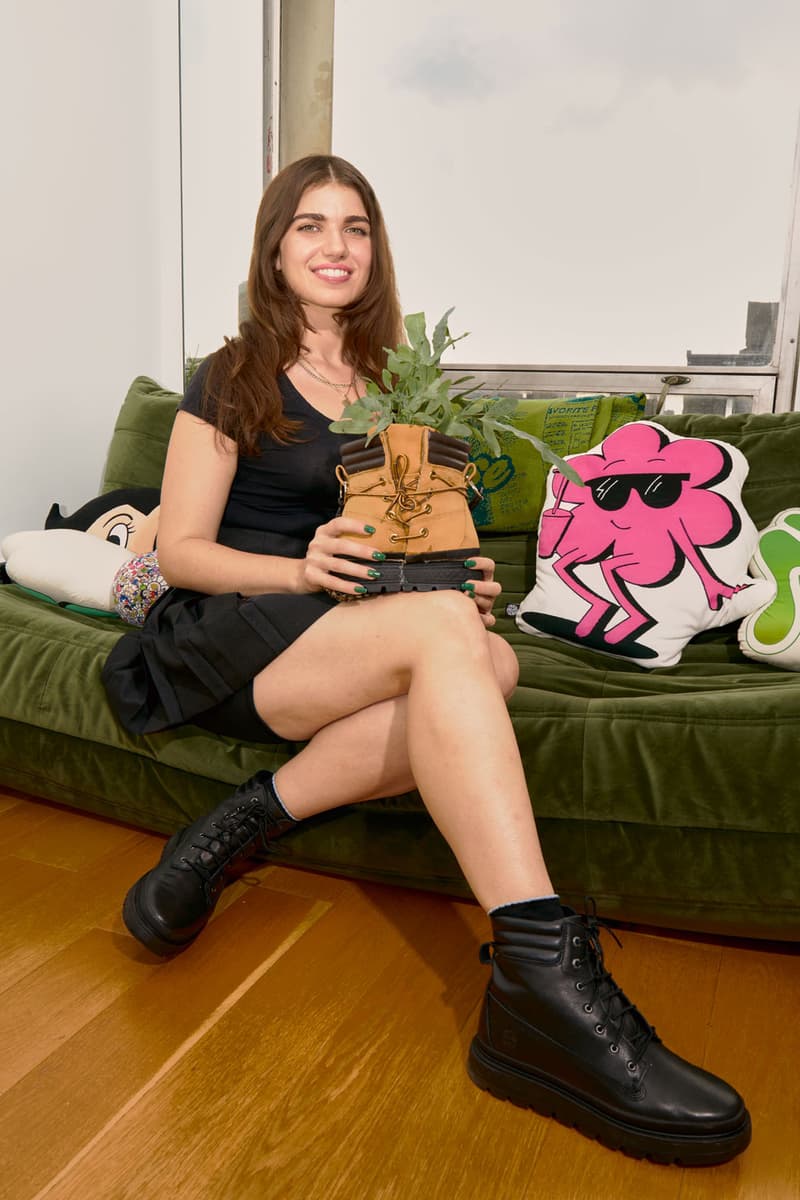 1 of 4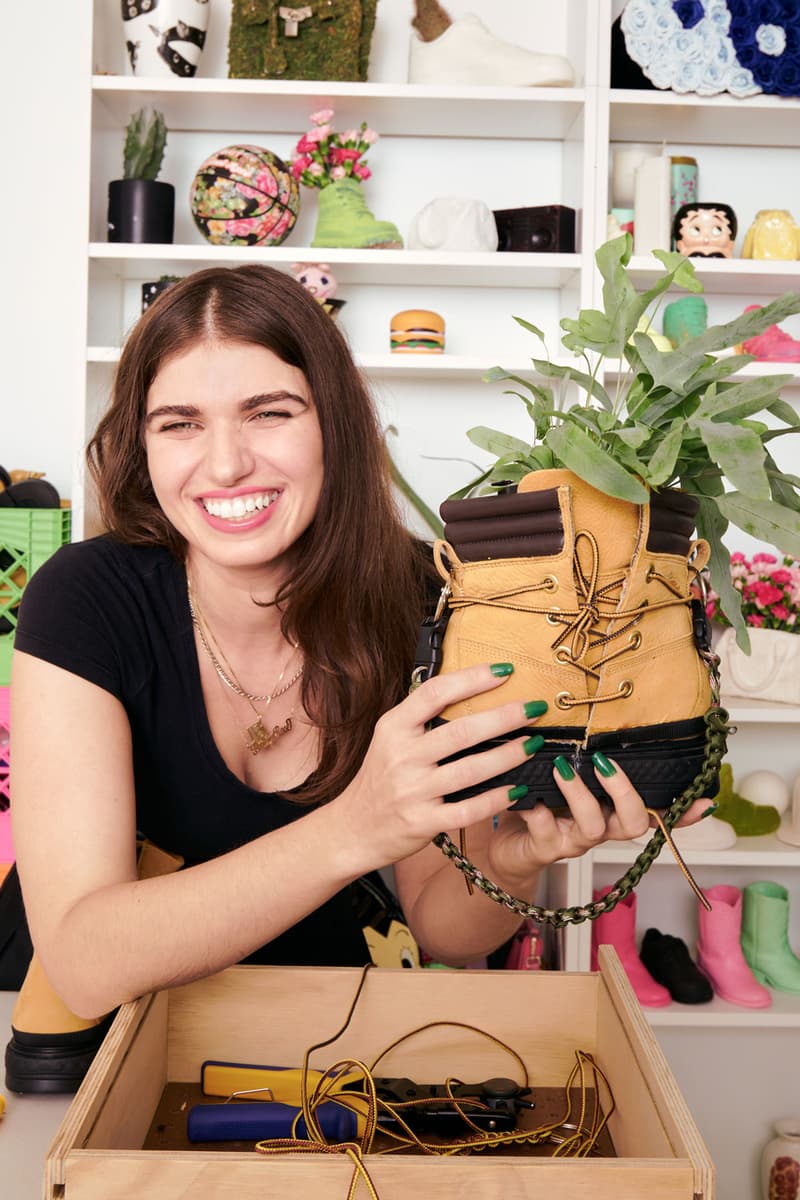 2 of 4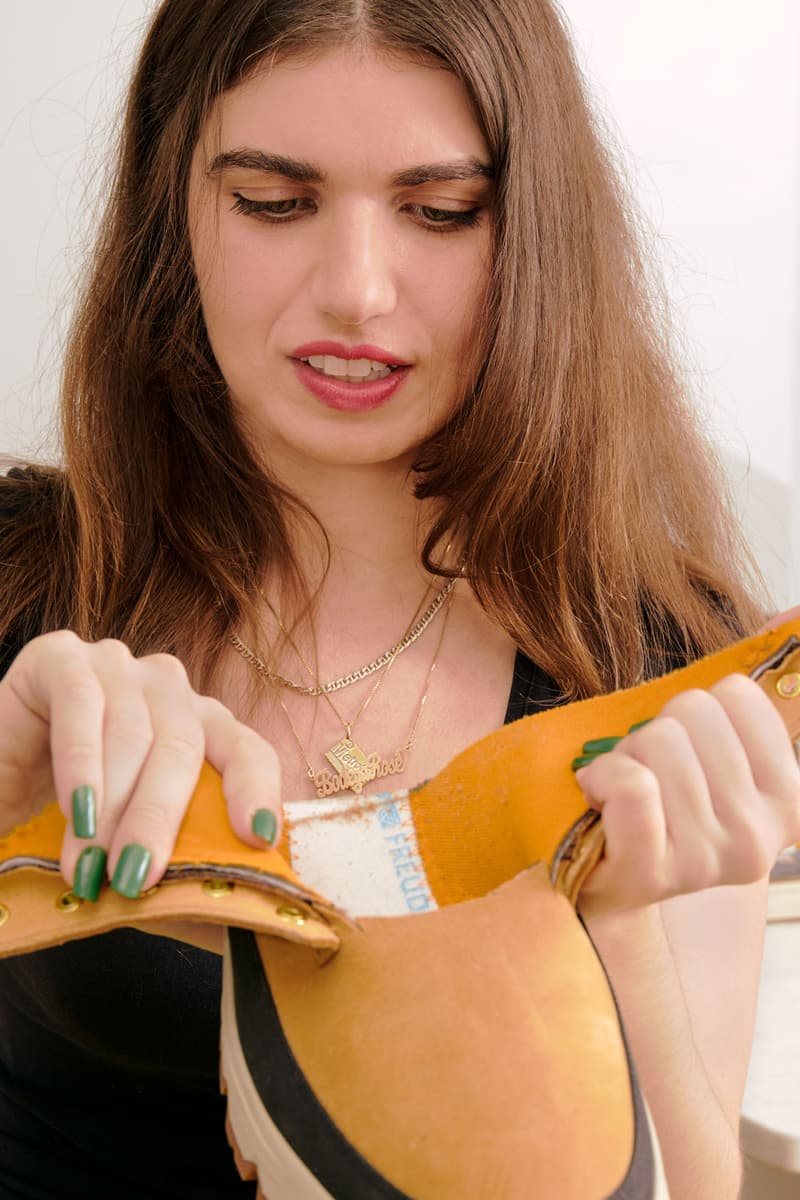 3 of 4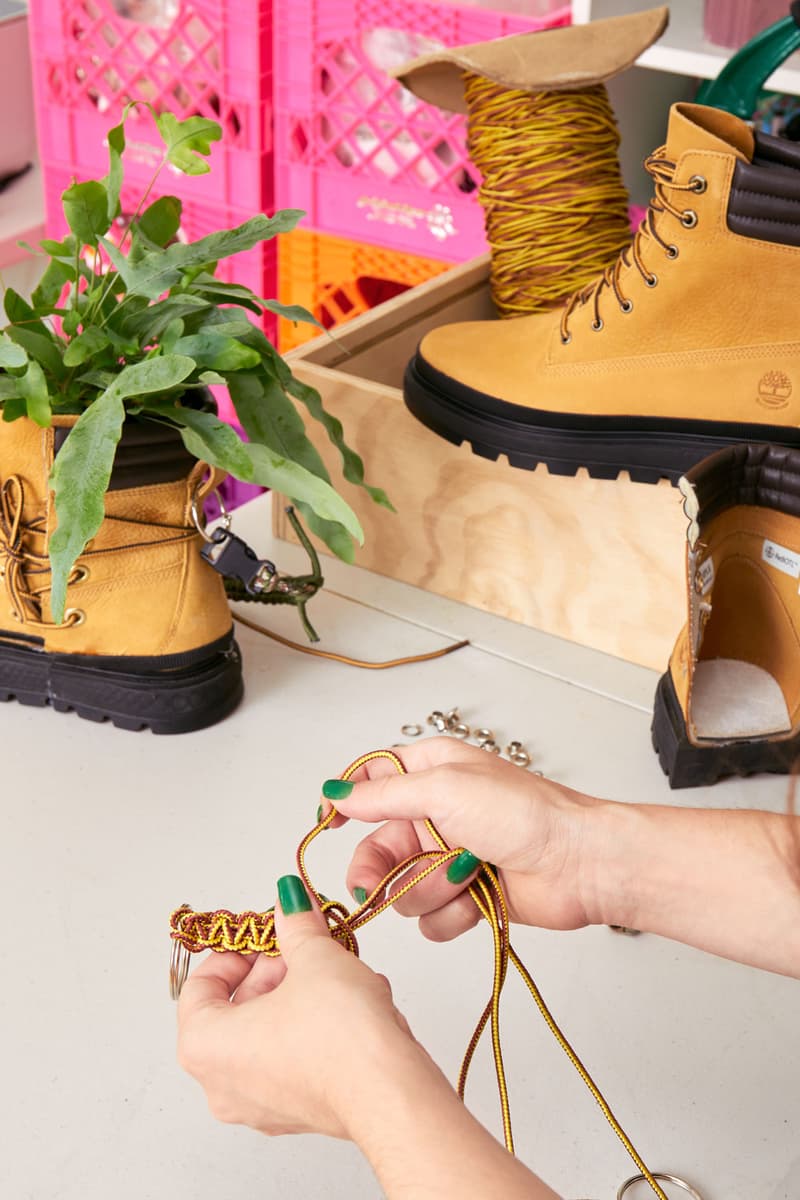 4 of 4
Fashion
Timberland Features Artist Olivia Rose For Its Nature-Inspired Campaign
The young designer reworked the signature Timberland boot silhouette into an eco-conscious planter.
Timberland Features Artist Olivia Rose For Its Nature-Inspired Campaign
The young designer reworked the signature Timberland boot silhouette into an eco-conscious planter.
An inspiring space where creativity can flourish and new innovative ideas are constantly forming is crucial for the creative process. Certain elements of the room from its set up, to the decor and lighting can affect the brain's capability to generate new concepts. To help people revamp their environments and stimulate their minds, Timberland tapped artist and designer Olivia Rose to share how she leveraged her talents to launch her creative studio.
For its Greenstride campaign, introducing new silhouettes that are rugged, lightweight and durable such as the women's Ray City Waterproof Boots, the outdoors-wares brand chose the botanical sculptor to represent the new offering. Captured wearing the boots, Olivia Rose embodies the iconic brand's initiative to lead the next generation of eco-conscious individuals using its nature-inspired collection. Timberland's steps in doing so involves making more sustainable products — like their boots' soles made from 75% renewable sugar cane and natural rubber — and thus a greener world, while aiming to have a net positive impact on the environment by 2030.
With her own eco-conscious creations Olivia Rose contributes to Timberland's plans. The lifestyle brand tapped the Cornell student to create a Timberland potter for the campaign joining one of many sustainable home-decor pieces that Olivia Rose has crafted. The New York native prioritizes using recycled materials, including old sneakers for her plant potters, to fuse the worlds of horticulture, art and fashion into one. 
In her new creative studio Bodega Rose, the young designer uses her space to inspire her to create her one-of-kind designs. For a better understanding of the multi-faceted artist's creative process and her experience in working with Timberland, read the conversation she had with HYPEBAE below.
What inspired you to launch and create your own creative studio and how is your work influenced by natural plant life and landscape architecture? 
After a few years of working in an office, mostly at a computer, I needed to start creating physical and tangible objects again. I was craving a tactile practice and wanted to begin experimenting with different mediums and use my work as a way to learn more about plants and crafts. I am the most happy when I'm in my craft flowing. My work is very inspired by nature and I'm always thinking about the process of natural succession in urban areas, especially abandoned infrastructure. "How does nature reclaim an environment that has been completely constructed by humans and then unmanaged or deserted?" I like the tension between humans vs nature. Our cultural obsession with objects and items, one day nature will reclaim it all. 
What are some of your tips and tricks for those wanting to enhance their at-home space with more greenery and plants?  
Start it off simple! Don't go so crazy and get plants that are super high maintenance. I have a super bright studio space, it's south facing with floor to ceiling windows which is my biggest flex. I place all my cacti and succulents by the window and have tons of various pothos, staghorn ferns and begonias around too. They are all so easy to take care of. I wait for them to get a bit wilted and then bring them in a sink for a nice shower. I don't want high maintenance plants. Also make sure to locate spots for your plants to hang out on. I have about four small stools floating around that serve as plant islands. 
What inspired you to craft planters using repurposed materials from Timberland's footwear? 
I've always wanted to make a planter out of Timberlands. About four years ago I mocked one up on photoshop as a concept I would revisit. When I'm approaching an upcycling or repurposing project, I allow the materials to inform the final product. With the Ray City, the signature element is that thick strong  uniformed heel, that was the starting point for me. I wanted to remove the profile of the boot from the planter and have the two boots meet and become one. I like that it still has the "boot feel" but is now its own unique item.
What advice would you offer to those wanting to create their own shoe-inspired planter at-home? 
My advice is to go for it and don't be afraid of not being perfect or "aesthetic". There's a part in every project, I think it's the 30-40% complete mark, where you look at what you made and you think to yourself this is "dumb ugly" and that's when you need to push on and keep going. As for tools for shoe upcycling some of my must have items are, good scissors – I use Wiss titanium scissors- they were a game changer. Leather hole punched, grommet press, extra shoe laces or ribbon, and gorilla or super glue. It's best to cut the boots with a bandsaw, but I've experimented with a jig saw.  Just please watch your fingers!
How did you get into creating planters using repurposed objects or materials? And, what are some ways our readers can give these items and/or materials they no longer use a second life?
I've been repurposing items my whole life. I have always been a huge crafter and I never had the patience or funds to always buy the materials I needed. I would always go peruse recycling cans, and objects left on the street to use as my material. I'm super impatient so this way of immediately having my materials is super satisfying to me. 
I always tense up and get timid around materials that are too expensive. What if I mess up? Using reclaimed and recycled material is liberating. You can experiment, there's no "messing up".
To anyone who wants to start upcycling I would start by looking around the house and seeing what you no longer need. There's different ways to start. For me I need to know what I want to make and then re engineer it back to my recycled materials. A lot of my upcycling is used to make fun things around the house that I could never even find to buy. 
So if you have an idea, let say you really need a pillow for your couch. Okay lets go, collect old t-shirts and sew them in a patchwork. We want a soft back so let's find an old fleece and sew that on. Let's stuff it from torn up fabric, sew it up and boom we have a pillow that's custom to you. Making things that are uniquely you and reflect who you are is so gratifying.  
To shop the men's and women's Greenstride collection, head over Timberland.com now.
Share this article