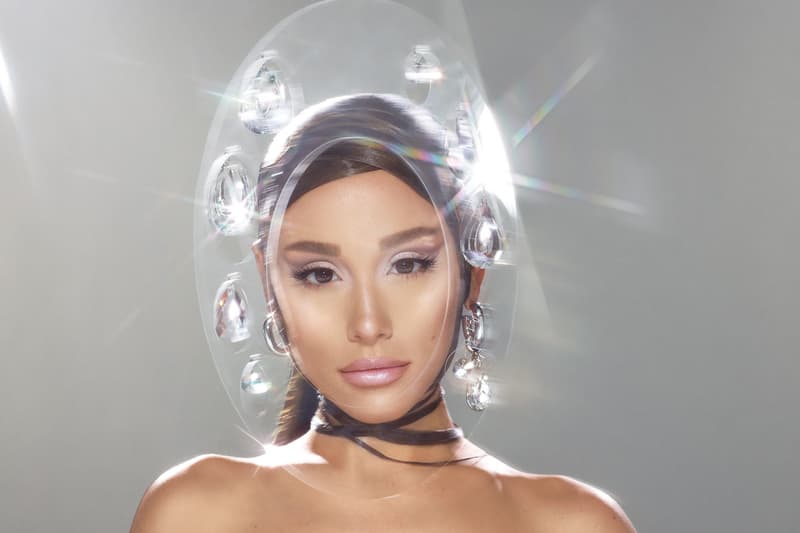 Beauty
For Ariana Grande, Creating r.e.m. beauty Is Like Perfecting a Song
The hit-making singer talks to HYPEBAE about venturing into makeup.
For Ariana Grande, Creating r.e.m. beauty Is Like Perfecting a Song
The hit-making singer talks to HYPEBAE about venturing into makeup.
In the last two years, Ariana Grande had to avoid any makeup-related questions during interviews in order to keep the upcoming launch of her brand, r.e.m. beauty, under wraps. "People would ask me what highlighter or foundation I was wearing and I would have to respond with 'I don't know,'" the musician shares at a virtual press event. Now, following a series of rumors and teasers, the singer finally unveils "ultraviolet," the inaugural chapter of r.e.m. beauty.
Looking to '60s sci-fi, Barbarella and Star Trek for inspiration, Ari has designed an expansive range of makeup — eyeliners, mascara, eyeshadow palettes and false eyelashes — with a vintage, Space Age aesthetic. Her matte lipstick comes in an astronaut helmet-like container, while her highlighters and eyeshadow palettes look like sci-fi movie props.
"I had to make sure everything smells good, lasts long and is vegan and cruelty-free," Grande speaks of the development process. She reveals that the plumping lip gloss in particular is the hardest product to formulate. One of her favorites from the lineup, the gloss features warm vanilla and minty scents, and offers just the right amount of a plumping effect. Further into the conversation, the star reflects on the similarities between makeup and music, a connection that she has noticed while creating r.e.m. beauty.
Read on for our interview with Grande, and check out our detailed review of the products. The "ultraviolet" range drops November 12 at the r.e.m. beauty website.
Why did you choose to name your brand after your song, "r.e.m."? 
"r.e.m." encompasses a lot of my favorite sounds, sonically speaking. Also, the song and its title put focus on the eyes, which I believe to be one of the most effective communicators.
What would you say is your special beauty trick?
Prayer and patience, especially for eyeliners.
Have you been wearing any of the makeup products ahead of their launch?
I've been testing each product out on camera, specifically on shows like The Voice. I have been wearing some products from the later drops as well, which will include a foundation and a concealer. The "babydoll" eyeshadow palette has probably been used the most.
Which product are you most excited about?
Basically, every product. I love the eyeshadow palette, I love the mascara and I love the lashes. If I had to choose, I'd say my favorite combination is to use the clear plumping lip gloss with the lip stain marker.
View this post on Instagram
What were some of the biggest challenges of the entire development and production process?
Perfecting the formulas. There was a lot of back and forth as we prepared for the launch. I had to make sure everything smells good, lasts long and is vegan and cruelty-free. I guess the hardest, though, was keeping this whole thing a secret.
How would you say the development process for r.e.m. beauty is similar to your creative process as a musician?
At first glance, makeup and music are completely different, but they both come to life in an unspoken way. A song comes to life when it's expressed through a music video, which requires beauty, makeup, hair and so on. There's a weird partnership between the two that I didn't realize until I dipped my toes into the beauty space. They are totally different, but totally hold hands in a way. The main similarity is the attention to construction. In music, I spend a lot of time developing the pre-chorus and making sure the harmony goes well with the strings. Everything is complementary with one another, and the same goes for makeup. The two are so wildly different yet so similar.
What's your earliest memory of playing around with makeup?
My mom loves black eyeliner. I remember playing around with her makeup and wanting to look like a Spice Girl. Also, my family is into Halloween and goth styles, so I remember my mom would paint me as a skeleton in the middle of July. Those are some of my earliest memories of makeup.
---
This conversation has been edited and condensed for clarity.
Share this article