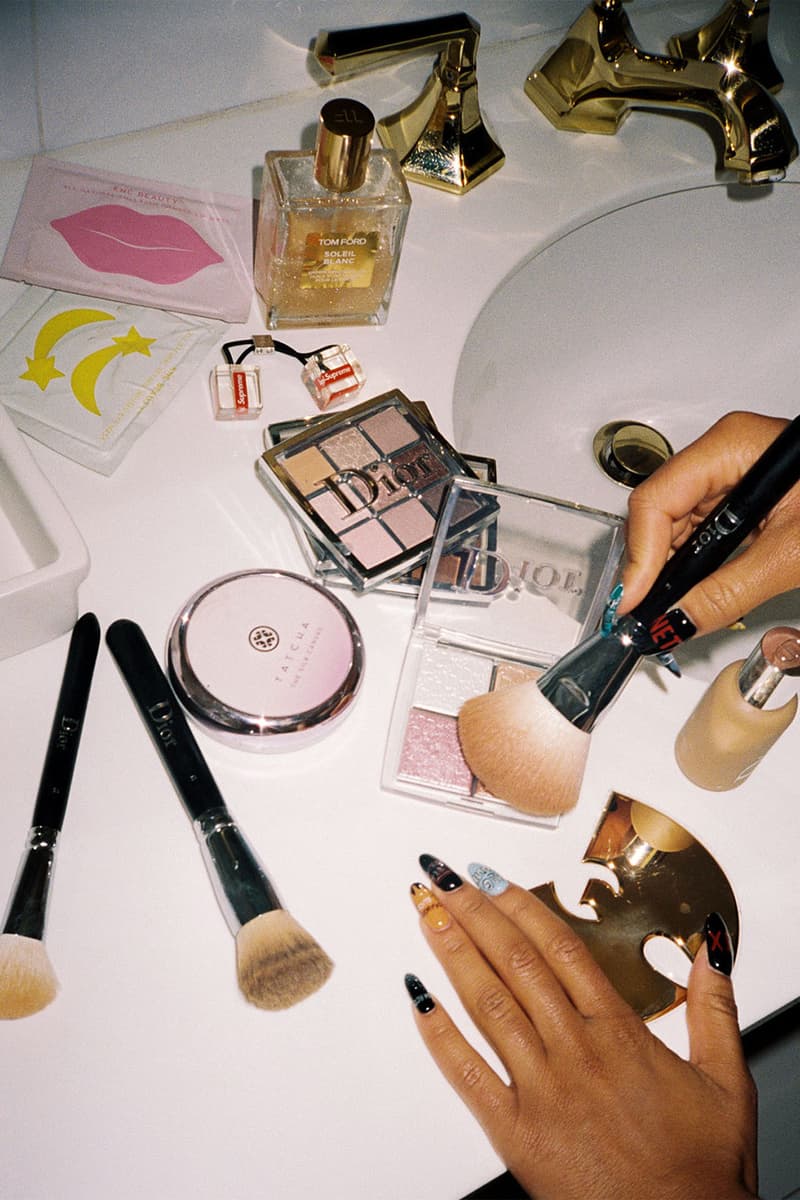 The 21 Best Beauty Gifts To Add to Your Holiday Shopping List
Last-minute Christmas shopping? We don't know her.
Beauty
The 21 Best Beauty Gifts To Add to Your Holiday Shopping List
Last-minute Christmas shopping? We don't know her.
With December just around the corner, a number of beauty brands have already started rolling out festive collections for the holiday season. To make gift-shopping a little easier for you, below, we've gathered some of the best makeup, skincare, body care, haircare and fragrance options you can consider getting for the beauty lovers on your list and for yourself, of course.
Spanning high-end skincare kits, affordable color cosmetics sets, chic bath and shower products and more, our gift guide has got you covered. To avoid last-minute Christmas shopping panic, scroll down to see our list of recommendations.
MAKEUP
r.e.m. beauty's plumping lip gloss — Ariana Grande's personal favorite — features scents of vanilla and mint, and offers just the right amount of a plumping effect. The product is available in an array of shades, including tawny rose "vcr," nude rose "scrunchie," cool nude "detention" and more.
If you're on the hunt for a long-lasting, volumizing mascara, Kjaer Weis' Im-Possible formula is the one for you. The product allows your lashes to stay silky-soft and resilient all day while providing you with a dramatic look. The organic and sustainably sourced mascara boasts a no-clump texture, while its case is made of 50% recycled plastic and infinitely recyclable aluminum.
Emerging beauty brand TooD is known for its innovative BioGlitter and Color Cream. If you have yet to try the label out, opt for its Purple Haze set comprised of its hero products.
Urban Decay's award-winning setting and finishing spray now arrives in a pack of two. The mist is famous for its lightweight and microfine formula, which features patented temperature control technology and allows your makeup to stay on for up to 16 hours.
For the eyeshadow lover in your life, Too Faced's Christmas Around the World set is the ideal present to give this season. The collection comes with palettes dedicated to Rio de Janeiro, Sydney and New York, along with a travel-size version of the brand's bestselling Better Than Sex mascara.
In collaboration with Zoë Kravitz, YSL Beauty has created two Rouge Pur Couture Satin Lipsticks inspired by the cities that influenced and shaped the actor growing up. "Shoreditch Walk" arrives in a deep brown hue, while "NYC Jungle" boasts a blue-red tone.
Byredo's artisanal wooden Lipstick Box contains 12 lipsticks — "Reunion," "Commuter," "Solid Ground," "Worship Her," "Earth Dust," "Red Armchair," "Red & Blue," "Tokio Rose," "La Flamme," "Divorce," "Lascaux and "Dancehall Queen"​ — which are all rich in color and feature a comfortable formulation. The limited-edition set also includes the brand's Lip Balm.
SKINCARE
The Dream Cream, Sunnies Face's first skincare offering, is a hydrating serum-gel cream hybrid infused with hyaluronic acids, niacinamide and ceramides. The product is made for all skin types, fragrance-free and does not clog pores or cause breakouts.
For those looking to switch up their evening skincare routine, look to Fenty Skin's The Before-bed Set 3-Piece PM Essentials. The set comes with the Fat Water Pore-Refining Toner Serum, Instant Reset Brightening Overnight Recovery Gel-Cream and Pro Kiss'r Luscious Lip Balm.
Switch up your daily routine with Glossier's skincare essentials. The Skincare Edit is comprised of the Milky Jelly Cleanser, Super Bounce Serum, Priming Moisturizer Rich, Balm Dotcom in "Original" and "Rose," and Futuredew.
Hourglass' Equilibrium features an array of skin-loving offerings. If you have yet to try them out, consider getting yourself the Equilibrium Essentials Set, which is packed with the Rebalancing Cream Cleanser, Restoring Essence, Intensive Hydrating Eye Balm, Biomimetic Skin Active Serum and Restorative Hydrating Cream.
BODY CARE
With winter fast approaching, it's important to keep your body moisturized and hydrated as well. The Glossier Daily Oil Wash contains a blend of seven oils, which all work together to extract the dirt and sweat from your skin without drying your complexion. Meanwhile, the Exfoliating Bar will leave your skin feeling extra smooth and moisturized thanks to its sunflower seed oil and aloe leaf juice ingredients.
Humanrace's Reenergizing Whiteclay Body Bar and Energy Channeling Charcoal Body Bar feature a soap-free formulation. The former cleanses and hydrates while the latter gently smooths and refines the skin's texture. The bars are currently sold out, however, be sure to sign up on the brand's website to be notified when the item is available.
Show your skin some love with F. Miller's Essential Body Duo. The pack comes with the Hand & Body Wash and Body Oil, allowing you to restore your complexion for soft and smooth skin.
HAIRCARE
Ceremonia's All-in-One Champú de Yucca & Witch Hazel is an ultra-hydrating, moisturizing shampoo that is also sulfate-free. Perfect for all hair types, the formula helps boost shine, strengthen strands and reduce frizz. Meanwhile, the All-in-One Acondicionador de Cupuaçu & Castor is a hydrating conditioner blended with super-fruit, cupuaçu butter and castor oil.
The BREAD Picnic-Pack caters to those who don't have enough time in the morning to get ready. Simply cleanse with the hair-wash, then moisturize with the hair-mask. Complete your routine with the hair-oil to lock in your conditioning.
Look after your scalp and strands with Crown Affair's The Complete Ritual. To restore balance to your hair, the brand has added its Comb No. 002, Ritual Shampoo & Conditioner, Towel, Brush No. 001, Scrunchie No. 001, Dry Shampoo and Oil.
Invest in quality tools like Dyson's signature Supersonic Hair Dryer. Available in a limited-edition colorway, "Blue Copper," the dryer protects hair from extreme heat damage, increases shine and decreases frizz and flyaways.
FRAGRANCE
Inspired by Paris, the YSL Beauty Mon Paris Eau de Parfum Set includes two Eau de Parfum sprays packaged in a white and gold box. The scent boasts sweet notes of Datura flower, patchouli red berries and sweet chypre.
Jo Malone's Starlit Mandarin & Honey Cologne features a top note of yellow mandarin, which is followed by honey with touches of tobacco. The scent is rounded off with the powdery softness of coumarin.
Byredo's popular "Mojave Ghost" fragrance now arrives in a collector's edition box inspired by founder Ben Gorham's Indian heritage. The perfume itself features magnolia and powdery violet notes merged with ambrette and cedarwood for extra warmth. Tying the whole scent together is the fresh addition of Jamaican Naseberry.
Share this article