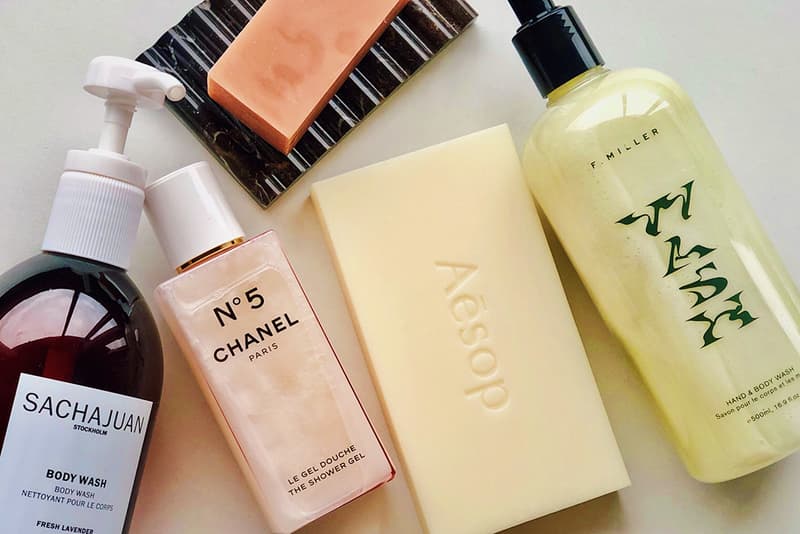 Beauty
18 Chic Bath and Shower Products That Make Great Gifts for Your Friends (and Yourself)
Body scrubs, bar soaps and haircare products that feel almost too luxurious to use.
18 Chic Bath and Shower Products That Make Great Gifts for Your Friends (and Yourself)
Body scrubs, bar soaps and haircare products that feel almost too luxurious to use.
Bath and shower time should always feel relaxing and luxurious, especially in these times of lockdown monotony. Whether you're looking for a gift for a friend or a little something to treat yourself, consider picking up a few special products to elevate your shower experience, even if it's only minutes long a day.
Featuring brands such as Aesop, Oribe, Chanel, Glossier and OUAI, our roundup of bathroom beauty products highlights some of the chicest bar soaps, body washes, body lotions and shampoos that make thoughtful gifts for anyone on your list. Continue reading for 17 products that will instantly upgrade your daily shower routine.
While you are at it, here are the best skincare tools for creating the ultimate at-home spa.
Unwind in the bathtub with a few of Fur's calming Bath Drops. Containing the brand's signature Fur Oil, these seaweed-encased bath beads dissolve in warm water and help soften and nourish your skin. The product is created without any animal product, and are made with entirely clean ingredients.
Made with a mixture of coconut milk powder and Southern Dead Sea salts, this product not only softens and hydrates the skin, but it also infuses water with vitamins and minerals including magnesium, potassium, sulfur and zinc to promote circulation.
A HYPEBAE editor-favorite, F. Miller's Hand & Body Wash is a purifying, skin-soothing cleansing wash formulated with nourishing oils and mineral-rich extracts. Characterized by its calming, nice-smelling notes of bergamot and vetiver, the product will make even the quickest of morning showers feel like a hotel spa experience. What's more? The sleek, clear pump bottle, made entirely from post-consumer resin and biopolymer (sugar cane waste), is 100 percent recyclable.
Let your mind wander off as you cleanse yourself with SACHAJUAN's Body Wash. Filled with pleasant scents of lavender, vanilla, musk and tonka beans, this vegan and cruelty-free daily wash is one that will get you excited about taking showers.
Inspired by the brand's iconic N°5 fragrance, Chanel's holiday-edition Shower Gel and Body Lotion offer an uplifting floral scent that lingers on your skin, especially when you use them as a duo (or a trio if you use the perfume as the final step).
This two-piece set is the ideal gift for any dedicated fan of Glossier. While many swears by the brand's makeup and skincare products, its body care range is just as chic and great for everyday use. Unlike soapy body washes, the Daily Oil Wash turns from oil to froth, cleansing while simultaneously hydrating every inch of your body.
Finish off your shower routine by applying the Body Hero Daily Perfecting Cream to your skin. Made with nourishing ingredients — including a blend of cactus flower extract, prickly pear extract and yucca extract — this body lotion moisturizes and gives your skin that natural glow you so love. Did we mention that the cream smells amazing as well?
For those who prefer woodsy, earthy scents, you'll probably enjoy using Little Barn Apothecary's aromatic Muhuhu + Clementine Body Wash. Not only is clementine rich in vitamin C which contains antioxidant properties, it is also packed with folic acid, which contains anti-inflammatory properties and helps firm and tighten skin. Muhuhu, another key ingredient of the product, offers the rich and subtly sweet fragrance while rejuvenating the skin.
Made with the brand's own blend of essential oils, the Esker Firming Body Wash is a gentle and moisturizing body cleanser created specifically for firming and toning the skin. The vegan and cruelty-free formula also features ingredients including organic aloe leaf juice, rosehip oil, jojoba, lavender water and chamomile water — expect to leave the shower with refreshed and hydrated skin.
You've got to admit that there's something aesthetically pleasing about bar soaps. Aesop's vegetable-based Body Cleansing Slab is packed with essential oils that cleanse the skin deeply without drying it. Its citrus-meets-floral scent will get you hooked at your first sniff.
Another bar soap that'll look good in your minimalist-chic bathroom is Oribe's Côte d'Azur Soap. You may know the brand for its fan-favorite haircare products, but its bath range feels even more luxurious to use. With notes of Calabrian bergamot, white butterfly jasmine and sandalwood, this bar soap smells heavenly and at the same time softens and moisturizes the skin, thanks to the dryness-fighting ingredient, coconut oil.
Green tea-infused beauty products have almost become a genre of its own in recent years. Among the many products on the market that feature the antioxidant ingredient is Joanna Vargas' Ritual Bar. Founded by celebrity esthetician Joanna Vargas, the 100-percent natural skincare brand has created a skin-soothing bar soap that effectively replenishes the skin with green tea extract, redness-reducing coffee, as well as moisturizing olive fruit oil and avocado oil. If you're looking to improve the appearance of dull or dry skin, give this product a go.
Inspired by the traditional Korean punch Sujeonggwa, Binu Binu combines persimmon with invigorating ginger and cinnamon — two ingredients commonly used for preparing the dessert drink — to create the most beautiful bar soap. Meant to be used on the hands and the body, the soap promotes circulation and cleanses the skin at the same time.
Finally, there's a shampoo and conditioner that not only look pretty on your shower shelf, but are also good to use on your hair and scalp. Free of sodium lauryl sulfate, a chemical found in most mainstream shampoos that often causes skin irritation, Playa's Every Day Shampoo is a gentle cleanser that detoxifies while preserving your hair's natural oils. Pair this with the brand's Supernatural Conditioner to repair your damaged strands — the formula is suitable for all hair types and textures.
If you're feeling a little extra, try out OUAI's Scalp & Body Scrub. Celebrity hairstylist Jen Atkin, whose clients include the Kardashians and the Hadid sisters, has come up with a hair and body "detox" product that you can use weekly to reinvigorate your skin. Blended with probiotics and sugar crystals, the scrub helps remove impurities and relieve dry and itchy skin, leaving it feeling clean and soft after each use. The product is suitable for all skin types and is free of parabens, sulfates and phthalates.
Let's be real: no one really has the time for exfoliation every day but when you finally do on a #SelfCareSunday, you might as well go for a deep clean. Shiffa's Basil and Mint Body Scrub does exactly that. Featuring a mix of wild mint, rosemary and basil, the dead sea salt scrub is able to gently remove dry, flaky skin, as well as to boost blood circulation. Its stimulating scent is so powerful that it is almost therapeutic for the mind.
---
Share this article