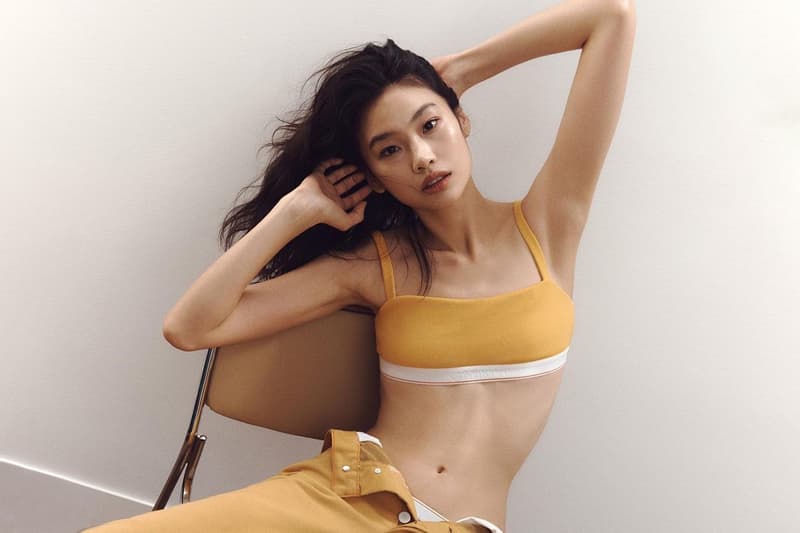 Culture
'Squid Game' Hoyeon Jung Sits Down for Dinner in Calvin Klein Instagram Takeover
Returning to the brand's account for a second livestream.
'Squid Game' Hoyeon Jung Sits Down for Dinner in Calvin Klein Instagram Takeover
Returning to the brand's account for a second livestream.
UPDATE (December 9, 2021): After taking over the brand's account earlier today, Squid Game actor and model Hoyeon Jung returned to Calvin Klein's Instagram to enjoy dinner with her fans.
"Hungry… What should I eat for dinner?" the breakout star teased prior to her second session. She also took to Instagram Stories for a clip of herself looking into the refrigerator. In the livestream, wearing a CK-branded tee and jeans, the model opened a bag of takeout food, eating a few bites before interacting with fans on her kitchen counter. "This is like a live model shoot," one user commented, as the star showed off some of her best model poses.
See Jung's Instagram post prior to her second livestream below.
View this post on Instagram
---
ORIGINAL STORY (December 9, 2021): Squid Game's Hoyeon Jung takes over Calvin Klein's Instagram as part of an apparent forthcoming campaign.
The South Korean actor went live on the brand's Instagram account to show fans her morning routine, which consisted of making tea at home and jamming out to Billy Idol's "Dancing With Myself" in an oversized white shirt over her CK underwear set.
During the livestream, Jung changed into a red cropped Calvin Klein hoodie and revealed one major beauty secret: she doesn't blow dry her hair. She also posted a mirror selfie of herself rocking the white CK sports bra with matching underwear. "@calvinklein gave me their password #hired," she captioned the photo, which she also shared to her personal IG account. Additionally, Jung changed Calvin Klein's profile photo to one of herself.
Prior to Jung, Pete Davidson had taken over Calvin Klein's Instagram with best friend Machine Gun Kelly. Jung's social media takeover comes over a month after she fronted the campaign for another Calvin Klein collection with Heron Preston.
See the photo of Jung in her matching CK underwear set below.
View this post on Instagram
Share this article