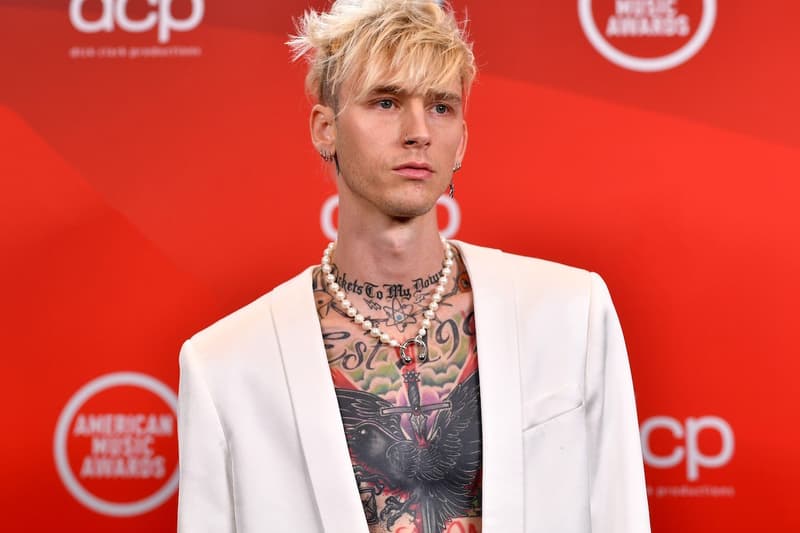 Beauty
Machine Gun Kelly Launches Nail Polish Brand, UN/DN LAQR
Describing it as the "Willy Wonka of what beauty is to become."
Machine Gun Kelly Launches Nail Polish Brand, UN/DN LAQR
Describing it as the "Willy Wonka of what beauty is to become."
Machine Gun Kelly is taking his love for nail art to another level. The pop-punk singer is launching nail polish brand UN/DN LAQR.
Kelly, born Colson Baker, chose the name UN/DN LAQR because of its unique "play on words for the action you're doing," he told Allure. UN/DN being "undone."
The musician often shows off his feminine side through beauty and fashion, and finds the experience very empowering. "I wonder what a world of Cupids [would] look like instead of just people falling into what they think we have to be as 'men,'" he revealed. "Strength comes in how you honor your word, not what you literally can do with your hands. That's an art."
Kelly's deep appreciation for getting his nails done began after having a conversation with a stranger. "I'm super shy when it comes to starting conversations," he said. "But when I went and got coffee, one of the first times when I actually had my nails done, I went to the counter and the guy was like, 'Wow, your nails are so beautiful.' It makes you want to be open to the conversation. You spend time taking care of yourself and paying attention to a detail and then somebody else appreciates that detail. [It's] for sure a social connection."
"[UN/DN LAQR is] the Willy Wonka of what beauty is to become," he added. "I can't express enough how I want [to offer a] full experience."
The nail lacquer brand is made up of 10 shades — neutrals, bolds, pastels. The shades can be purchased as individuals selling at $18 USD, trio sets costing $52 USD and as polish kits, which include six shades and a cleanup and art brush, at $86 USD.
UN/DN LAQR is available starting on December 2. Watch the video below to get a sneak peek.
View this post on Instagram
---
Share this article