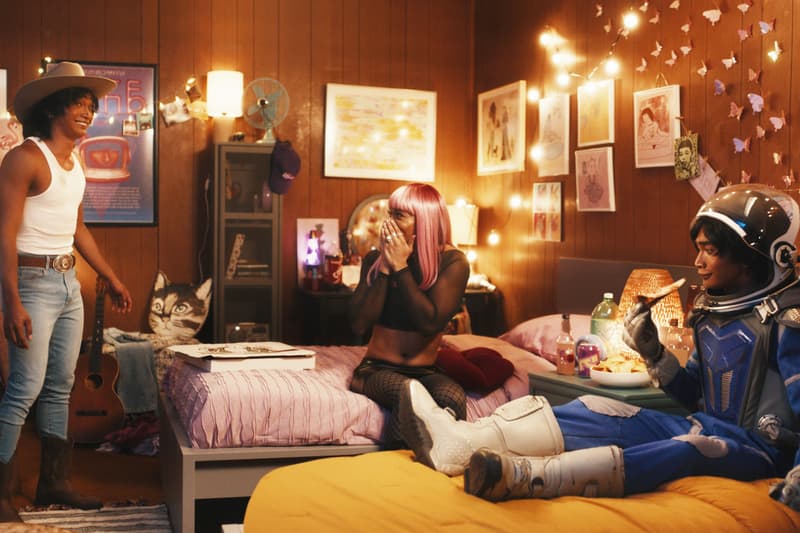 Culture
For Bretman Rock, Self-Discovery Is All About Faking It Until You Make It
The social media star explores different sides of himself in a campaign for 'The Sims 4.'
For Bretman Rock, Self-Discovery Is All About Faking It Until You Make It
The social media star explores different sides of himself in a campaign for 'The Sims 4.'
Filipino-American beauty influencer and social media personality Bretman Rock has come a long way since his days on Vine. From posting comedic shorts to beauty tutorials on YouTube, Rock has experimented with a plethora of content over the past few years.
It's no secret that the 23-year-old creative has different personalities, as Rock is known for exploring a variety of hobbies, including planting, crystals and film photography. For its latest campaign, The Sims 4 has invited Rock to create five characters of himself — Teenage Goth, Sassy Dad, Motherly Chef, Excited Astronaut and Urban Cowboy — in the game to encourage his fans and players to embrace the trials and tribulations that come with self-discovery. "If you can be anybody in The Sims, you can be anybody in real life too. I think that's the best lesson that The Sims has given me," Rock tells us. Along with the initiative, The Sims is offering players the ability to find their #SimSelves on TikTok starting this month through a Branded Effect customizable filter, allowing them to try on different Sims-inspired personas.
HYPEBAE spoke with Rock on Zoom about the inspiration behind his characters, how he's learned to embrace all his different sides and more. Read on for our conversation.
The title of The Sims' latest campaign is "Find Yourselves," which invites people to explore their different sides. Can you share with us what your different sides are and how you've learned to embrace them over the years?
Honestly, if there's one thing that The Sims has taught me, it was how to find myself at such an early age. I was probably in sixth grade when I first downloaded The Sims. I made five different emails to get the free trial — you know, us broke kids — so, The Sims has always been kind of an extension of me. People always joke around when they watch my stories, saying that I live a Sims-like lifestyle.
So yes, The Sims is an extension of me because there are so many versions of Bretman Rock. Even in my stories, there's a version of me who's really into plants where I'll just weave in my garden for a whole week. Sometimes I go through a phase where I'm really into crystals and spirituality — not that I go through phases and it's gone after a week, that's still very much me — but The Sims and this whole entire campaign is a cute reminder that you really can be whatever you want to be, period. If you can be anybody in The Sims, you can be anybody in real life too. I think that's the best lesson that The Sims has given me. But also, it taught me not to marry people after three days of meeting them.
You've come a long way since your days on Vine. What are some of the biggest changes you've gone through in terms of your creativity and perspective on success?
Oh my gosh, that is the worst question to ask a Leo because I am so hard on myself. When people associate success with me, I feel like I haven't even done anything. Even when I have things to celebrate, I don't because I'm always thinking of what's next.
To answer your question though, I think as a content creator, creativity should just flow through you. At the beginning of my career, I wanted to follow trends because I thought that was what creativity was and what gets your name out there. Honestly, true creativity is really just swimming a different path than everybody else and really challenging what content creation is. I feel like I do that very well and there are so many content creators out there who do the same thing all the time. They're so comfortable with what they're putting out that they're not challenging their content.
For example, right now I'm going through a film phase. It's been so fun learning about film photography but also being able to share that with my audience and have a lot of people genuinely get into film. I feel like that's what people need right now, which is other people reminding them that there are other things and other interests to have.
So for me, creativity is just something that I don't think about. Creativity is me. I am creative, period.
"I exude confidence until I feel confident, period. If you are struggling to find yourself, pretend like you found yourself and be confident in everything that you do until you actually become her."
Let's talk about your Sims characters, what inspired your looks?
There's five of me and initially, I wanted my Sims character to be extensions of Bretman Rock and things that I'm interested in. Obviously, I talk about being a botanist all the time, but I realized I could literally be anything I want. I really challenged myself to rethink what I wanted my Sims characters to be that are not me. There's a spaceman — I'm not really into space but in The Sims, I am. There's an old man version of me, and you know me girl, I would never mother f*ckin' get old — I'll never live that life so I'll live it in The Sims instead. There's a punk rock girl me, which I'm not but I feel like it was very fitting with my Bretman "Rock" name. Then there's a chef me. I don't cook, I only know how to work a microwave. Lastly, there's cowboy me.
I also wanted to explore what I haven't done on The Sims before, which is to be a male — oh my god, oh my god, so gross. Usually, when I'm on The Sims, I'm always a girl because that's the true beauty of the game, you can be anything you want.
Self-discovery comes with a lot of roadblocks in order for us to learn from our mistakes. What are some challenges you've had to face in the past few years and how were you able to overcome them?
Girl, with COVID? What did I not face? That's the real question here. A challenge that I went through the past year was my first heartbreak. That was the first time when I really wished I was in The Sims because I would've been able to get over the heartbreak in two hours and find another man in France. Honestly, how does Leo get broken up with?
It's no secret that you've become a big success over the past few years. How do you stay grounded and connected to your roots amid all the fame?
I stay grounded because I am at my roots. I've lived in Hawaii since I was 8 years old and I'm surrounded by my family and friends all the time. I think that's also why it's hard to put Bretman Rock aside and really look into Bretman. I'm sorry if I'm talking about myself in the third person but it is a trick that I do, which is to speak of Bretman Rock as if he's a different person. I feel like people don't realize that other than Bretman Rock, there's also regular Bret behind the scenes. You've probably noticed how much calmer I am just by talking to me and how easygoing I am. I feel like it's all thanks to this island and how I was brought up with so much Aloha and confidence my entire life. So how do I stay grounded and rooted? I just stay in the ground that I was rooted in.
What advice would you give to someone who is struggling to genuinely find themselves?
I'll give you two pieces of advice. One is from The Sims game and one is from me. If you are struggling to find yourself, try yourself out on The Sims first. Make sure that if you like that version of yourself in The Sims, then be that person in real life, period. But in all honesty, people are in such a rush to find themselves that sometimes people who think they found themselves genuinely haven't even found themselves yet. Some assume that I found myself but honestly, you just have to fake it till you make it, girl. I hate how this is going to sound but it's all just a front. I exude confidence until I feel confident, period. If you are struggling to find yourself, pretend like you found yourself and be confident in everything that you do until you actually become her.
Share this article