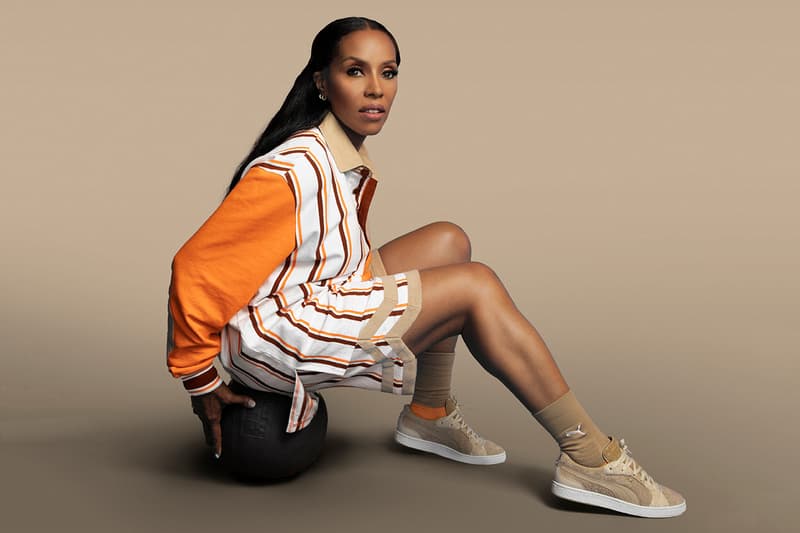 Fashion
June Ambrose Is the Creative Director of PUMA — And of Her Own Life
The living fashion legend debuts her "High Court" collection.
June Ambrose Is the Creative Director of PUMA — And of Her Own Life
The living fashion legend debuts her "High Court" collection.
June Ambrose is a force to be reckoned with in the fashion industry, and to call her a powerhouse would be an understatement. As a fashion architect and stylist to some of the most notable names in entertainment, from Missy Elliott to JAY-Z, with a career spanning over the length of 25 years, her name is enough to make people sit up straight and take notes from her personal playbook. With her latest endeavor as the creative director of global sportswear brand PUMA, Ambrose is using her talents to create a collection for the brand's newest Women's Hoops category. The PUMA "High Court" collection, coached by Ambrose, is comprised of basketball-inspired pieces designed to make the wearer feel empowered.
"I'm very hands-on. I'm a hands-on kind of creative director," Ambrose told us how she has been tackling her responsibilities in her role at PUMA, since joining the sportswear company in 2020. "Literally, I direct from concept to execution the growth of myself and my team, as we grow into this new category. It's a reflection of so much, and I think the design executions over the forthcoming season will reflect that as well." With a Hype Williams-directed campaign starring WNBA star Skylar Diggins-Smith, Breanna Stewart, Katie Lou Samuelson and Jackie Young, the "High Court" collection will feature pieces ranging from sports bras, sneakers, and leggings to oversized faux fur jackets for any winter wardrobe.
Though she originally started in finance, which provided Ambrose with a great foundation for her business, she ultimately knew that fashion was her true passion — no pun intended. "I've always felt like through style, it was naturally in my DNA, and I've always used fashion to story-tell and convey who I was, who I wanted to attract, what I wanted to convey," Ambrose said. "It was part of my personal character development, and I used that to approach work and with clients that I had."
HYPEBAE caught up with the barrier-breaking style icon about her role at PUMA, the relationship between streetwear, sports and hip-hop culture, and her hope for the future of women in the fashion industry.
The "High Court" collection is now available on the PUMA website.
Tell me about your position at PUMA as creative director. How did the opportunity come about and what made you want to take it?
After witnessing what JAY-Z was doing in the men's basketball space, I felt like there was an opportunity, not necessarily knowing initially that it was going to be in women's basketball. I felt like there was something potentially that I could contribute in a different lens, as it relates to sportswear. Jay introduced me to the CEO [of PUMA] and the relationship grew from there.
Speaking of relationships, how did relationship-building play a key role in your career journey and landing you where you are today?
Well, it's all about relationships. Rapport is super key, and it's based on mutual respect and understanding. Whenever I work, I always go in with a very collaborative spirit, and establish that I too am an artist so that the partnership really fuels off of each other. For me, it's never about me. My clients are first and their needs supersede any vision that I may have, as I'm helping them to brand-build. It's really what makes sense for them.
Tell me about the inspiration behind your debut "High Court" collection, and how it relates directly to the Title IX inspiration ahead of its 50th anniversary.
My philosophy is "life is a sport." My continued inspiration is women in the game of life, and this collection is inspired by fearless women, bold energy and women who use that channel in order to get civil rights law passed. I've constantly held that close to my chest as I've been working and developing products. I keep that in mind.
If life was a sport, what sport would it be and what team would you want to be on?
Well, life is a sport. I mean, I'm not an athlete, but my sport is style. I feel like I have athletic ability. The things I'm able to accomplish in a day, it's like running a race. Sometimes it feels like it's a marathon, and sometimes it feels it's a sprint. I try not to have it feel like it's a sprint, but sometimes I have to pass the baton. I've prepared myself physically and mentally to endure any hurdles that may come my way and get through the day. We run different races every day in our lives, if I wanted to be honest.
What are some of your personal favorites from the "High Court" collection?
It's a really tough question because there are so many pieces in the collection that are so thought out and thoughtful. I really took into consideration a woman's lifestyle, or just a person's lifestyle in general, while developing and building it.
I love the University Jogger set. I travel a lot, so I wanted to create something that had a comfortable hand, a softer touch. It's a French terry, and it has these hidden pockets. You know when you wear a hoodie, when you're running around, you tend to lose your keys? Then that pouch really doesn't serve a real purpose. I designed [and] constructed it with hidden compartments and mesh pockets that will hold all of those things, so that when you don't have a purse with you, and you need to put your keys, your wallet and stuff like that in, it just naturally works for you. It's functional and it has a naturally built-in swag and layer. I did the layering for you, which is another really great style attribute. It's a convertible piece as well. The sleeves come off, so when you're traveling from one climate to another, or you're working out and warming up in it, you can zip off the sleeves and have a short-sleeve hoodie, which is really nice.
The retro '90s rugby style is one of my favorites, and one of those pieces that I think will cross the gender line as well. The bold colors and the mixed media — we're playing with pattern and print, which is really what I love.
The high-top sneakers, the legendary Ralph Sampson, are another one of my favorites because it's the first basketball sneaker. I wanted to get sneakerheads to anticipate PUMA's launch, and be excited like [they are for] other sneaker brands. This is a high-top and it is a nod to nostalgia. It's a performance [and streetwear] sneaker.
Earlier in the conversation, you mentioned that life is a sport. In the press release, your quote said, "Ambrose incorporated athletic and physical elements of the game into the collection to underscore how women are consistently winning, playing the game of life, and staying on top of their daily grind in all the positions that they hold." What exactly does this mean and how does it translate into this collection?
Every day, you and I, as women, and women around the world, are fighting to compete. We're trying to hit our goals. We're juggling all of the positions that we hold in life, as mothers, bosses, wives, friends, sisters and more. We're constantly moving, maneuvering and strategizing on how to win at what we're doing, right? That's literally every single day. The way that I translate this into the collection is that every piece needed to be multifaceted, and every piece had to have movement.
For example, going back to the product for a second, the Quad Jacket is a jacket that is a convertible piece. It's one you can wear seven different ways. It was important for me that I gave the audience a lot for their money. It can convert to different body types and sizes, long or short. It also goes from one season to another, which is really great. It breaks down — you get your fleece first lining; you get a vest; you get your raincoat. You can literally wear this and style it out in so many different ways. If you're going to make the investment, I want you to know why. I want you to make it without feeling guilty.
The Hope Hoodie is another one. The cut lines and the way I use nostalgic nods to collegiate marching bands, and the V-opening so that it's not restrictive. It's a very sexy piece. When you move in it and you have your sports bra underneath, you see your torso. The asymmetric-ness of it is also a great juxtaposition to give you a longer, leaner look. Hoodies tend to make you feel kind of sloppy, but this one is sporty and sophisticated at the same time.
In terms of accessories, I was like, I like a knapsack, but I also love a tote. Sometimes I start off in heels, or I'm at the gym and then I need to put my sneakers away, and I don't want my sneakers touching the other things in my bag. This knapsack tote is a convertible bag that literally is not only just great for traveling because of the way it collapses and folds down. I can wear it on my back and have my hands-free moment, or I can carry it like a tote and feel totally sophisticated. You go from sporty to sophisticated all in one accessory. It's a unique approach on a bag as well.
How have you seen hip-hop and pop culture serve as a major influence in fashion, and what trends from the old school eras of hip-hop and pop culture do you see recirculating?
I've always felt like fashion trends are circular. The way they come back around is like no other, we always draw inspiration. Hip-hop and Black culture has served as inspiration for fashion and design for decades. Like the '90s retro rugby style, it's a very '90s hip-hop vibe, and even the University Set that I did.
Sports has always been synonymous with hip-hop. Many pieces that were cut oversized and just gender-neutral pieces, some would argue that that's a nod to the birth of the hip-hop aesthetic. Back in the early '90s, hip-hop artists were rock stars. They wore tight pants, like the Lee jeans with the crease, and they had on vests with no shirt. The way they approached fashion, when you look back at it, was quite gender-fluid. It's kind of nice to nod and look back at that, see what's happening now culturally, and realize that it's all come full circle.
How have you seen the relationship between sports and streetwear evolve since you started in the fashion and style industry?
In my career, I've always merged the two. I see sportswear as the pillar of American fashion, and streetwear as the reflection of the culture. It makes sense that these two identities would evolve somewhat together. Especially since the pandemic, wearing sportswear has become more socially acceptable in different settings. There are more women in sportswear and streetwear than ever before now.
How have you grown since you started your role at PUMA?
When it was announced that I was the creative director of the PUMA Women's Hoops division, I had already been designing the collection throughout that year. When we announced it, I was moving into phase two, which was production. Now, we're in the third phase, which is the marketing and the release. My growth, as it relates to me being new to the company, has been understanding, navigating new working relationships through these phases, taking stock and notes — what has been done, how what we are doing feeds into the vision and how we can continue to evolve all of the processes.
How are you hoping that your position as PUMA's creative director will further grow and drive equality in women's sports?
In terms of growth, we know what the men's business looks like. As this is the launch of an entirely new category for PUMA, we don't know who the female customer is just yet. I want to build a better relationship with these women — women in basketball and things that speak to them. I want to serve them an excellent collection that continues to redefine style in sports and what that means.
I want to leverage and launch the category, and create a space that has more conversation with the WNBA and other organizations about how we can better support female athletes. We'll be working with a number of organizations that empower youth through sports. This is just the beginning of something that we consider to be a very long conversation, and we're not going to let up. We're going to keep applying the pressure and having those provocative conversations. Hopefully, our girl gang will grow and people that are outside of the sport will take interest in the conversation as well — at least that's my goal.
View this post on Instagram
What is your hope for the future of streetwear fashion and women in the fashion industry?
That we continue to advocate for one another, and that we continue to create products that are provocative and culturally evolving. It's super important that we are advocates, too. I think that to be able to be in this position, and not be able to leverage this position and relationship to create cultural shifts and change, it would be me undeserving. Over the next couple seasons, you'll see me leading the way, opening up and creating opportunity for others.
What was your experience like working with Hype Williams for the creative collaboration of the "High Court" campaign video?
I've always worked with Hype. He's an incredible visionary. We have a long relationship, so I felt like it was kind of serendipitous that I would start this conversation with him as we were looking to create another culture-shifting moment. Launching this category really shows a commitment to women in the sports. The fact that PUMA identified that this is an underserved segment and they made moves to rectify that, it's something that should be really celebrated and spoken about, because this wasn't my idea. I'm the executor and I'm the one that was up for the task. The fact that we're moving into the space in the ferocious way that we are, it really says a lot. I'm excited about what's to come.
---
D'Shonda Brown is a freelance culture journalist, public speaker and mental health advocate based in Brooklyn, New York with a passion for mental health, social justice and uplifting the Black community through her writing. As a mental health advocate and suicide attempt survivor, in 2019, D'Shonda became Mental Health First Aid Certified for adults and children, and graduated from the Advocacy Ambassador Program by National Alliance on Mental Illness. D'Shonda is a proud Spelman College graduate and has interviewed notable names from Angela Rye and Soledad O'Brien to Chloe x Halle and Justine Skye.
Share this article