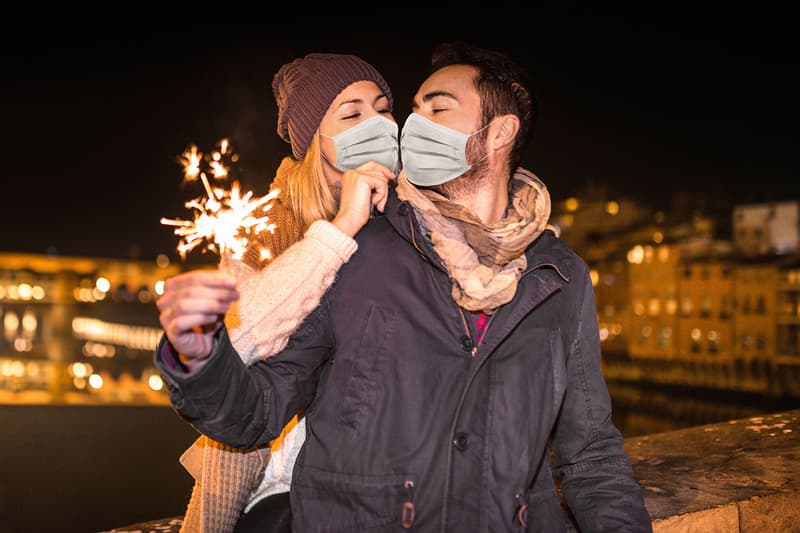 This Is Why People Kiss on New Year's Eve
A tradition that dates back to the 1800s.
For those who have been following the tradition of the New Year's Eve kiss, you might be wondering what the origin of this romantic gesture is.
Whether you're sharing the moment with your partner or a friend, this gesture is an act of wishing one "good luck going into the next year," according to Alexis McCrossen, a professor of history at Southern Methodist University. "At the end of the 19th century, cities began to be illuminated at night," McCrossen told USA TODAY. "When you get people out at night and you have more public venues for parties and you have more precise timekeeping, then people begin to celebrate New Year's Eve."
In the late 1800s, New Year's was celebrated during the day up until electricity became available in select countries. McCrossen informs the publication that Germans would ring in the new year with a bonfire on December 31, which was "when the kiss originated." "When numerous Germans immigrated during the 1800s, they brought the kiss along with them, which by 1900 became a nationwide way of celebrating that has remained today," she explains.
Like all traditions, it can slightly alter over time. Today, the New Year's Eve kiss has become a must-do in the United States or for those who follow the American culture. Relationship therapist and coach, Jaime Bronstein says that "the kiss coincides with cuffing season, a time in the year when people who typically don't want to be in serious relationships begin to look for one. The 'season' usually lasts from fall to early spring."
Bronstein adds that this tradition continues due to the fact that some "people don't want to be alone for the holidays." For couples, it signifies that their relationship is being taken to the next level.
Share this article