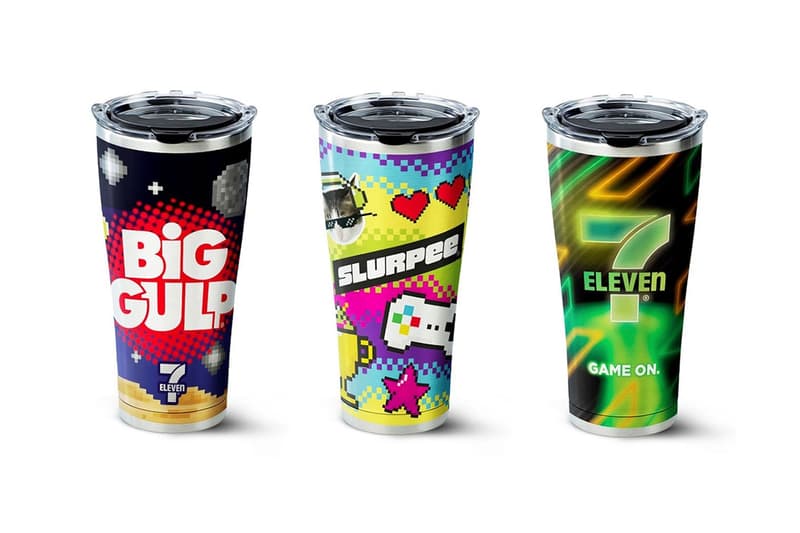 Home
7-Eleven To Release Slurpee, Big Gulp and Coffee Cups With Free Refills
Along with a chance to win a free PlayStation 5.
7-Eleven To Release Slurpee, Big Gulp and Coffee Cups With Free Refills
Along with a chance to win a free PlayStation 5.
7-Eleven has revealed a lineup of reusable cups for customers to hold the convenience store's Slurpee, Big Gulp and coffee drinks. The homeware items, slated to release in limited quantities, will grant free beverage refills for a full year.
Limited to 400 units, the three pieces boast a retro gaming-inspired aesthetic, with pixelated motifs taking over in bright neon shades. The Big Gulp tumbler can hold up to 30 ounces of liquid, while the Slurpee and coffee iterations hold 20 ounces. Each comes with a 7Rewards® barcode that gives redeemable refills. On top of that, customers will receive 15 entries for a chance to win a PlayStation 5 every time the code is scanned.
"If last time we did this is any indicator, we know these new ultimate gamer's cups are going to sell fast and become instant collector's items," 7-Eleven's CMO Marissa Jarratt comments. "7-Eleven beverages have some really enthusiastic fans, as does gaming. About 75 percent of people have at least one gamer in their household, so I suspect the cups will be snatched up instantly."
You can head over to 7-Eleven's online store to purchase the cups for $139 USD each on February 9 at 12 p.m. CST (1 p.m. EST).
Share this article