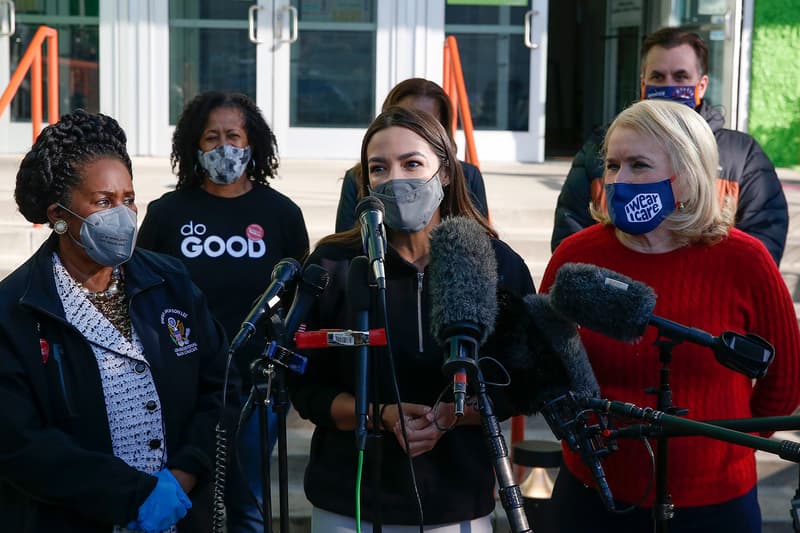 Culture
Alexandria Ocasio-Cortez Raises Close to $5 Million USD for Texas Winter Storm Relief
"It's one thing to read about what's going on but it's another thing entirely to see the damage for ourselves."
Alexandria Ocasio-Cortez Raises Close to $5 Million USD for Texas Winter Storm Relief
"It's one thing to read about what's going on but it's another thing entirely to see the damage for ourselves."
From February 13 to 17, Texas experienced a devastating winter storm. In light of this tragic event, Alexandria Ocasio-Cortez has been able to raise $4.7 million USD in her fundraising efforts via ActBlue.
According to CNN, the New York Democrat established her fundraiser on February 18 and earned $1 million USD that same evening. The following day, Ocasio-Cortez confirmed another $1 million USD and announced that she would visit Texas. "The congresswoman's efforts come as Texas Sen. Ted Cruz, a political adversary, faces backlash – including from members of his own party – for flying to Cancun, Mexico, last week as many of his constituents were left without power or water," as per the news outlet.
On February 19, the congresswoman flew to Houston to distribute supplies with Democratic Texas Representative Sylvia Garcia. "It's one thing to read about what's going on but it's another thing entirely to see the damage for ourselves," Ocasio-Cortez said when she arrived Texas last weekend. "The message in Washington is let's not let people get caught up in a bunch of red tape. Let's try to get this assistance out the door as much as people need and as quickly as we can."
When asked by CNN if she's ever contributed to this kind of initiative before, Ocasio-Cortez said "this was her first event outside of an effort to fight the COVID-19 pandemic." "Our first major relief effort was last year when COVID hit and so we were able to build a disaster relief and fundraising operation and we cut our teeth on that with Covid but that was in our home district, and so before that, we had mobilized for Hurricane Maria relief but that was before I was elected as a member of Congress," she added. "I think this is just something that we should be able to do whenever there is an area in our country that's in need."
If you're looking for more ways to help Texans affected by Winter Storm Uri, here's our list of non-profits and mutual aid funds you can contribute to.
Share this article