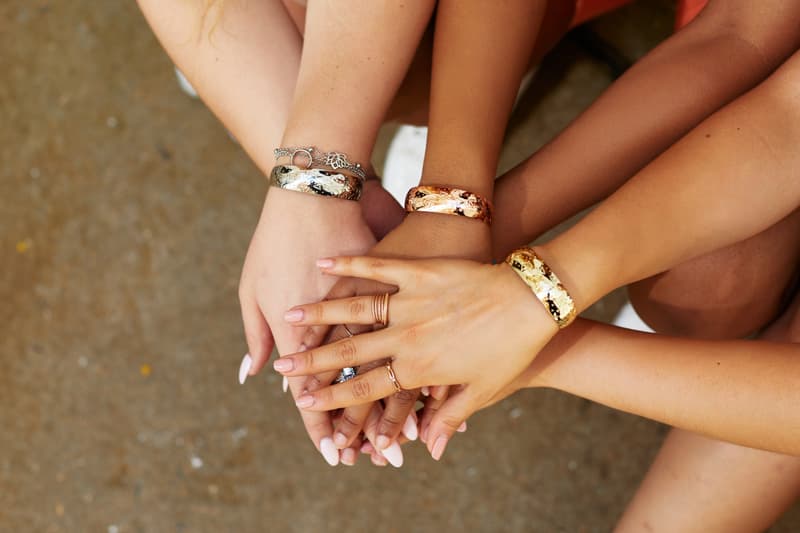 1 of 3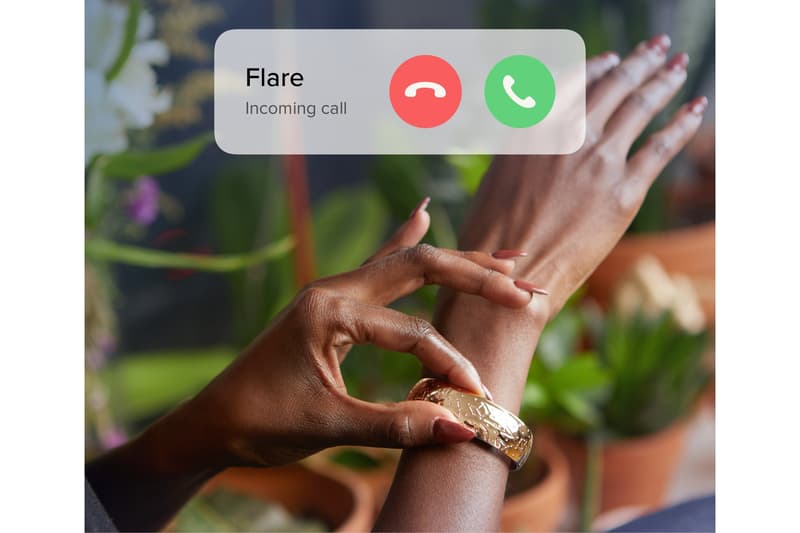 2 of 3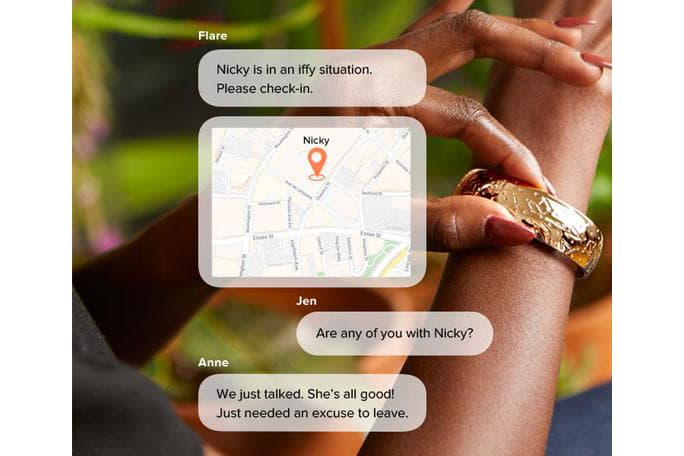 3 of 3
Tech
Flare Is the Personal Safety Bracelet Giving Users an Instant Escape Route
Founders Quinn Fitzgerald and Sara de Zarraga explain why the device is more effective than antiquated tools such as pepper spray.
Flare Is the Personal Safety Bracelet Giving Users an Instant Escape Route
Founders Quinn Fitzgerald and Sara de Zarraga explain why the device is more effective than antiquated tools such as pepper spray.
Most people have, at some point in their life, found themselves in a situation that felt uncomfortable or even unsafe. Maybe it was a first date that got too sexual too fast, or a work event that turned unprofessional. Maybe, on a late night commute, you realized you were being followed. Flare, a personal safety device disguised as a bracelet, provides users with a simple, discreet solution for all those situations, and more.
With the push of a concealed button on the Flare safety bracelet, you'll receive a realistic-sounding call asking for help with an urgent situation — an instant excuse to leave any situation. Holding down the button sends your location to five trusted contacts, and there's even an option to send a message and your GPS location to 911. How does it work? The bracelet connects via Bluetooth to your iPhone and, using the accompanying Flare app, syncs with your contacts. Using the app, you can choose from 10 pre-recorded calls and customize what name you'd like your fake caller to display as. The safety tool, available in eight different styles, comes pre-charged and lasts up to two years.
Flare — which was named one of TIME's best inventions of 2020 – stands apart from traditional safety tools such as pepper spray and whistles with its discreet, undetectable design and reliable functionality. An innocuous accessory that doesn't make any noise, Flare won't escalate an already high-stakes situation. And unlike the buddy system, which seems smart in theory but often goes awry, the bracelet accounts for the nuances of social situations by providing an escape route that won't blow users' cover or reveal that they're feeling uncomfortable. "In a gray moment of doubt and uncertainty, people often hesitate to take action because they are worried about their reputation or making the situation worse," Flare founders Quinn Fitzgerald and Sara de Zarraga explained. "It was really important to us to find a way around that — a way to take action at the first bad or weird feeling in your gut without having to jeopardize who you are or your safety even more."
With its (mostly) hands-free functionality, Flare is also a speedier option than alert apps or even a simple text message to a friend. "In these situations, seconds really matter. You often don't have the time, capacity or access to pull out your phone, unlock it and fumble to an app or contact for help," Fitzgerald and de Zarraga point out. As survivors of sexual assault, the duo are passionate about giving women — who are disproportionately targets of harassment and sexual violence — practical safety tools. "Frankly, it's about damn time we used technology to actually address how we experience safety — not the stereotype of the stranger in a dark alley," the pair state. Indeed, pepper spray isn't exactly a realistic option when you're at a party, surrounded by people you know, and someone is crossing your boundaries or pressuring you to do something you'd rather not partake in.
Fitzgerald and de Zarraga acknowledge the need to expand beyond safety bracelets and offer other types of accessories suited to a range of identities and styles. "Although we do love our designs, they are certainly more feminine leaning. We just launched a couple more gender-neutral bracelet designs, but we do have plans to expand our product line," they said. In addition, Flare is prioritizing the development of its Android-compatible app (currently Flare is only available for iOS). Though Flare certainly isn't a cure-all for gender violence, nor is it an all-encompassing solution to safety, the device gives users control — and therefore confidence — by providing the option for an instant escape. "Our mission is to create a world where we do not need to exist and can put ourselves out of business," Fitzgerald and de Zarraga remark. In the meantime, Flare has your back.
Share this article