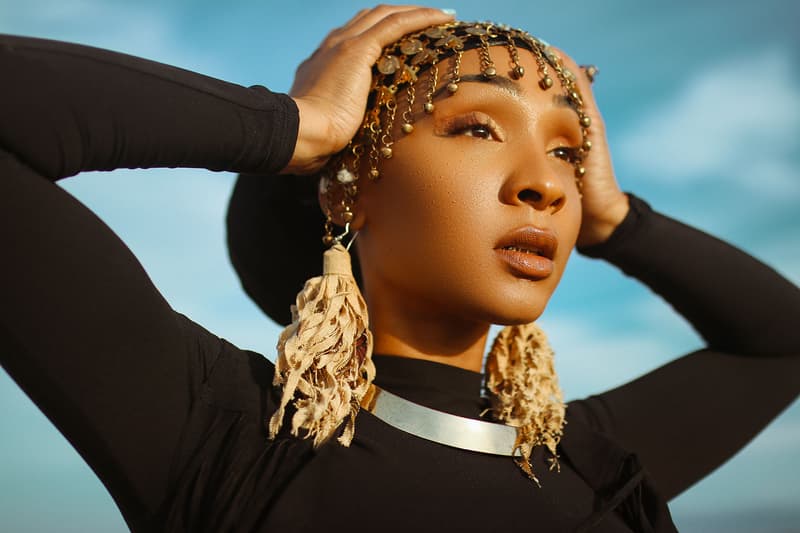 Music
Meet Alia Sharrief of the Hijab Chronicles, the Muslim Hip Hop Artist Breaking Barriers in Music
With the empowering platform, the talent hopes to raise the voices of unapologetic women creatives.
Meet Alia Sharrief of the Hijab Chronicles, the Muslim Hip Hop Artist Breaking Barriers in Music
With the empowering platform, the talent hopes to raise the voices of unapologetic women creatives.
California-based emcee, hip hop artist and human rights activist Alia Sharrief established the Hijab Chronicles back in 2014 with the aim to give Muslim women in hip hop proper representation. The following year, Sharrief and her team organized a concert that featured an all-Muslim female lineup, making them one of the very first platforms in the world to bring together a group of Muslim women in hip hop for a music show.
Apart from her work at the Hijab Chronicles, Sharrief also makes music. The talent has fallen in love with the art after discovering how music has the ability to uplift souls. Her creativity stems from listening to artists such as Lauryn Hill, Erykah Badu and Jill Scott. "Music has always been a tool to convey a message, and that alone drew me in for life," Sharrief tells HYPEBAE. In addition to writing her own songs, the rapper puts her skills to good use by educating children and teens on how to use lyrics to build communities, enriching young listeners with a powerful message that they, too, can change the world.
In celebration of Muslim Women's Day (March 27), we caught up with Sharrief to talk about when she realized hip hop was her calling, how she overcomes the obstacles of working in the male-dominant music industry and more. Read on for our conversation.
Take us back to the start. Where does your passion for music stem from?
Music has always been my outlet to reach the world in a creative way. It's a personal portal into my universe. A universe where I can use my voice to express my struggles and opinions without the fear of being told "no" or having to ask permission. I was very young when I started entering talent shows. I believe my first performance was in the second grade. I wrote a poem and recited it in front of 100 people or so. It's funny because now that I think about it, I would push myself to perform. My family was always behind me, but I would take it upon myself to be heard and get out there. Anytime I would see an opening for auditions or talent shows, I'd just sign up. Simultaneously, I would be performing every day in front of my family who really was my first audience.
Once I started understanding that music had the ability to uplift souls and turn a frown upside down, or even inspire that frown to do something productive about it, made me fall in love with the art. My creativity and yearn to flow in the dopest way possible was inspired by hearing artists such as Lauryn Hill, 2Pac, Canibus, Eminem, Erykah Badu, Jill Scott, Yukmouth and so many more artists. I remember listening to 2Pac's "Changes" and when he said, "We ain't ready to see a Black president," that line always resonated with me. So experiencing that bar actually happening always takes me back to the power of words and projection. Music has always been a tool to convey a message, and that alone drew me in for life.
When did you realize hip hop was your calling?
I was writing poetry originally so I didn't even think about rapping it. One day I found out 2Pac was turning his poetry into rap verses, and it was on from there for me. I started rapping in the seventh grade. I used to sing before I rapped. One day, this boy came to school bragging about the rap he wrote and how it was the best ever. I instantly said to myself, "Okay… we'll see about that."
I also came from the raw hip hop culture, so hearing him say that, I was ready to issue my first diss track, which was my first rap ever. I don't even remember what it was called, but I ended up rapping it in front of him and his friends and everyone was [impressed]. I have so many amazing, beautiful memories of my own music artist development while growing up. Hip hop has been there for me since I can remember and still is today. It is definitely one of my favorite happy places.
"Being a female [artist] in hip hop generally has obstacles. Misogyny is really a thing, and the way I choose to cover does make some men in this industry feel some type of way."
Back in 2019, you opened up on a podcast about how some aren't aware of what the hijab represents, and that they think it is a sign of oppression. To this day, the idea that "sex sells" is still unfairly applied to women in the music industry, with many pressured to show more skin. What is your personal take on that notion?
Sex does sell. It's a very high price on showing and telling. Yes, it can make you famous and it can bring you money, but what about the children watching? What about the babies still trying to figure out what sex even is? Kids have so much access to what's online and even what's on public TV. I like to give the youth a chance to develop and be kids before being influenced by the hyper-sexual music culture.
I teach classes to students from the first grade all the way up to college, focusing on using lyrics to build communities, and enrich young listeners with messages that they can be a part of the change and can potentially change the world. Quite often, when young girls in my classes speak to the hyper-sexualization in music, the students always connect it back to misogyny and feeling voiceless. This is a problem I hear young girls run into often and it motivates me to speak up for us. Whatever one chooses to do with their body is their choice, that's a fact. I just want to protect my sisters out there, regardless.
What are some other obstacles you've had to face as a Muslim hip hop artist? How were you able to overcome them?
Obstacles are always going to be in the way, but still, I rise. It's not a sprint, it's a marathon. When people try to box me in or strictly want me to compete in the hijab or oppression Olympics, I continue on my path and do what I got to do. When I discovered my purpose, I then understood that it's bigger than me. Being a female [artist] in hip hop generally has obstacles. Misogyny is really a thing, and the way I choose to cover does make some men in this industry feel some type of way. The way I choose to speak up for myself alone challenges misogyny. I overcome all of it by staying true to me, my roots, staying educated, over-standing my purpose, my role and what my calling is.
Let's talk about the Hijab Chronicles. What prompted you to start it?
I created the Hijabi Chronicles in 2014 because there was a serious need for Muslimahs in hip hop to be able to have our own platform and representation. We didn't see ourselves anywhere. We had to make noise in order to raise our voice for the world to see and hear us. We were like, "Yeah, we wrapped but we rap, don't get it twisted." After we threw our first concert, starring our community, we later found out that it was actually the first time an all-Muslim female hip hop artist lineup was put together in the entire world.
We experienced a lot of pushback and criticism from different communities for it, which honestly left us all tired and over it, but still we could not give up. We continued to tour the United States, organizing different showcases starring women in faith with a message. We began to develop into a charity organization, teaching classes, giving back, and we even started our own scholarship to support creative Muslim women. We can't wait until we can safely gather again so we can get the show back on the road.
What are your hopes for your platform in the future?
With the Hijabi Chronicles, I pray that we continue to be a voice for the voiceless. Our campaign has always been to represent us and stay true, no gimmick. Time belongs to a greater power, so timelessness has always worked in our favor. For myself, I want to keep pushing, building, reaching and uplifting as many people and communities that I can, Lord willing.
Finally, how will you be celebrating Muslim Women's Day this year?
I'll be with my beautiful mother and sisters, sipping tea and giving thanks.
Share this article