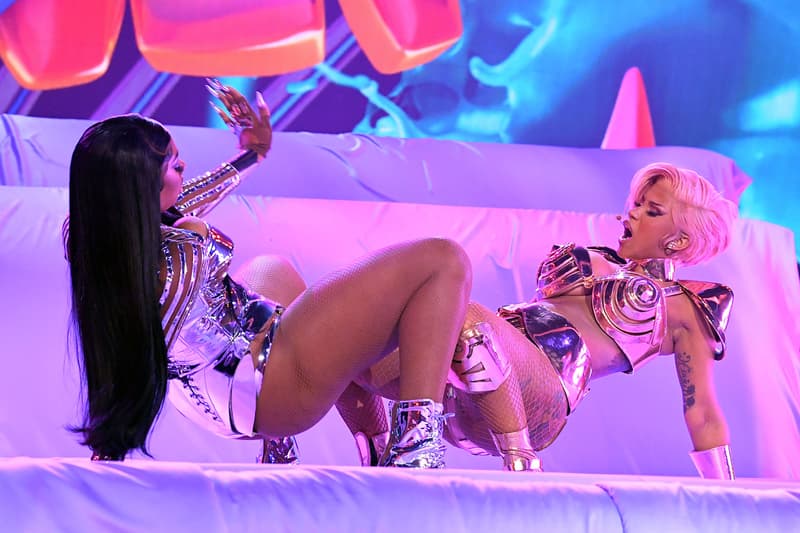 Music
Watch Cardi B and Megan Thee Stallion's Sizzling "WAP" Performance at the 2021 Grammys
The 2020 track hits the stage for the first time.
Watch Cardi B and Megan Thee Stallion's Sizzling "WAP" Performance at the 2021 Grammys
The 2020 track hits the stage for the first time.
Along with stars appearing in stunning looks on the socially distanced red carpet, the 2021 Grammy Awards featured eye-catching performances from the likes of BTS, Harry Styles and more. As expected, Cardi B and Megan Thee Stallion took the spotlight, delivering their 2020 hit track "WAP."
The stage begins with a Las Vegas-themed variation of "Body" and "Savage," as Cardi B shortly joins in a futuristic fembot bodysuit and metallic boots. After performing "Up," the musician struts to a set featuring a giant-sized heel as "WAP" begins to play. The duo continues to wow the audience with striking choreography on a bed-shaped stage.
Responding to the sizzling performance, users took to Twitter to share their reactions. "Megan and Cardi B! My God! Nothing will top this tonight," one tweet said, while others commented on the raunchy dance moves: "Parents with young children watching this Megan Thee Stallion and Cardi B performance," a user added.
You can head over to YouTube to watch the full "WAP" performance.
Share this article