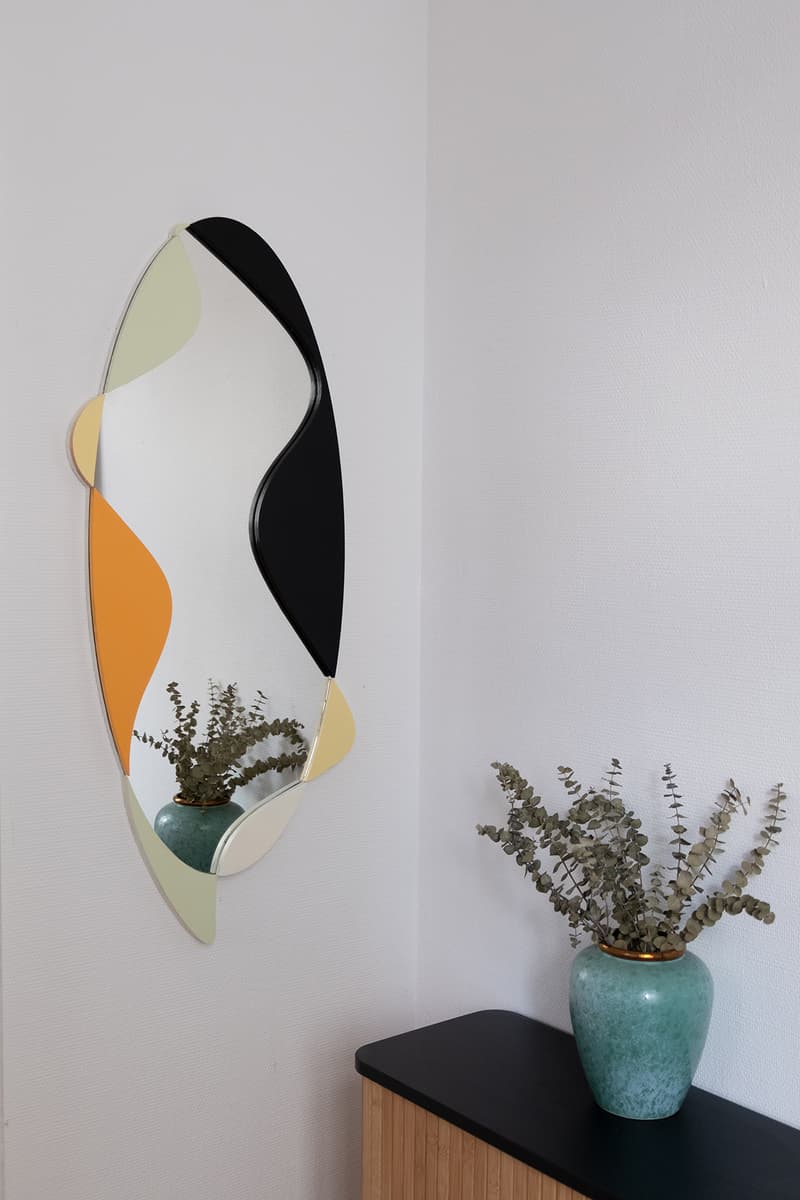 10 Decorative Mirrors To Transform Any Room in Your Home
These artful designs make for great mirror selfies too.
Home
10 Decorative Mirrors To Transform Any Room in Your Home
These artful designs make for great mirror selfies too.
Mirrors serve more purposes than just the obvious  — when it comes to interior design, mirrors can reflect light, make any room look more spacious than it is, and even serve as decorative, accent pieces on the wall. Whether you're looking to level up your home office, bedroom or living room, you can easily transform your space with a wall or leaning mirror. Offering both function and style, your new home decor item will make for double tap-worthy mirror selfies as well.
From Gustaf Westman's much-loved Curvy Mirror, to Katie Gillies' signature arched terrazzo design, explore our selection of artful mirrors by some of our favorite independent designers and studios below.
Created by Rotterdam-based designer Sabine Marcelis for RiRa, the contemporary homeware label co-founded by stylist Gijsje Ribbens and fashion agent Bart Ramakers, the rose-tinted Glaze Mirror is accented by drippy-looking paint in soft, pastel pink. The mirror is hand-splashed in The Netherlands, and is available in three different sizes. For other color options, the design also comes in blue, yellow and white.
The small version of Stockholm designer Gustaf Westman's Curvy Mirror, a covetable design seen all over Instagram (including on the feed of BLACKPINK member Jisoo, a notable Westman customer), the Curvy Mirror Mini is perfectly sized for hanging on the wall. From lilac and sage green, to pink and buttercup yellow, the whimsical frame takes on a number of different colorations.
Equally playful is this oblong mirror by WeraJane Design. From Germany-based product designer Inga-Wera-Jane Heyman, the Wave Mirror puts a squiggly twist on the oval shape, with a fluid form that's guaranteed to add personality to any space. The mirror, which conveniently comes with its own mounting hardware, can be hung vertically or horizontally as pictured here.
Another colorful, statement piece that we love, the Chunky Chip Maxi Mirror from Nottingham designer Katie Gillies is the perfect leaning mirror to spruce up your interiors. With an arched appearance, the handcrafted mirror is completed with a terrazzo frame made from eco-resin. In addition to the orange-red "Rust," the design is available in four other colorways: blue "Cobalt," black "Moon," pink "Peach" and light blue "Cerulean."
Marrying aesthetic with function, Montréal atelier Concrete Cat has created an avant-garde mirror design that doubles as a mini shelf, ideal for keeping knickknacks like your house keys or holding small decor objects. A small range of exclusive patterns of the sculptural piece can be found at New York City furniture store, Coming Soon.
For those who cannot choose between a round mirror and an oval mirror, why not go for one that combines both shapes? From NYC studio Bower, the Cylinder Mirror is made with antiqued pink glass and a glass mirror body in clear or black. A walnut frame adds to the character of this sleek design.
A beautiful addition to any home, ette's No.4 Large Mirror is characterized by its organic, almost-oval shape and clean, polished edges. The 5mm-glass mirror comes with a backing board panel and French cleat hardware, making it ready for easy wall-mounting.
Bringing not only light but also fun textures and cheerful colors to a room, independent label Al's Place dresses its mini mirrors in cozy, hand-tufted frames. The one-of-a-kind mirrors are often quickly sold out, so for interested shoppers, be sure to check the brand's Instagram for updates on any upcoming drops.
Miami-based home goods brand Puddle Pieces makes mirrors that will make you smile every time you look at your own reflection. Featuring a free-flowing, blob-like shape, the 001 Mirror will become your new favorite selfie station at the entryway.
A conversation starter, the Yes Mirror Mask by New York-based studio Chen Chen & Kai Williams features a mood-boosting smiley face design. Two other variants named No and Maybe, depicting frowning and confused faces, are also available for anyone looking to acquire a complete set for their home.
Share this article