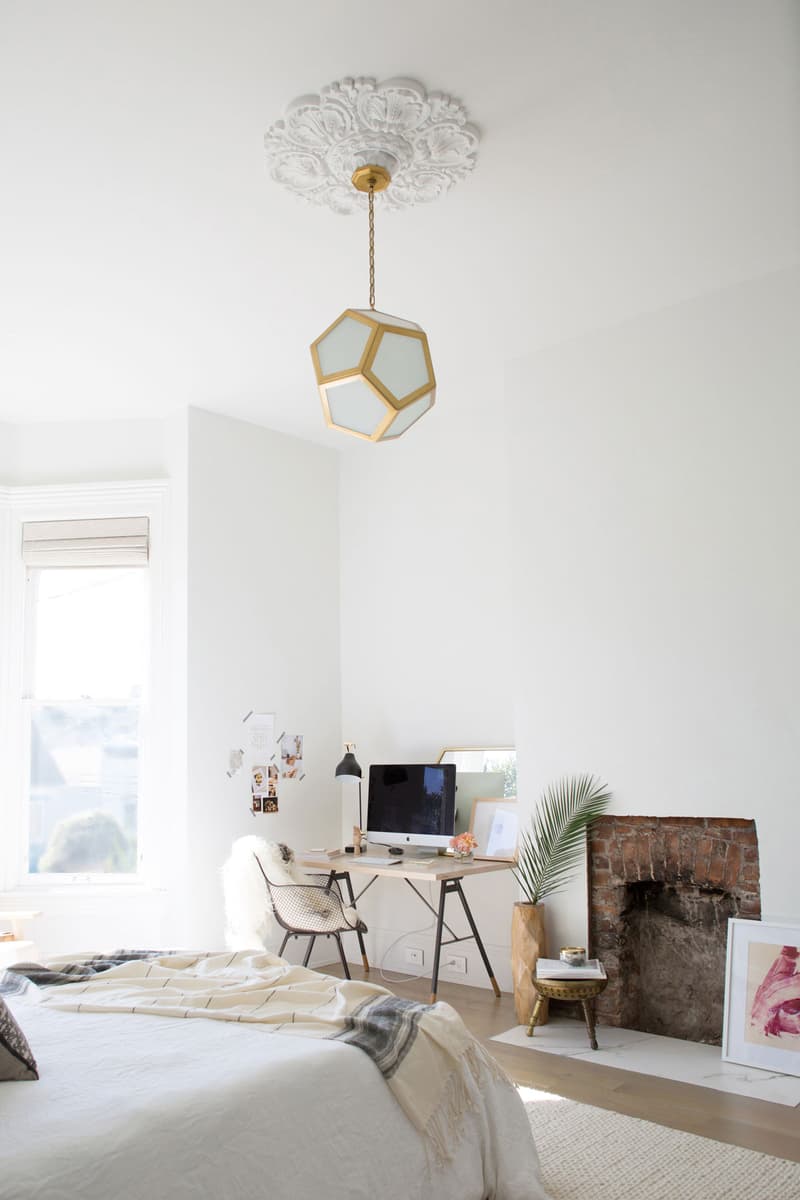 How to Set Up and Decorate a Small Home Office, According to Interior Designers
A tiny apartment can still be home to a polished work space.
Home
How to Set Up and Decorate a Small Home Office, According to Interior Designers
A tiny apartment can still be home to a polished work space.
If you are fortunate enough to be working from home amidst the coronavirus pandemic, chances are you're getting creative with your home office set-up. With less open space than a traditional office — as well as distracting temptations including a TV, comfy bed and unlimited snacks — your home may be hindering your productivity.
To help solve your WFH office woes, we consulted three expert interior designers and decorators about how best to set up and decorate a work space in a small apartment or house. Thankfully, it's entirely feasible to establish and differentiate office from living space, no matter if you live in a studio or classic eight apartment. In fact, a work space can take up as little as 12 square feet, according to Heia Studio Co-Founder Colin Clark.
Ditch your ironing board desk and keep reading for expert tips on how to set up an efficient office in a small home.
Set boundaries.
As a general rule, delineating your living from your work space will help get your mind in "office mode" and increase productivity. Danielle Blundell, home director at the Apartment Therapy, recommends separating your home — even if it's a one-room studio apartment — into different zones. "One for work, one for sleep, one for eating," she says. "Each of these areas should feel as physically separate as possible and you should try not to use these zones beyond their intended purposes."
To do this, Blundell suggests a folding screen or room divider to physically section zones off. Or, use a bar cart or similar wheeled cart as a place to keep office supplies (The Container Store's 3-Tier Rolling Cart prices at only $30 USD). At the end of the day, wheeling the cart out of your living space creates the illusion of packing up and going home.
If you're looking to make a more permanent change, Decorist Interior Designer Emerie Forehand proposes differentiating wall colors as an effective way to delineate space. "Try color blocking — add a pop of color behind your desk or sofa," she says. For those hesitant to take the plunge, separating work from living space with area rugs also helps.
Establish a desk.
If your home can't accommodate a standalone desk, retailers such as IKEA offer space-saving shelving that doubles as a table. Clark points shoppers in the direction of the affordable IKEA ALGOT Wall Upright Shelf, the slightly higher-end EQ3 Asterix Ladder Desk or the customizable Vitsoe 606 Universal Shelving System (a bigger investment) to start. A single wall-mounted shelf will do the trick, too — just make sure it's at least one foot deep, Blundell recommends.
If a shelf-desk hybrid isn't viable, surfaces already in your house can double as work spaces. Both Blundell and Forehand suggest using a kitchen or dining table as opposed to a coffee table, which sits lower to the ground and is generally situated in TV-watching and relaxing territory. For Clark, a kitchen counter is another double-duty desk option. Its elevated height offers the added benefit of switching from sitting to standing, which boosts productivity and improves circulation.
Additional options include a lap desk (Blundell recommends the IKEA KLIPSK Bed Tray, which can double as a mount for your laptop or computer monitor) or a set of adjustable, clamp-on legs that can turn any surface into a table. Floyd is a popular option for these handy legs, but the brand is currently sold out. A similar alternative can be found on Etsy store The Iron Mongery Shop.
Optimize ergonomics.
Staying comfortable can be tricky without the accoutrements your office may provide. Clark encourages investing in an adjustable desk chair at the very least. A simple one will do — according to the expert, bells and whistles such as seat angle, armrest and backrest adjustments are useless. Instead, prioritize a chair with a backrest, adjustable height lever and some degree of rotational tilt or flex (the ability of the seat to tilt with your body weight as you shift positions throughout the day). The
MUJI Working Chair
 and the
Herman Miller Setu Chair
are no-frills solutions that will complement most spaces.
To create an ideal working posture, your monitor or laptop screen should sit at about eye level (stack books underneath your computer for a quick fix). Position your keyboard and mouse so that your shoulders and arms are relaxed. Clark recommends adjusting your chair height so that you can reach your mouse with your arms at a 90 degree angle or greater. Your shoulders should be relaxed, not bunched around your ears, and your feet should be firmly planted on the ground. Dangling legs compromise circulation, so place a shoebox or yoga block under your feet for an easy adjustment.
Just add plants and light.
"Refining the details of your workplace enriches your experience and can inspire you to do good work," Clark posits, noting that while ergonomics are important, they "don't necessarily produce something beautiful or exciting."
Though a work space should ideally be situated near a source of natural light (a window), not everyone has that luxury. Clark, Blundell and Forehand all suggest task lighting such as an adjustable desk lamp. The Anglepoise Type 75 Mini Desk Lamp is a stylish option that arrives in multiple colorways while the Tab Table Lamp by Edward Barber and Jay Osgerby and the Louis Poulson AJ Table Lamp are design-oriented solutions, as recommended by Clark. If your work space is secluded from natural light, swap out dull lightbulbs for a "bright LED that simulate daylight," Blundell prescribes. She adds that strategically placed mirrors, white furnishings and white decorations also reflect light and create a brighter environment.
According to Clark, plants "will eventually become your all-time favorite co-workers." The benefits of leafy greens as decoration are well documented, ranging from improved concentration to reduced stress to cleaner air. Your ideal houseplant will vary depending on whether you're placing it in direct or indirect sun, but generally, Blundell recommends low-maintenance options such as pothos, succulents and ZZ plants. Forehand agrees that easy-to-care-for plants are the way to go. "That way you can work and forget about them," she says. Clark points to prospective foliage parents in the direction of peperomia, ficus benjamina, fiddle leaf fig and rubber plants, all options that thrive in indirect sunlight.
Don't forget small essentials such as stationary, too. Clark prefers "products that are designed for working rather than the home," as they help facilitate a work-oriented mindset. He recommends functional yet sleek notebooks, pens and other supplies from MUJI, Hightide Store DTLA and The Good Liver.
Do you.
At the end of the day, there's no one-size-fits-all solution for the perfect work space. It all comes down to personal routine and preference — while some should avoid working in the bedroom due to the temptation to nap, Clark notes that some of his friends, all of whom have worked from home for years, are "very productive on the sofa or in their beds, with the TV playing in the background." Forehand agrees: "The best place for everyone is different," she says.
Additionally, Clark finds that WFH productivity is aided by sticking to your in-office habits. This can mean getting dressed in an office-ready outfit, listening to the same type of music you play at work or replicating scheduled coffee breaks to trigger your brain's work mode.
"Ultimately, you will want to like where you are working," Clark adds. The best advice may simply be to experiment with your home office set-up and go with what feels best.