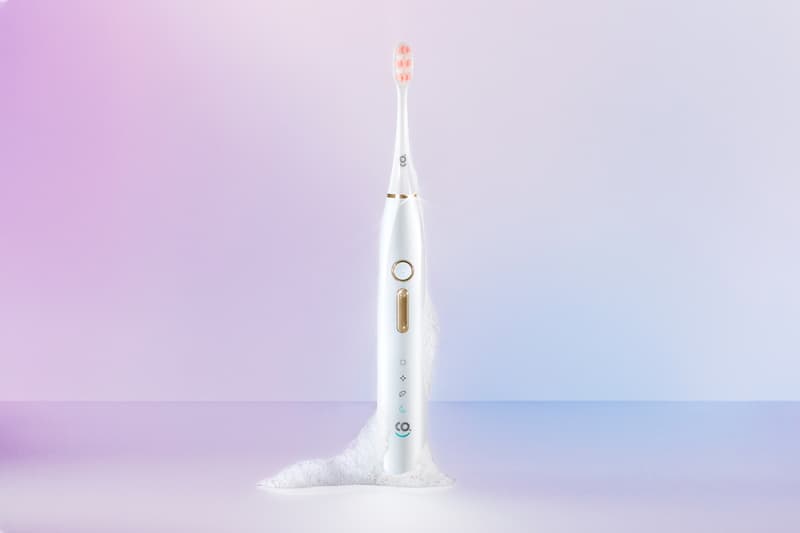 Beauty
Brushing Your Teeth Has Never Been Cooler, Thanks to These Trendy "Oral Beauty" Brands
Amidst the pandemic, companies have elevated dental hygiene from ho-hum chore to stylish self-care routine.
Brushing Your Teeth Has Never Been Cooler, Thanks to These Trendy "Oral Beauty" Brands
Amidst the pandemic, companies have elevated dental hygiene from ho-hum chore to stylish self-care routine.
Brushing and flossing have never been particularly sexy, but a crop of stylish hygiene brands — peddling everything from sleek electric toothbrushes to 40-dollar mouthwash — are aiming to change the ho-hum nature of oral care.
Last month, Colgate (yes, the drugstore giant) launched CO. by Colgate, a sister line targeted at Gen-Z consumers. Touted as the "first-of-its-kind oral beauty line that flips the script on everyday oral care upkeep," the brand could be described as the Glossier of dental hygiene. Encompassing toothbrushes, toothpaste, mouthwash and whitening products, the tightly curated range is neatly packaged in iridescent boxes that gleam pastel shades of lavender and baby blue. The collection's crown jewel, the CO. Worker Electric Toothbrush, is something of an objet d'art: its smooth, alabaster body is detailed with rose gold buttons and silver touch-sensitive logos.
CO. by Colgate is a distinctly novel take on oral care, or "oral beauty," as the brand calls it. A short ad avoids toothpaste commercial tropes such as dentist office stock footage and 3D animations of spotless teeth, instead showing a group of fashionably dressed teens using the products in Instagram-worthy bathrooms outfitted with pastel backsplashes and smiley face mugs. Another shot shows two girls in a fairy light-filled bedroom taking selfies while using its LED tooth whitening device. Using CO. by Colgate isn't just good for you — it's an experience worth documenting online.
The company also capitalizes on our increased attention to self-care, a practice that has boomed throughout the coronavirus pandemic. "Gen-Z is particularly attuned to mental health and self-care, particularly during the pandemic, and they see beauty experiences as one avenue to fulfill this need," confirms Dana Medema, vice president of Colgate's oral care division in North America. Indeed, COVID-19 has caused consumers to shift away from makeup, instead investing their money in skincare products and beauty tools that bring soothing spa rituals — such as facials and masks — to the comfort of their own home. 
Echoing Medema's sentiments, Brittany Stewart, president of BURST Oral Care, says the brand has seen "significant growth" in its community as a byproduct of COVID-19. "People have really embraced the idea that wanting to look good and feel good are two sides of the same coin," she explains, adding that BURST's whitening products and oral probiotics have been performing particularly well. 
Aside from the self-care boom, the practical difficulties of accessing dental care during the pandemic are also fueling the oral beauty category. "Over 50 percent of Americans have skipped a dentist appointment during COVID," quip CEO Simon Enever remarks. Founded in 2014, quip has continued to appeal to style-conscious customers with its sleek aluminum toothbrushes and minimalist mouth wash dispensers, products that inspire healthy habits via attractive, user-friendly design. It also offers a handy subscription service that automatically delivers toothbrush head refills, a perk that has seen "continued demand" as COVID-conscious shoppers cut down on in-person store trips. 
Tricia Quartey-Sagaille, a practicing dentist and spokesperson for the American Dental Association, attributes increased interest in oral hygiene to the "Zoom effect." People are staring at themselves on video meetings for hours every day, leading them to notice — and obsess over — aesthetic quirks such as discolored or crooked teeth. "I'm seeing many more patients asking about whitening or straightening their teeth," Quartey-Sagaille reports. "More patients are having these procedures due to the amount of screen time our teeth get these days." The doctor has also seen a rise in tooth grinding-related issues such as jaw pain and chipped teeth, a trend The New York Times blames on pandemic-induced stress and tension. 
"We're now living in an era where consumers are prioritizing their wellbeing and adapting new self-care routines that easily fit their lifestyles," Medema asserts. Her statement is rife with nuances that would make any marketing major go wild. Oral care is now an indicator of lifestyle. Tooth-brushing is no longer a humble routine to ward off bad breath and decay — it's blossoming into a veritable status symbol. This metamorphosis is unfolding before our very eyes: Cocofloss, a colorfully branded dental floss purveyor, sells packs of fruit-flavored string for $28 USD. Moon Oral Care, a line of matte-black toothbrushes and pastes, teamed up with Kendall Jenner — the ultimate peddler of "lifestyle" — to create an influencer-approved tooth whitening pen. Burst partnered with Chrissy Teigen last year. Vvardis, maker of $45 USD mouthwash and $55 USD toothpaste, is revamping quotidian essentials as extravagant luxuries.
Sociocultural connotations aside, the rise of oral beauty may have a positive impact on the public's overall dental health. "This year has shown the importance of both at-home care and in-office care," Enever says. He predicts patients will begin paying equal diligence to their at-home oral routines and twice-yearly dentist visits (appointments that, pre-COVID, were often deemed unnecessary). Quartey-Sagaille hopes Enever's forecast holds. "The head is not cut off from the rest of the body — poor oral health has been associated with a variety of health complications, including heart disease," she notes. If stylishly designed toothbrushes, fruit-flavored floss and influencer-backed whitening pens are what it takes to get patients to the dentist, then bring it on — we can't wait to see what's next. 
Share this article