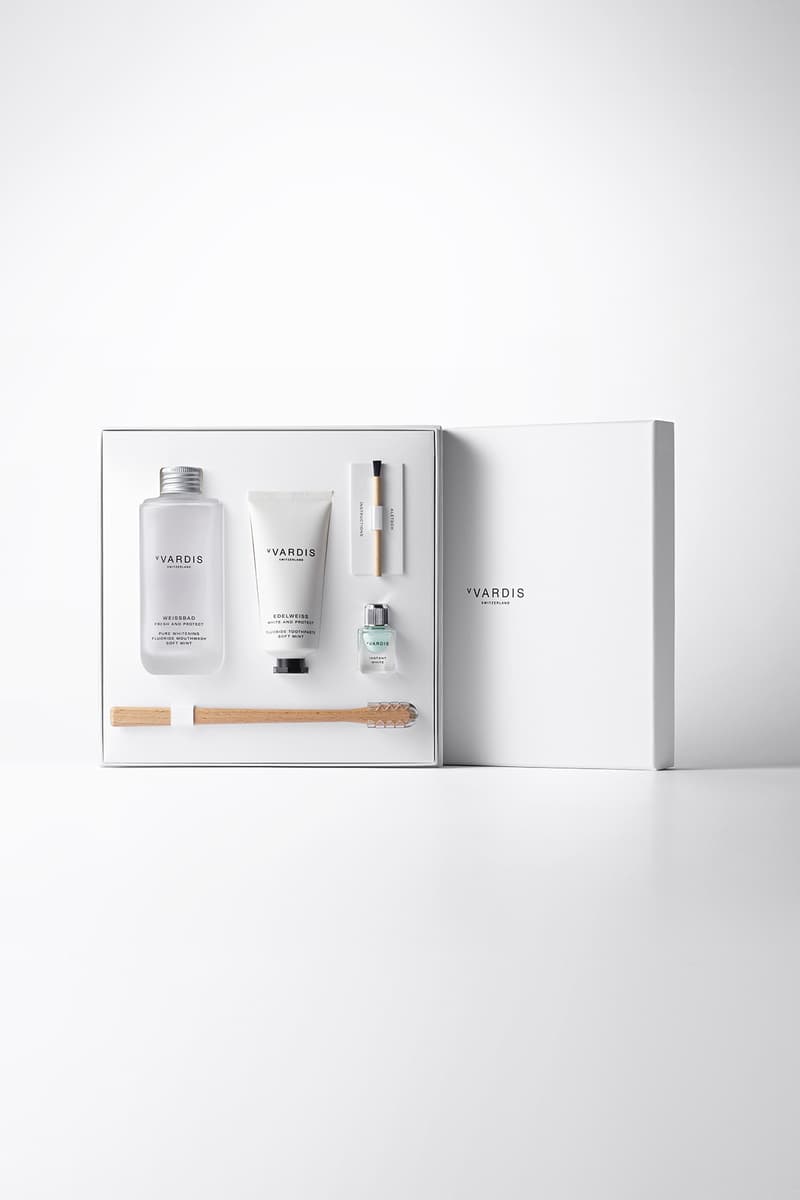 1 of 2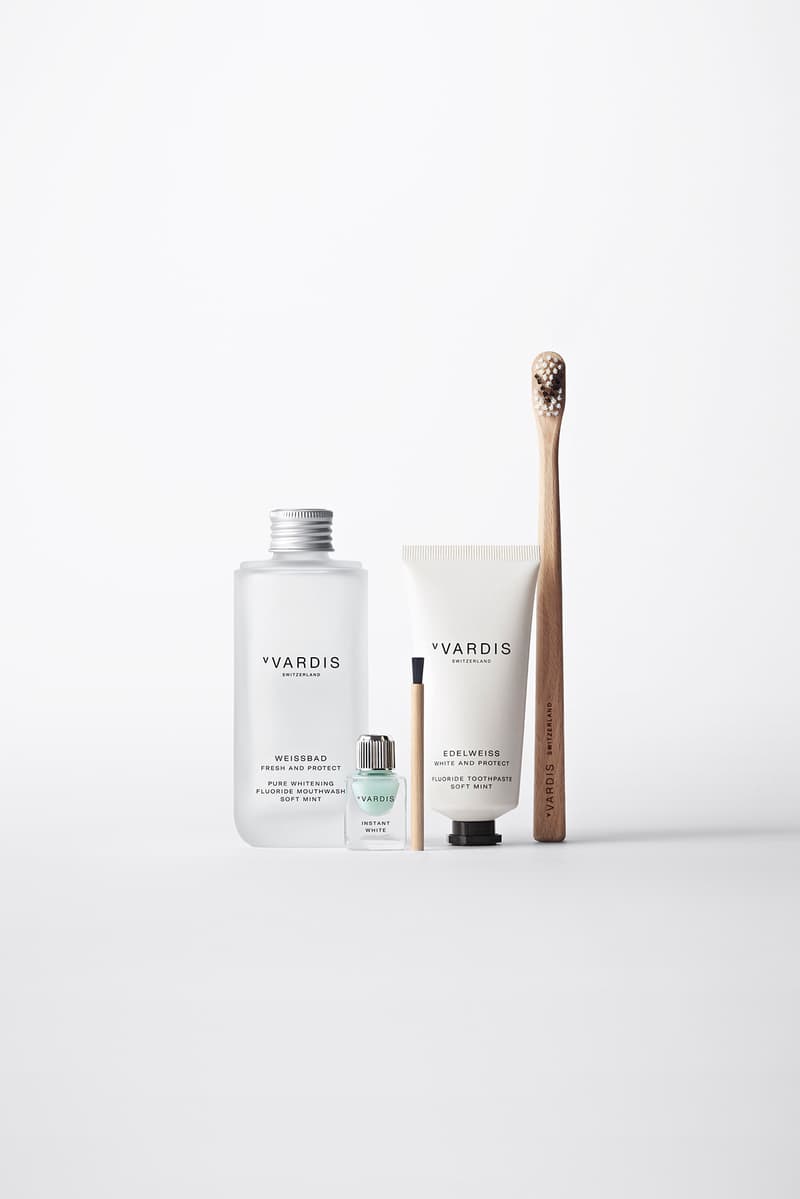 2 of 2
Beauty
An Editor's Review of vVardis, the Prettiest Tooth Whitening Kit Ever
The Swiss oral hygiene brand promises pearly whites, at a price.
An Editor's Review of vVardis, the Prettiest Tooth Whitening Kit Ever
The Swiss oral hygiene brand promises pearly whites, at a price.
Bleach, dental strips, terrifying-looking LED lights — there's no shortage of options available to consumers in pursuit of a whiter smile. What with a bevy of teeth-brightening solutions on the market, it's no surprise that some are safer than others. Hydrogen peroxide, a bleaching agent commonly found in whitening strips, can damage tooth enamel and cause sensitivity, while over-the-counter UV kits can irritate the stomach and even lead to nerve damage. Navigating a minefield of potential risks isn't made easier by the fact that social media platforms such as TikTok help spread misinformed DIY cosmetic advice — in August, one user's suggestion to swab teeth with 3 percent hydrogen peroxide went viral, causing doctors to chime in (spoiler alert: they don't recommend it).
Despite risk factors, people aren't shying away from teeth whitening. According to a 2020 report, the already healthy market for dental brightening products is expected to grow, even amidst the pandemic. I'll admit — before December 2020, I was a tooth whitening virgin. Years of braces and drinking acidic beverages have appropriately weakened the enamel of my teeth, which are chipped in more than a few places. For this reason, I was hesitant to try a potentially harsh whitening regime that could leave me with further enamel damage, or worse. However, I was intrigued when I heard about vVardis, a brand of teeth whitening products marketed as sustainable and, above all, safe. vVardis even purports that its tooth whitening gel actually helps strengthen teeth.
A coffee devotee and former smoker, my teeth aren't horrible but certainly aren't the brightest. Without much hemming and hawing, I quickly decided to take the plunge and try the Swiss brand's whitening kit, developed by sisters and dentists Golnar and Haleh Abivardi (I'm obsessed with their matching outfits). All products in the vVardis Set are meant to be used in tandem and result in a whiter, fresher and overall healthier mouth. The kit's crown jewel, the Aletsch Instant Bright and White gel, contains a special ingredient called WX Formula, which contains fluoride and mimics the tooth's remineralization process. The ice-blue gel, which is gentle enough to be used daily on sensitive teeth as well as ceramic crowns and fillings, not only helps strengthen enamel but also protects against cavities. All you do is sweep it over your teeth after brushing.
Speaking of brushing, vVardis' kit also comes with special toothpaste which, by the way, is packaged in the sleekest tube you'll ever find. Dubbed Edelweiss (like The Sound of Music song), the paste also contains WX Formula. I tried the "Soft Mint" flavor, which is much subtler tasting than most toothpastes (if you prefer eye-watering minty-ness, I'd suggest you opt for the "Strong Mint" version). Weissbad, the fluoride mouthwash, is much more potent and left my mouth feeling dentist-level clean for hours after rinsing. Sadly, it runs out too quickly — at least in my opinion — for its $45 USD price tag. Lastly, the Rheinholz toothbrush is an elegant, wooden apparatus designed to prevent excess pressure from harsh brushing, which can damage enamel and gums. You can see the brush in action in a how-to video featuring probably the hottest couple alive.
vVardis shines where many drugstore brands fail: its carefully considered design makes me, an adult, excited to brush my teeth, much like the way singing toothbrushes and bubblegum-flavored toothpaste makes oral care fun for toddlers. Are my teeth whiter? Honestly, IDK — after using the whitening gel twice a week for about two-and-and-a-half weeks, I didn't notice a huge difference (you can judge my before and after photos for yourself). That being said, I did notice myself taking more care than usual when it came to my dental routine and oral hygiene, a plus that could make a huge difference for those who find themselves "forgetting" to brush regularly.
Unfortunately, vVardis isn't exactly affordable. Though the brand's whitening set rings up for less than a professional, in-office whitening, it's still $320 USD, a massive price tag for most. On its own, the Aletsch whitening gel is $250 USD, a considerable investment that many can't afford. If you've got cash to blow, sure — give vVardis a try. Your bathroom counter will certainly look polished with the brand's full set of stylishly packed products, or at least the frosted glass bottle of mouthwash, my favorite item of the bunch. For most, though, vVardis is simply too expensive.
Share this article