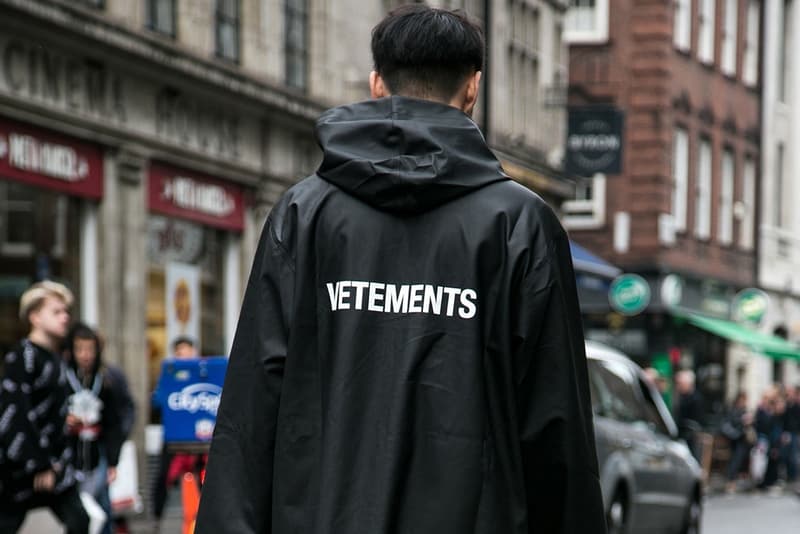 Fashion
In a Classically Meta Move, Vetements Files Trademark for "VTMNTS" Brand Name
What's in a name, anyway?
In a Classically Meta Move, Vetements Files Trademark for "VTMNTS" Brand Name
What's in a name, anyway?
Vetements might be changing its name to VTMNTS, recently surfaced trademark filings suggest. In documents spotted by The Fashion Law, the Zurich-based brand is seeking to register the streamlined name to cover a range of categories including clothing, accessories, perfume and cosmetics (is Vetements makeup on the horizon?).
Vetements' filings, which date back to May 2020, suggest the brand is toying with a name change or the launch of a sub-label, perhaps a diffusion line à la Marc by Marc Jacobs. The former would make more sense — last year, the brand attempted to trademark its existing name, vowels and all. However, the company faced a major roadblock in the endeavor. "Vetements" is the French word for clothing, a brand name that was chosen in part to reflect founder Demna Gvasalia's tongue-in-cheek approach to fashion. The U.S. Patent and Trademark Office deemed the name and its English translation too literal, as it simply describes the type of products Vetements produces. The brand may be hoping that VTMNTS, sans vowels, is abstract enough to trademark.
In a rather humorous turn of events, it seems Vetements is too clever for its own good. The brand brought a certain breed of self-referential, self-conscious irony to fashion — as evidenced by its extremely meta name — but its cerebral aspirations may have backfired. What's in a name, anyway? The entire situation leads us to one of Shakespeare's most famous quotes: "That which we call a rose/By any other name would smell as sweet."
Vetements has yet to comment on its uncovered trademark filings.
Share this article