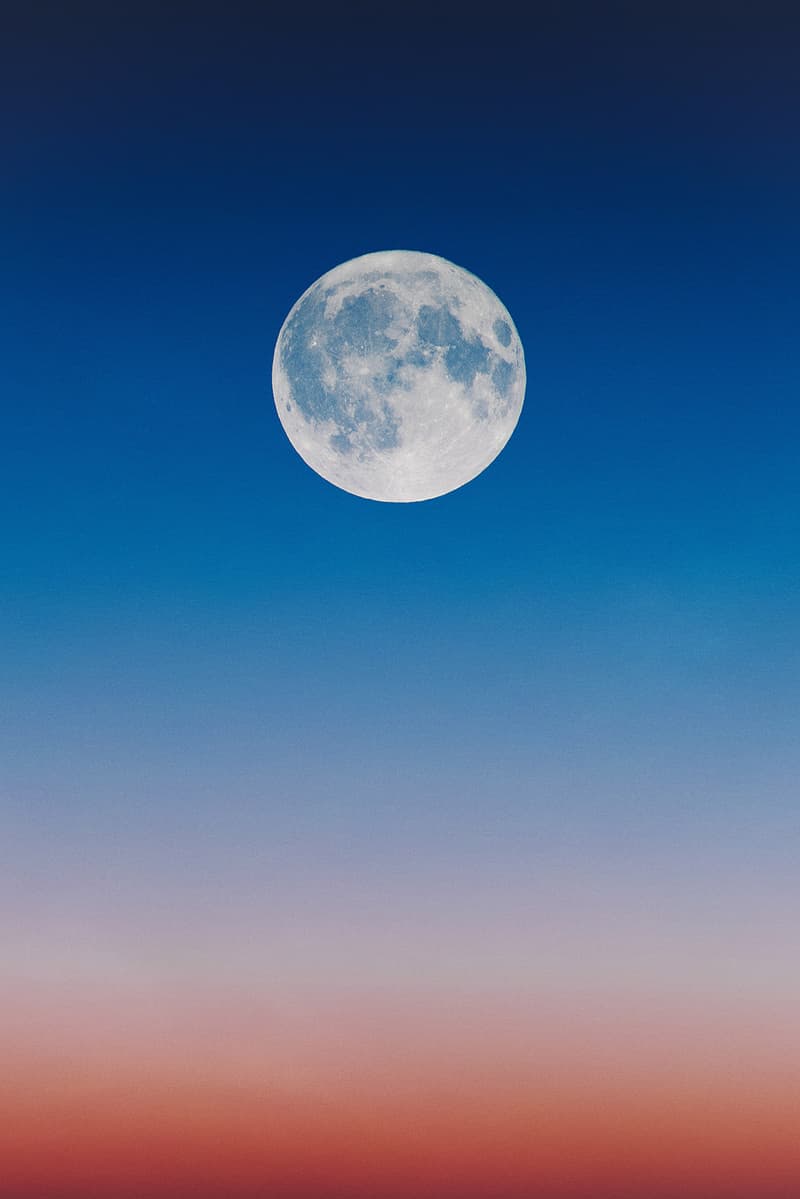 How the August Full Sturgeon Moon Will Affect Your Zodiac Sign
The full moon will light up the night sky this weekend.
Culture
How the August Full Sturgeon Moon Will Affect Your Zodiac Sign
The full moon will light up the night sky this weekend.
August's full Sturgeon moon (aka the Blue moon) will appear in the night sky on August 22. For those curious about the upcoming cosmic event, here, we've gathered everything you need to know.
The name of the August full moon originates from the fish sturgeon. "This Blue Moon is known to have gained its title due to a history of sturgeon being easily caught at a higher volume within the great lakes following the rise of the August moon," Eva White, psychic and spiritualist of Psychics1on1, explains. The full moon also happens to take place during the Perseid meteor shower. However, the latter celestial event already reached its peak from midnight on August 11 to dawn on August 13. For that reason, the "full moon will not be spiritually and astrologically affected," White says.
Continue reading to learn more about the effects of the full Sturgeon moon on each zodiac sign, and what kind of energy it will deliver this month.
View this post on Instagram
What kind of energy will the Full Sturgeon Moon bring?
The Blue Sturgeon moon is a time to celebrate. We have made it through many obstacles and we will now end the summer with pride. Look back at accomplished ambitions and rejoice in them. Also, be open to accepting deals and contracts during this time. Furthermore, come to peace with the issues that have caused you conflict. The full moon brings us the confidence to accept our failures, dust ourselves off and prepare for fall. This is the third of four full moons of the season, which means it is a special time when we get extra luck towards our next set of ambitions. You can expect to feel a calmness over your mind, body and spirit. An emotional balance is gifted to us during the full Sturgeon moon.
Effects of the full moon on each zodiac sign
Aries
Expect heightened luck in your goals, plans, dreams and creativity. Step forward in your love life and strengthen friendships after your confidence peaks.
Taurus
Big opportunities in your career will arise during and after this full moon phase. You have pushed through for longer than usual and that will now prove to be worth your time.
Gemini
Feeling a bit pulled in all directions? There is a reason. You have put many things in motion but have not been able to fully grasp one focus this summer. Take a look at how many sides of you there are right now. It is time to hone in on what is best for you. This full moon recommends resuming education or travel plans.
Cancer
Financial stability is on the way. Get ready to get paid after a big investment or hard work this year. If you are afraid to invest, now is the time. Expect your partner to also benefit from these financial increases.
Leo
You are finally seeing eye to eye or are in agreement with a partner. Your relationships are about to flourish due to the attention you are receiving. Everything else is slow progress, but you are adored by everyone around you at this time.
Virgo
You feel overwhelmed and you are trying your best to keep up. You need to remember that you have put out more energy than necessary in order to accomplish your personal goals. Take a break and ease the pressure you have put on yourself. Now is the time to focus on your mental health.
Libra
Focus on your physical body and health. There is a big goal you will reach this month. Expect more ambition towards improving your physical health or reaching your goals.
Scorpio
Good news, Scorpio. Expect movement, shift and change. Old energies out and new energies in. A new person might walk into your life — whether that be a friend, a romantic partner or a newborn baby.
Sagittarius
You have procrastinated investing in something you have really needed this year. It could be moving out of a toxic place, or even the purchase of a home or car of your own. It is a big investment, but it is much needed and you deserve it. The full moon will bless you with what you need.
Capricorn
Be careful with what you spend and hold onto your money a little bit longer. Soon, you will have more money due to a big payoff or raise. It will be better to make bigger investments after this full moon. Hold off on any small investments at this time.
Aquarius
A bit of an identity crisis has taken place this year. You've been wondering what you're doing with your life, what your purpose is and what you believe in. The Sturgeon moon grants you your truth and helps you grasp an understanding of your true purpose.
Pisces
"Agree to disagree" is your motto during the full Sturgeon moon. You are not letting people walk all over you, but you are definitely tired of debate and animosity. You accept the terms of a pending relationship or job that you may not 100 percent agree with, but you will be rewarded for your sacrifices and understanding attitude.
---
Eva White is a psychic and spiritualist from Psychics1on1, a digital platform that connects people with new-age healers.
Share this article