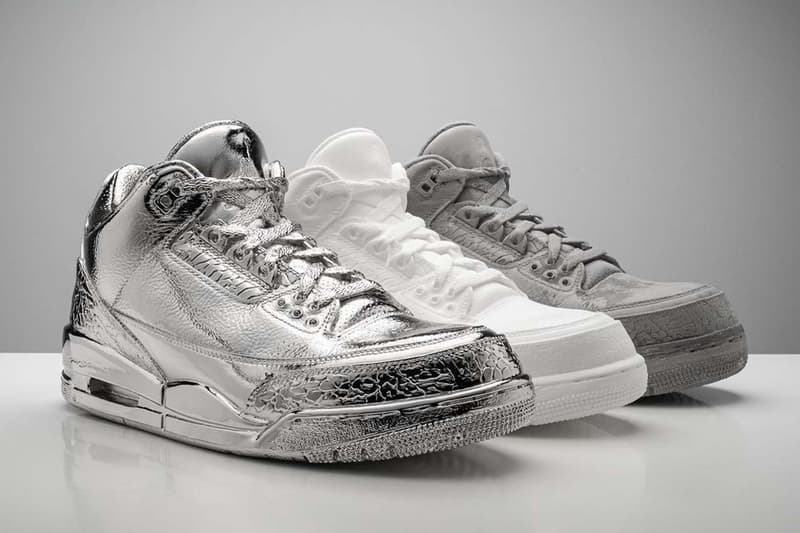 Footwear
5 Unique Valentine's Day Gift Ideas To Impress Any Sneakerhead
Plus a few things you may wanna get for yourself.
5 Unique Valentine's Day Gift Ideas To Impress Any Sneakerhead
Plus a few things you may wanna get for yourself.
Valentine's Day is right around the corner and as expected, sneaker brands are rolling out special edition models to celebrate the romantic season — from heart-covered adidas UltraBOOSTs to lace-trimmed Nike Dunk Lows. However, if you're looking to celebrate your partner's love for kicks in a new way, check out these non-footwear gift suggestions for the sneaker enthusiast.
From a collectible coffee table book to a drool-worthy LEGO set, read on for five unexpected gift ideas to impress a sneakerhead this February 14.
Matt Senna Concrete and Resin Sculptures
Price: $450 – $550 USD
Where to Buy: Matt Senna
Artist Matt Senna recreates iconic Air Jordan silhouettes as fine art sculptures. Each piece comes individually numbered in a custom box, making them ready for gifting.
Virgil Abloh. Nike. ICONS by Virgil Abloh
Price: $80 USD
Where to Buy: Barnes & Noble
While there's no shortage of sneaker books out there, this one by Virgil Abloh is most certainly a collector's item. At 12 x 10 inches and over 300 pages, it is sizable enough to be displayed or styled as a coffee table book.
adidas Originals LEGO Set
Price: $80 USD
Where to Buy: LEGO
A nostalgic LEGO set makes the perfect gift for the sneaker lover, and serves double duty as a home decor item once it is completed.
R. Valentino Incense Tray
Price: $40 USD
Where to Buy: R. Valentino
With a design inspired by the Air Jordan 1, this incense tray calls out to sneaker culture while maintaining an upscale aesthetic. Shopping for a vintage lover? Check out the aged version inspired by 1985 Jordan 1s.
Nike Air Max Patent Prints
Price: $17 – $214 USD (Based on size)
Where to Buy: Etsy
Add a touch of sneaker inspiration to your partner's living space with this set of prints featuring Nike Air Max patents.
Share this article