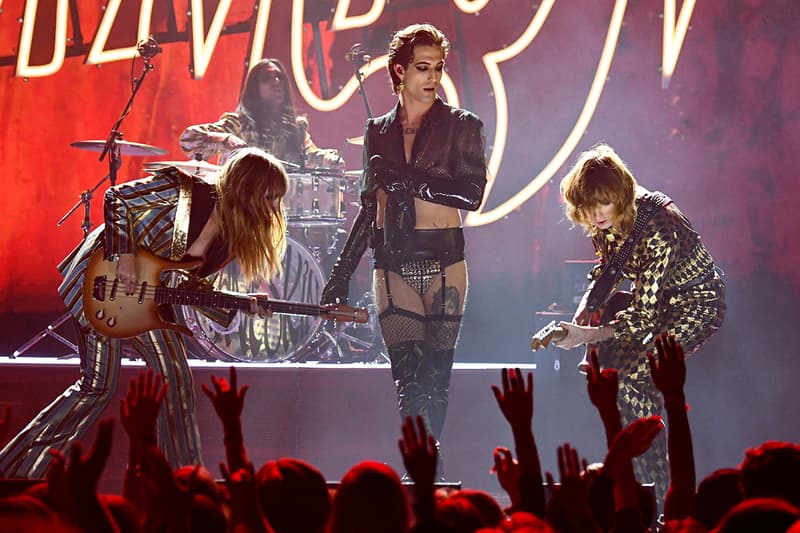 Music
Måneskin Are the Unexpected, Irreverent Rock Icons We've Been Waiting For
How the Italian band went from hometown heroes to Gucci ambassadors.
Måneskin Are the Unexpected, Irreverent Rock Icons We've Been Waiting For
How the Italian band went from hometown heroes to Gucci ambassadors.
Måneskin, the Italian rock band from Rome, is the internet's latest crush. Overnight, the four 20-somethings — vocalist Damiano David, bassist Victoria De Angelis, drummer Ethan Torchio and guitarist Thomas Raggi — went from hometown heroes to international cult rock stars after winning 2021's Eurovision Song Contest. Since their win last May, Måneskin has opened for the Rolling Stones, collaborated with Iggy Pop on the track "I Wanna Be Your Slave" and performed live on Jimmy Fallon's The Tonight Show. In a pop and rap-driven era, Måneskin has emerged as somewhat of an anomaly — who knew the day would come when a rock band would have over a billion streams on Spotify?
However, it's more than just Måneskin's music that has captured our attention. The band's androgynous style slaps, too.
View this post on Instagram
Decked out in metallic, skin-tight jumpsuits, four-inch platform heels and heavy-duty black eyeliner, the band takes cues from 1970s glam rock legends like David Bowie, New York Dolls and Iggy Pop. But to say Måneskin's fashion sensibility is little more than a direct replica of what came before them would be a disservice to the band's originality and their kooky-sexy-freaky appeal.
Regularly seen sporting silk suits and clashing patterns, the band embraces an element of the carnivalesque that's equal parts disco, while their penchant for leather harnesses, garter belts and fishnets leans into an erotic, edgier sensibility. These stylistic subversions are endless in the Måneskin aesthetic universe — silver jewelry rich in religious iconography is yet another one of the band's regular go-tos. Sexy circus nun meets Studio 54, anyone?
If we have to categorize the band's irreverent style, we'd say it's the perfect combination of glam rock meets punk rock meets BDSM meets Giallo horror — just watch their music video for "MAMMAMIA." And yes, the artwork for the track is a direct reference to the Rolling Stones' Sticky Fingers.
View this post on Instagram
View this post on Instagram
View this post on Instagram
Playing with contrasts and challenging stereotypes, Måneskin's style is difficult to categorize, but it's also what has quickly cemented their status as fashion icons. Ultimately, Måneskin gives us something at once familiar yet refreshingly different, serving us the perfect dose of nostalgia while still making their stage costumes and red carpet outfits their own.
Perhaps this is what Gucci's Alessandro Michele was drawn to when he cast the band in the Italian luxury fashion house's latest Aria campaign. After all, Gucci does have a reputation for sexy eccentricity.
If anything, Måneskin symbolizes a reaction against minimalism. And after almost two years of pandemic-related lockdowns, there's a collective yearning for over-the-top exuberance. We're all ready to ditch the sweats and up the ante. Måneskin is just 10 steps ahead of us.
View this post on Instagram
View this post on Instagram
---
Klea Hawkins is a writer and editor specializing in fashion, art and contemporary culture. She likes '80s post-punk, hot takes on Twitter, shoulder pads and freshly cut flowers. You can find her on her website and Instagram.
Image Credit

@maneskinofficial
Share this article