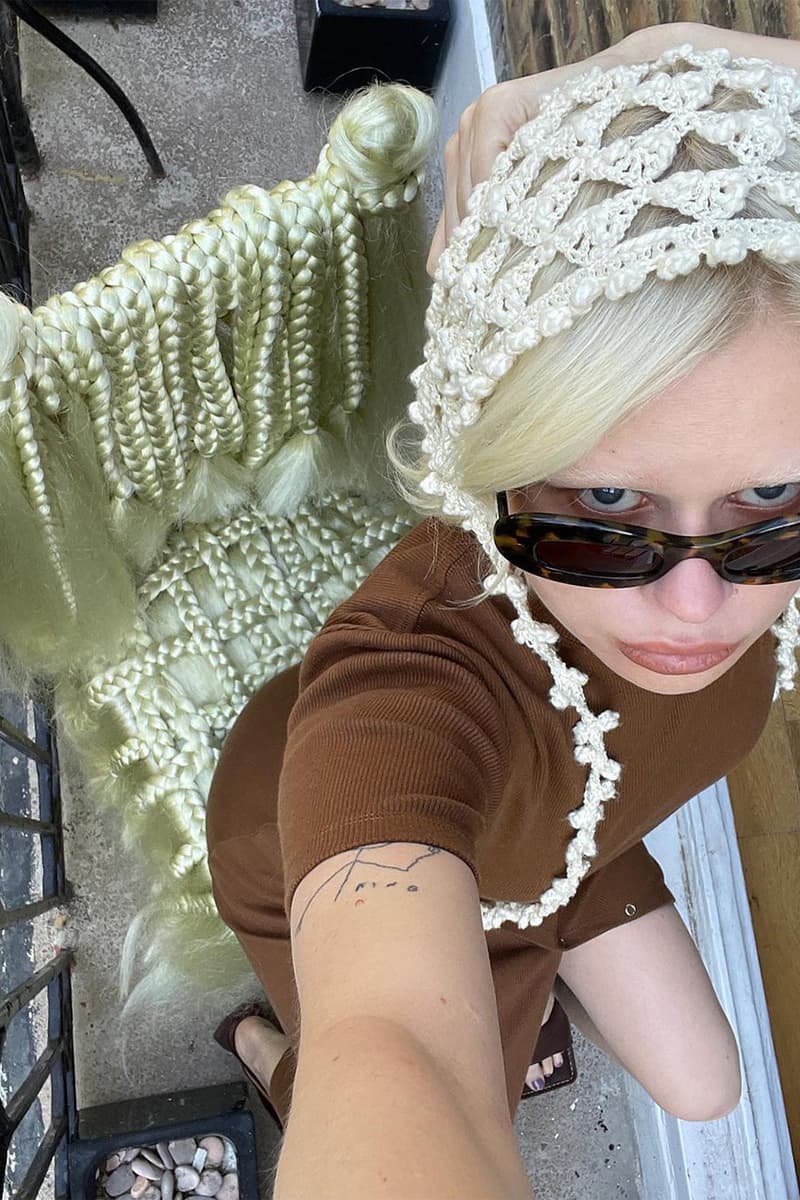 Artist Maria Lysenko on Subverting Harmful Beauty Standards Through Abstract Art
"With art, you put all your attention into your creations, not your appearance — it makes me feel very fulfilled."
Art & Design
Artist Maria Lysenko on Subverting Harmful Beauty Standards Through Abstract Art
"With art, you put all your attention into your creations, not your appearance — it makes me feel very fulfilled."
Born in a small city in Russia, Maria Lysenko spent her childhood in Moscow. After dropping out from a BA Fashion degree in Russia, the artist moved to London two years ago and never looked back. Her ethereal and alternative vision is shaking up the fashion and art industry, through her fluid works and distinctive aesthetic.
Despite having a strong following on Instagram and being a muse for the beloved and popular British label Charlotte Knowles, Lysenko does not define herself as a model or influencer but as an artist. Inspired by her desire to subvert stereotypical harmful beauty expectations in women, she works at the cutting edge of furniture craft to create abstract and experimental compositions that inspire rather than pressurize.
The visionary artist is passionate about art in all its different forms. From hairy chairs to acrylic nail cigarette trays, Lysenko's whimsical visual language is filled with vibrant hues and provocative imagery that brings fresher, more invitational energy to the industry. The artist draws inspiration from her interest in hair and makeup to produce art that images an abstract representation of traditional beauty standards.
Hypebae recently sat down with the creative to get to know her better and talk about her craft, sources of inspiration and personal opinions on the industry. Scroll down below to read our interview with Maria Lysenko.
View this post on Instagram

Who is Maria Lysenko, and what is she passionate about?
I was born in a small city in Russia and spent my childhood in Moscow. I moved to London nearly two years ago and never looked back. I have not finished my Fashion BA degree in Russia, and I do not regret it. Since moving to London, I have been working in different fashion jobs for the last few years as well as doing product design for companies. I'd say my passion is visual arts in all its different and hybrid forms.
Going back to the beginning, what made you decide you wanted to pursue art?
I think this form of self-expression is the most appealing to me. I've tried other things like social media influencing, but it made me extremely mad and depressed. I was constantly comparing myself to others and felt unhappy all the time. With art, you put all your effort into your objects, not your appearance, so it makes me feel very satisfied and fulfilled.
View this post on Instagram

Who do you look up to, and what inspires the narrative of your art?
I am constantly inspired by fashion and feel fascinated by humans in general. Thomas Barger's art, in particular, undoubtedly inspired me to start making furniture. I love his creations so much — how he subverts rather than strives for. After reading a few interviews with him, I felt encouraged to start exploring different visual forms and try my hand at them. For my latest furniture series, I tried to dig deeper and offer a more personal take on my compositions. The collection reflects my experience coming out of a depressive episode and the physical changes I had to make to accept myself. For the longest time, I felt the need of having to get lip fillers and hair extensions to fit in and feel good about myself.
What is an overarching notion or message that you try to incorporate into your work?
By merging synthetic beauty materials like artificial hair and nail extensions with natural materials that can be shaped by hand (clay, fabric, papier-mâché), I explore ways in which appearance can change the perception of the objects. I like working with hair so much — I personally love to experiment with hairstyles and colour extensions, as well as trying different makeup looks, so I always try to incorporate an element of that into my creations.
View this post on Instagram

How has your heritage influenced the art you create?
I initially thought my art was not influenced by my heritage at all, but then I remembered the typical Russian woman with long nails, hair extensions and makeup, the way she dresses up at all times and wears heels to the airport. The beauty industry is very advanced in Eastern Europe, especially in Russia and Ukraine — people there love to judge you by your appearance. So I realized the reason why I love turning riotous beauty enhancements into whimsical objects might originate from this notion.
What does your creative process look like?
The first step is to buy some second-hand furniture on Facebook marketplace. Then I bring it to my studio and start thinking of ideas and researching the materials I want to use for the new piece. The final stage is assembling everything together, but even during this process, the object could be changed a few times.
View this post on Instagram

How do you intend for your work to be perceived?
I want people to feel how darkness can be transformed into something beautiful, as that is how my creative practice started. Art is about finding your own interpretation of things and source of inspiration, so I hope people will find something special in my work and feel inspired.
What is next for you, and are there any new areas you are looking to experiment with in the future?
I need to find a new studio in order to continue my art practice and craft. I am currently working on a series of industrial, gothic oil paintings that I hope to be able to show soon.
View this post on Instagram

This interview has been condensed and edited for clarity.
---
Share this article