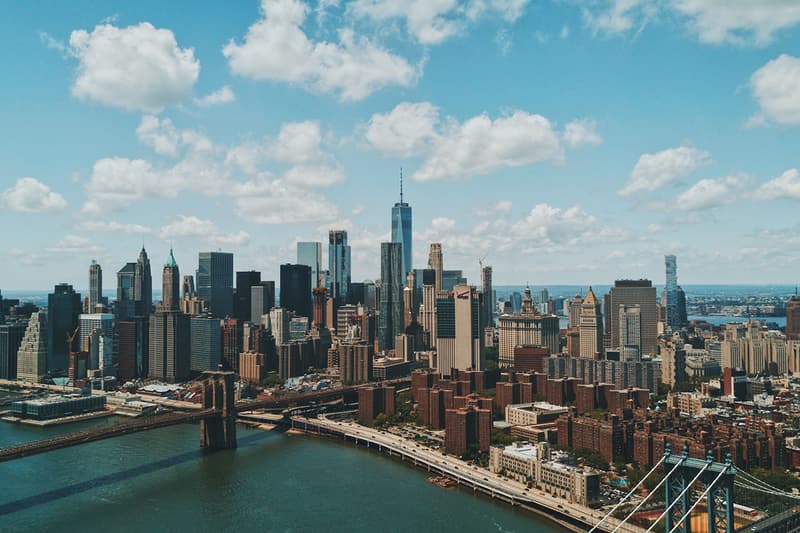 The Most Instagrammable Hotels to Book in New York City
Channeling "Eloise at the Plaza."
There's a reason why New York is regarded as one of the best cities in the world. The Big Apple is home to a bustling and vibrant culture — ripe with amazing food, beautiful art, high fashion and some of the most creative minds. The city that never sleeps has no shortage of things to do and see, which makes it one of the best destinations for a mini-vacation.
From the Met Museum and the High Line to Sant Ambroeus, there is always something to do in New York. However, we're not here to give you an itinerary, although we have plenty of recommendations. We've complied a list of the most Instagrammable hotels in New York City for you to book for your next visit. Continue scrolling to learn more.
View this post on Instagram
While some old-schoolers may consider the heart of New York to be Manhattan, all the cool kids know Brooklyn is the best borough. The Ace Hotel Brooklyn is the perfect place for out-of-towners and seasoned travelers alike to visit as the hotel excels at offering its guests a heavy dose of carefully curated vibes.  Smiling doorman wait nearby to greet and let you in, while the hotel's uber-friendly staff never fail to make you laugh or compliment your handbag on your way out.
Ace Hotel's lobby is unmatched when it comes to ambience. The incredibly spacious lobby gives way to an ultra-sexy bar and lounge, while a lengthy college-style table is thoughtfully tucked away into the corner for those who are attempting to work with minimal distractions. By the elevators is an additional hangout spot with plenty of lush greenery and a skylight for an open and airy atmosphere. Not to mention, an adorable photo booth makes for great memories on the way back from a night out. Ace Hotel Brooklyn is also home to the lovely restaurant, As You Are, which provides top-notch service and even better food.
The rooms in Ace Hotel Brooklyn are truly works of art as each room is not only outfitted with original artwork, but comes with floor-to-ceiling windows for a view of Downtown Brooklyn and a luscious couch nearby for staring out into the city. The room also features a mini-fridge filled with all of the drinks and bites you could want, as well as a state-of-the-art bathroom suited for those with a nine step skincare routine.
ADDRESS: 252 Schermerhorn St, Brooklyn, NY
View this post on Instagram

Nestled in the heart of New York City, Arlo NoMad is perfect for those looking to be close to the best Manhattan can offer. The boutique hotel rooms deliver everything you need without any of the extra stuff you don't, allowing you to just focus on having fun in the concrete jungle. While the hotel features King and Bunk rooms, the Essential Queen option includes a comfy queen bed, a glass-enclosed rain shower, mini-fridge and desk for the few moments where you may have to crack open your laptop to get some work done. Arlo NoMad also has two in-hotel options for food — the Bodega, a convenient spot for breakfast and snacks and Lamalo, an enticing restaurant focused on Middle Eastern cuisine.
Arlo NoMad's winning feature is its insane rooftop. The A.R.T. NoMad bar and restaurant sits atop the hotel's 31st floor, resulting a 360 degree view of Manhattan, making this space immediately Instagram-worthy. The "sky walk" glass floor installation providing out-of-this-world photo opportunities, leaving you with an envy-inducing feed. Better yet, Arlo  is rolling out a new platform called "If You Arlo," which will give influencers, returning guests and VIPs alike their own unique booking codes to share with friends and family! The code works for up to 40% off, plus late check out. Use the code HYPE to save.
ADDRESS: 11 E 31st Street, New York, NY 10016
View this post on Instagram

Located on the Lower East Side, citizenM Bowery should be the go-to hotel for both New York natives and first-timers looking to save a few dollars without compromising on comfort. The epitome of affordable luxury, the expertly designed space is dynamic enough to make you forget about the wonders outside of its doors. While trips to New York can be cumbersome, considering the size limitations and expenses that come along with property in the city, citizenM does a wonderful job of maximizing its space for the optimum hotel stay. Rooms only come in one size — full suite, resulting in an equally enjoyable experience for all guests. Bedrooms appear as if they've been lifted out of Pinterest as they include crisp white beds and remote-controlled blinds revealing the impossibly beautiful views of the city skyline and feature color-changing lights to set the vibe for any mood.
Upon arrival, visitors are greeted with bold artwork grounded in a singular color palette of an eye-catching bright red. Bite-sized crimson gnome statues flipping the bird along with heroic-looking stags line the walls of the rooftop bar, while an upside down Spiderman hangs outside the window. Underneath the Manhattan hotel's lobby is an unbelievably spacious designer living room, complete with an abundance of tables and ultra-comfortable seating areas for light reading.
The hotel's rooftop bar is the spot to be as disco balls and vintage artwork hang from the ceilings and line the walls, but as you step outside to the terrace, the most impressive view of the Manhattan can be seen from the rooftop. Looking out over the city as the sun sets with an espresso martini in hand is as good as it gets.
ADDRESS: 189 Bowery, New York, NY 10002
View this post on Instagram
Staying at The Ned NoMad hotel has to be the height of luxury as the newly opened space exudes elegance and refinement. Offering adult Eloise at the Plaza vibes, the swanky hotel doesn't let you life a finger the moment you arrive as two sharply dressed doormen are there to welcome you into the impeccable curated lounge.
The dimly lit space reveals an assortment of sophisticated sofas and couches to relax on as well as larger-than-life contemporary paintings that add to the hotel's modern-meets-clasic vibe. The hotel's rooms are, of course, the real standouts as guests immediately feel like they've stepped into an old Hollywood star's secret hideaway. Grounded in a rich color palette, the suits arrive with a die-to-for clawfoot tub, perfect for washing off jet lag and travel fatigue.
A luscious red velvet screen separates the bathroom from the bedroom, maximizing and enhancing the space in an exceedingly thoughtful and stylish manner. Amenities were galore as the suite included a full fridge and bar, complete with fancy glassware. While The Ned NoMad's rooms make you want to disappear into the sheets for an eternity, the hotel's additional member restaurants will have you redecorating as the space also includes intimate rooftop and lower level clubs. The Ned NoMad also features two restaurants for the public, Cecconi's and Little Ned.
ADDRESS: 1170 Broadway, New York, NY, 10001
---
Share this article