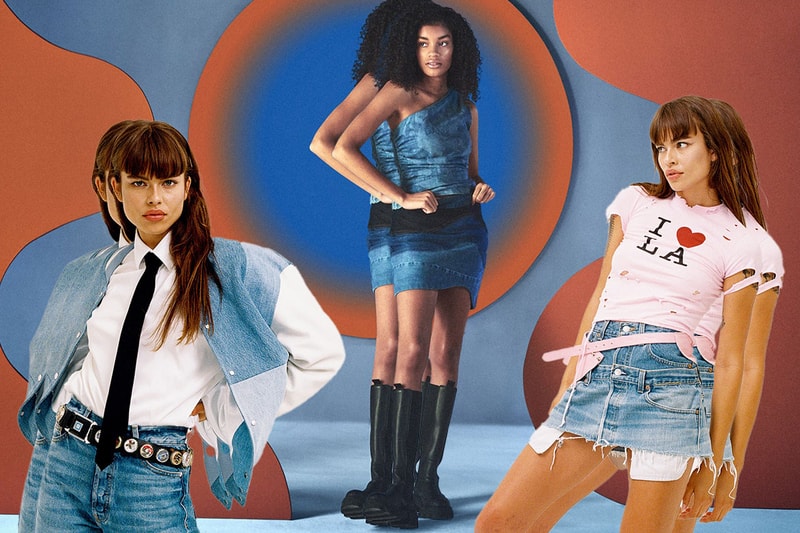 Fashion
The Coolest Sustainable Denim Brands to Add to Your Wardrobe
From Hailey Bieber-approved EB Denim to Milan-based innovator Candiani.
The Coolest Sustainable Denim Brands to Add to Your Wardrobe
From Hailey Bieber-approved EB Denim to Milan-based innovator Candiani.
Denim is one of those staples that thankfully never goes out of fashion, which makes it one of the most important pieces in our wardrobes. However, staple pieces cost money and with the ever-increasing rise of cheap, fast-fashion alternatives, even the most sustainable item in your wardrobe can be part of the problem. As a result, it can be hard to find the right pieces to invest in or be able to tell how much of an impact it still has on our environment. Though denim pieces tend to be washed and replaced less, the construction of the garments and their materials can still be pretty unsustainable.
That said, there are a number of climate-conscious brands taking it upon themselves to MDSA (that's, Make Denim Sustainable Again), through utilizing deadstock materials, re-working existing denim and most excitingly: researching and developing more responsible means of production.
For example, Milan-based brand Candiani Denim has created its own 100% biodegradable and compostable denim fabric, dubbed COREVA, which dramatically reduces the brand's impact on the environment. Alongside Candiani, there are brands like ISKO, which uses 65% recycled materials in its products, and E.L.V., which source all of its fabric locally.
Scroll through to discover our list of sustainable denim brands.
ISKO
View this post on Instagram
Premium sustainable denim-ingredient brand ISKO recently tapped Bethany Williams to create six denim styles that use 65% recycled fabrics. "Our core values are aligned – from our intent to utilize and recycle pre-existing materials and reduce virgin material usage, to our passion for producing and creating garments in a responsible manner to protect our environment – and it's these causes that we collaboratively want to continue to drive forward and make real change," explained Melissa Clement, ISKO's Head of Product in a prior press release.
EB Denim
View this post on Instagram
Worn by the likes of Hailey Bieber and Megan Fox, Los Angeles-based EB Denim is worth knowing about. The label's most recent offering featured items made exclusively from upcycled materials, reimagining otherwise excess pieces into contemporary garments. Founder Elena Bonvicini describes her brand's mission as "re-working worn in masculine denim but in a contemporary and sexy way."
Candiani
View this post on Instagram
First established back in 1938, Candiani Denim is a family-run brand with a true dedication to making denim sustainable again and forever. The brand's materials are developed just outside its base in Milan, with its most notable product being COREVA, a high-quality fabric created and patented by Candiani. The fabric is the first stretch denim that's 100% biodegradable and compostable and is set to be the core focus of the brand's future collections moving forward.
ELV Denim
View this post on Instagram
Self-proclaimed zero waste, upcycled denim brand E.L.V. Denim is designed and produced in East London, with an aim of keeping production and sourcing as local as physically possible. The brand fuses old pairs of jeans together to create new ones, each pair preserving the original hems and details.
RE/DONE
View this post on Instagram
Described on its website as "more than a denim company", RE/DONE is known for upcycling pairs of vintage Levi's jeans and deadstock fabrics, in order to create contemporary fits and "extend the life of stagnant stock" for today's consumer. According to the brand, since its launch, RE/DONE has diverted over 145,000 garments from landfills.
Dala
View this post on Instagram
London-based label Dala is the latest addition to the current sustainable denim selection, designed by former denim consultant Rosie Ingleby. The brand fuses vintage washing with heritage techniques to create an elevated denim offering. With the aim of utilizing high-quality materials and considered cuts, Dala seeks to provide hardwearing pieces that last, taking wearers from day to night with ease.
Unspun
View this post on Instagram
 Unspun is a sizeless denim brand which makes every pair of jeans custom to fit the wearer's body. Consumers can choose their desired silhouette, waist and stitch before 3D scanning their body to get their exact measurements. Unspun then crafts those jeans and ships them out, offering a zero-waste, made-to-order alternative to traditional denim-wear.
PAIGE
View this post on Instagram
With a longstanding heritage in denim, PAIGE was founded by Paige Adams Geller in a bid to create pieces that take you from "morning to moonlight" and stand the test of time. According to the brand, each piece is "meticulously designed, washed and wear-tested" to ensure the perfect fit that lasts forever.
---
Share this article