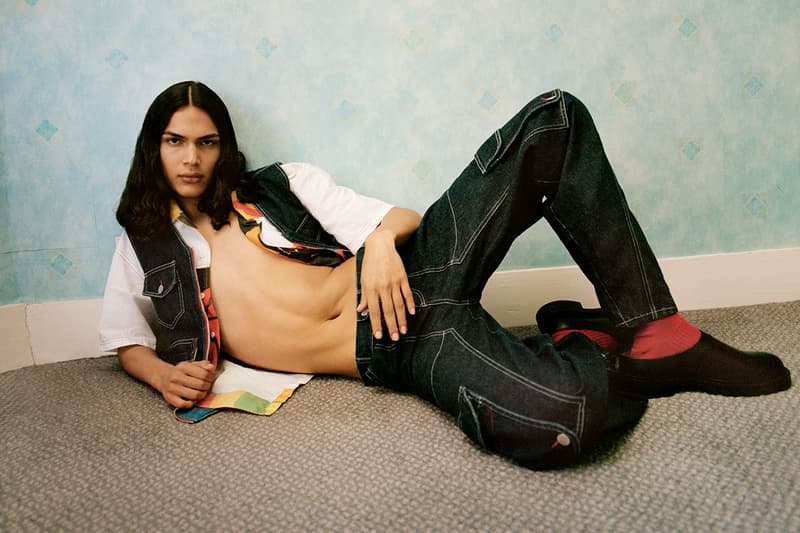 Fashion
Bethany Williams' New Capsule Collection Puts ISKO's Recycled Denim to the Test
Using fabrics comprised of 65% recycled materials.
Bethany Williams' New Capsule Collection Puts ISKO's Recycled Denim to the Test
Using fabrics comprised of 65% recycled materials.
British designer and LVMH prize finalist Bethany Williams just released an exclusive capsule collection that utilizes recycled denim like never before. Partnering with premium sustainable denim-ingredient brand ISKO, the pair have developed six denim styles that use ISKO's 65% recycled fabrics.
Comprised of overalls, jackets, trousers and a vest in both light and dark washes, the collection was washed and finished at ISKO's new product development center: Creative Room London. As part of ISKO's "R-Two 50+" program, each garment was washed using a recycled water system and a closed-loop process, which ensures that the water is able to be reused for several weeks. In combination with other sustainable technologies, the process decreases the water impact by 90% compared to traditional processes.
"Our core values are aligned – from our intent to utilise and recycle pre-existing materials and reduce virgin material usage, to our passion for producing and creating garments in a responsible manner to protect our environment – and it's these causes that we collaboratively want to continue to drive forward and make real change," says Melissa Clement, ISKO's Head of Product in a press release. She adds that "The garments used in this collection were all washed and finished at our brand-new London based R&D centre which we are proud to open the doors of to further our goals."
The collection itself follows Williams' "All Our Stories" launch from 2021, which saw the designer utilize repurposed flags for an exhibition at London's Coal Drops Yard. Patch detailing in the new collection draws inspiration from the same flags, meaning that each denim item is entirely one-of-a-kind. The new capsule also marks a continuation of Williams' "The Hands that Heal Us" collection, which centered around the brand's social manufacturing partners and their craftsmanship.
In other sustainable, denim-related news, have a read of our introduction to Candiani Denim.
Share this article