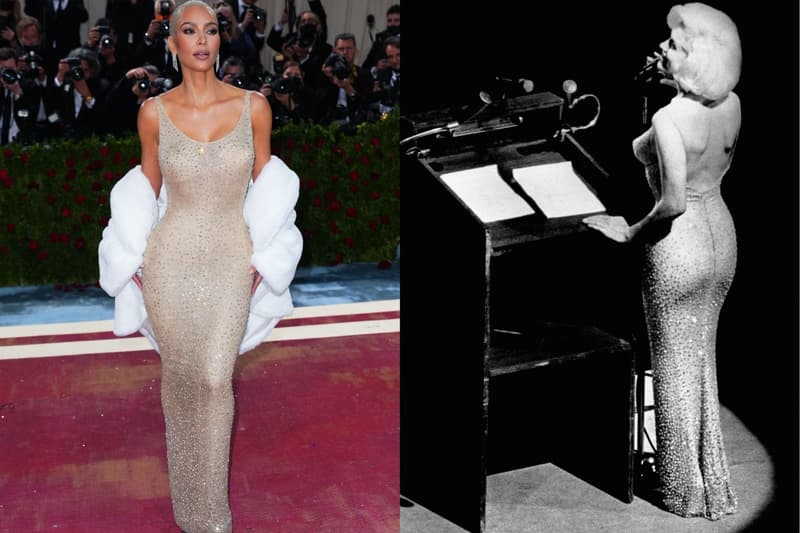 Entertainment
Kim Kardashian Attempts To Sing "Happy Birthday Mr. President" the Way Marilyn Monroe Did
What are your thoughts on the impression?
Kim Kardashian Attempts To Sing "Happy Birthday Mr. President" the Way Marilyn Monroe Did
What are your thoughts on the impression?
Kim Kardashian tried to get into character when prepping to wear Marilyn Monroe's Jean Louis dress to the 2022 Met Gala. One way to do that was to sing like her, at least jokingly.
In the latest episode of The Kardashians, the reality star tried to mimic Monroe's raspy breath and sang, "Happy birthday, to Mr. President" while she was wearing a replica of the late starlet's gown. In 1962, Monroe made the Bob Mackie-designed dress a classic when she sang that very song to President John F. Kennedy on his 45th birthday.
Additionally, the episode gave a glimpse into her process of trying to fit into the gown. At first, Kardashian was presented with a replica, which had to fit in order for her to even get the opportunity to try on Monroe's actual dress. Fortunately, the replica fit, but then she ran into a problem.
"They just pulled the whole thing from me, so I am fuming. I tried the prototype first to see if that fit," she said in a confessional of the Hulu show. "Once it fit, they sent the original. When I went to put it on, it wouldn't even go up over my hips. I was devastated."
She also vented to her sisters Khloé and Kourtney Kardashian about it. "I was so prepared to go in my head that it is going to make me so upset to not," the SKIMS founder explained. "I wrote [Ripley's Believe It or Not] a groveling begging email so they were very firm. They were like, 'We can't get the insurance,' so I said we would get it. I have an answer for everything and they are just like no."
Eventually, this led Kardashian to go on strict diet, which sparked a lot of controversy because she lost 16 pounds in three weeks. To defend her point of view, Kardashian compared losing weight for the dress to when actors transform their bodies for a role. She also clarified she didn't do anything unhealthy.
Check out Kardashian in the replica as she sings "Happy Birthday, Mr. President" below.
---
Share this article