1 of 4
2 of 4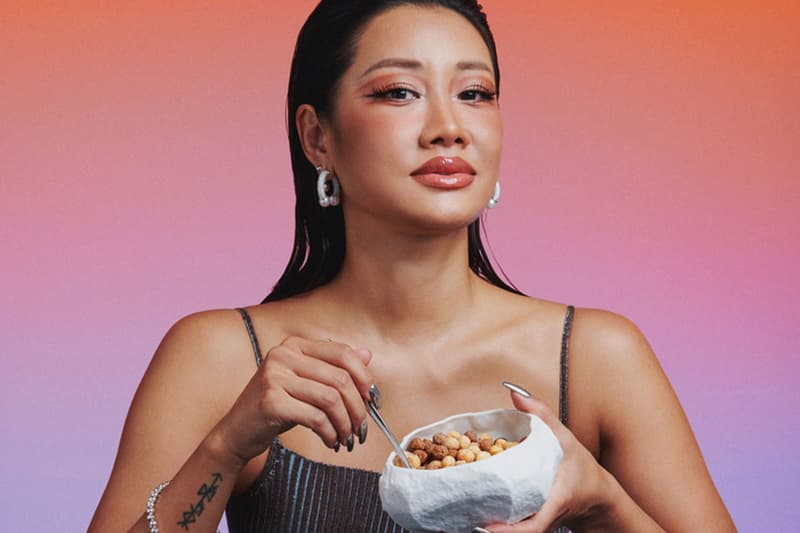 3 of 4
4 of 4
Art & Design
Yoon Ahn Spills the Beans On AMBUSH's New Reese's Puffs Collab
We caught up with the AMBUSH founder to find out more about the breakfastverse and beyond.
Yoon Ahn Spills the Beans On AMBUSH's New Reese's Puffs Collab
We caught up with the AMBUSH founder to find out more about the breakfastverse and beyond.
Yoon Ahn is a creative of many disciplines. From her day-to-day designing at AMBUSH to countless collaborations with household names like Starbucks and Nike, there's almost nothing she can't do. Now, she's taking over the world of breakfast, with a new collaboration with Reese's Puffs. The partnership sees Ahn put her AMBUSH-esque flair on the cult-loved brand's cereal box alongside creating an entire breakfast metaverse and in-person experience, not to mention the newly-coined Chrome Puff Bag, which doubles as a cereal bowl and statement accessory.
Ahead of the launch of the breakfastverse, we caught up with Ahn to find out more about the collaboration with Reese's Puffs, design inspiration for the must-have accessory, and what she hopes that people will take away from it.
Check out our interview below.
How did it feel to see the Reese's Puffs collaboration for the first time?
Amazing, I actually went with my parents and just going into the supermarket in the neighbourhood that I grew up in and showing them that 'Hey my stuff is in here,' they were a little bit like 'woah' but it was a good feeling. It's a good feeling to be able to see what you worked on, being in an aisle of a supermarket that's in a neighbourhood where I grew up. But also, with something like cereal, that's a commodity, it can reach so many people, like all across different neighbourhoods, races, regions. The fact that everything that we built together can reach that audience, to me, it's super exciting.
You've always said that parents are super supportive of what you're doing. Do they get everything that you do, in terms of these collabs?
I don't think they get it. But it doesn't matter if they get it or not. I think they've always been so supportive anyway, and for them as long as they know that I'm having fun and I'm doing good, meaning that I'm fulfilling my dreams, I think to them they feel like they've done their job as parents.
Talk to us about the concept for the breakfastverse. You mentioned that kids are eating at home alone and on their screens, so what does the breakfastverse aim to offer them?
I hope it gives a dream to kids as we enter the web3 space, this metaverse. I'm sure that kids are already used to it because they play online games and they live in online communities, but it's the fact that we're trying to bridge fashion, commerce and e-space altogether. I'm excited to be on their radar, and to invite them into the world and the business that I have. I can't really control whether it'll inspire them or not but the fact that we're going to put it out there is exciting for me.
What inspired the Breakfastverse playlist? Talk to us about how the sound choices reflect the vision of the experience? 
I worked with my staff on a lot of things and I look at it as teamwork, so I create visuals and we talk about what kind of sound would match that world that I have. I have my team collect the songs and put it together as a playlist because I think it's also important to see their perspective, rather than me choosing every single thing. It's teamwork.
The Chrome Puff bag is reminiscent of your design aesthetic for AMBUSH. What can you tell us about the design inspiration?
It's a little different to AMBUSH. There's a running theme of the sphere from our workshops to the inside of the metaverse and the Silver FCTRY. It's really about the Web3 aesthetic that I'm building, more tied to our physical space and the interior designs.
View this post on Instagram
---
Share this article