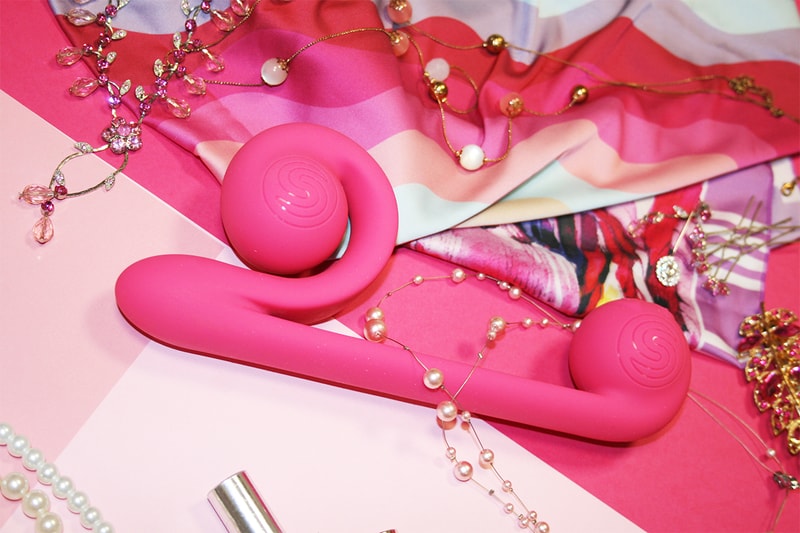 Sex & Dating
Meet SnailVibe, the Viral Genderless Sex Toy That Sold Out 5 Times
Tune in for where to buy and a few juicy reviews.
Meet SnailVibe, the Viral Genderless Sex Toy That Sold Out 5 Times
Tune in for where to buy and a few juicy reviews.
Viral sex toy SnailVibe has gained quite the hype in the past few weeks with its users co-signing its intense sexual pleasure. It's currently being sold for $160 USD on sex-positive Lovers' website, but what makes this vibrator so special?
According to Lovers, the SnailVibe is the "first vibrator in the world to offer the vibrating power of a wand, the insertion depth of a dildo and the dual stimulation of a rabbit vibrator. Unlike conventional rabbit vibrators, the SnailVibe's unique spiral head clitoral stimulator — the 'snail shell' — remains in constant contact with the clitoris throughout the session."
Lovers' sexologist Marla Renee Stewart, the SnailVibe has a special quality that sets it apart from other pleasure products: dual stimulation. This means it pleasures more than one sensual area at once. For vagina owners, this looks like penetration, paired with clitoral stimulation. Essentially as you're penetrated, the toy massages the clitoris. If you're into anal, no worries, it'll stimulate your perineum, too.
Stewart continued, "As you or your partner push the shaft inside you, receiving deeper penetration, the spiral head uncoils. Its ultra-wide, silicone spiral is 2.5 centimeters long, to accommodate diverse and changing body types." With its five vibration modes and speeds in each of the 2 independent motors, you have 600 possible setting combinations that will send you to the moon.
For more tea on this fav, read a few reviews below.
Reviews:
Erin V 5.0-star rating: "Holy Escargot Batman!! Oooooh La La, this amazing "slug" hits all the right places. Nothing slow about this big guy lol. I love the many levels of vibration as well as the flexible top scrolling vibrating thingy. I have a full toy box; this awesome snail beats any rabbit to the finish line lol. I really enjoy this one."
KS 5.0-star rating: "Best orgasms of my life. 100% lives up to the hype. Please don't let the unconventional look of this toy scare you away because it is a total game-changer!. I know it might even seem a little on the pricey side, but oh is it worth it. The snail has POWERRRRRR. If you are someone who likes a lot of stimulation, buy it now and thank me later. The motors are not messing around. I will admit it took a couple tries to really figure out how to work this thing to my liking and it def requires a liberal amount of lube, but now I am hooked. I have multiple super intense orgasms using this bad boy! The outer vibe keeps constant attention on the best parts while you control the depth and movement of the inner vibe creating double the pleasure."
Shop the Snailvibe on Lovers' website.
---
Share this article