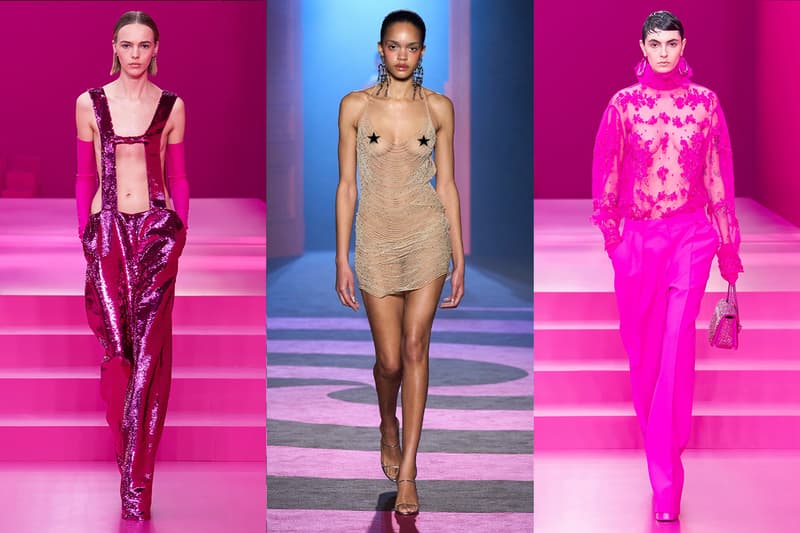 Fashion
Here's Where the Braless Runway Trend Flops
The no-bra look is dominating catwalks, but it's still rarely seen on women with larger breasts.
Here's Where the Braless Runway Trend Flops
The no-bra look is dominating catwalks, but it's still rarely seen on women with larger breasts.
As a petite woman with a C-cup chest, I personally love the braless trend. Nothing makes me happier than being able to ditch uncomfortable underwire and let my tits hang like my hair is blowing in the wind. In retrospect, the only time I enjoy wearing a bra is actually when I wear lingerie — because I know my partners will take it off just as quickly as I put it on. Apparently, British Vogue had the insider scoop because in 2020, it predicted that bras would become nonessential. With quarantine completely changing the way women lead their day-to-day lives, the publication's prediction was quickly proven correct.
The trend of going braless didn't come out of thin air, though. It has always been referenced in feminist movements from "free the nipple" to the burning of the bras. The free the nipple movement encouraged poeple to stop sexualizing breasts, so women could freely exist without restrictive underwires. The burning of the bras on the other hand, was a form of protest against the Miss America pageant, with women burning items associated with femininity. Unfortunately, the protest gained a negative reputation after the term "bra-burning feminists" was used to stereotype some women.
Although bras have a loaded history, the Fall/Winter 2022 edition of Fashion Month continued to promote the braless trend and gave the "f-ck the bra" narrative a high fashion take. As a writer who enjoys studying the intersection between sex positivity and fashion, I love the braless movement for several reasons. It allows me to "free the nipple" and exist without being sexualized, while also empowering me to give certain looks an erotic edge if I want my outfit to appear a bit more edible. Yes, I enjoy sexualizing myself at times. I can't lie, it's the sex worker in me — and I love it.
This season, we spotted two braless moments that gave what they needed to give. The moments I'm referring to are LaQuan Smith and Di Petsa. Both of these designers debuted sheer, floor length dresses that reminded me of a fashion history moment: Kate Moss' iconic sheer slip dress. Designed by Liza Bruce, Moss' dress was actually borrowed, but little did the then 19-year-old model know that dress would become one of her most remembered outfits. The chaotic duo of harsh lighting paired with lack of preparation, left Moss completely exposed underneath the sheer material. The worst part is that she had no idea why paparazzi were following her around, until she learned that the dress was completely see-through. Decades later, variations of the sheer, braless look are still seen on the runway.
Although the braless trend has channeled some of the most important social and fashion history moments, I can't help but think about how women with larger breasts are rarely included. The FW22 runways took the trend to new heights, but inclusive looks were rarely spotted. It draws a similar concern as the Y2K era which blatantly ignored plus-size women while creating sexy silhouettes and cute looks. A perfect example is Jacquemus' micro cardigan top that had celebrities in a chokehold. The top became controversial because it didn't provide any support for breasts, making it exclusive to women with smaller chests. It sends the wrong message that sexy, high-fashion designs are only for one type of woman — which couldn't be more wrong. Fashion is a form of self-expression, a language that everyone can be well-versed in.
But, no stress. As with a lot of areas of femininity that go overlooked and underserved, women step in to offer tips and hacks for adjustments. According to a Reddit thread, plus-size women and women with larger chests are going braless regardless of what society deems appropriate. And for lack of a better term — I'm here for it. The size of your breasts shouldn't keep you from doing a damn thing.
Now, although the trend has a lot of improvements to make in the high fashion sector, the designs from this season deserve some playtime. After all, we can't improve a trend without first taking a peek at what's out there. As for my favorite braless looks this season, there were quite a few. From extravagant faux furs with nothing underneath to fully see-through gowns, it was a sex worker's dream.
Valentino
Han Kjøbenhavn
GCDS
Loewe
LaQuan Smith
Share this article