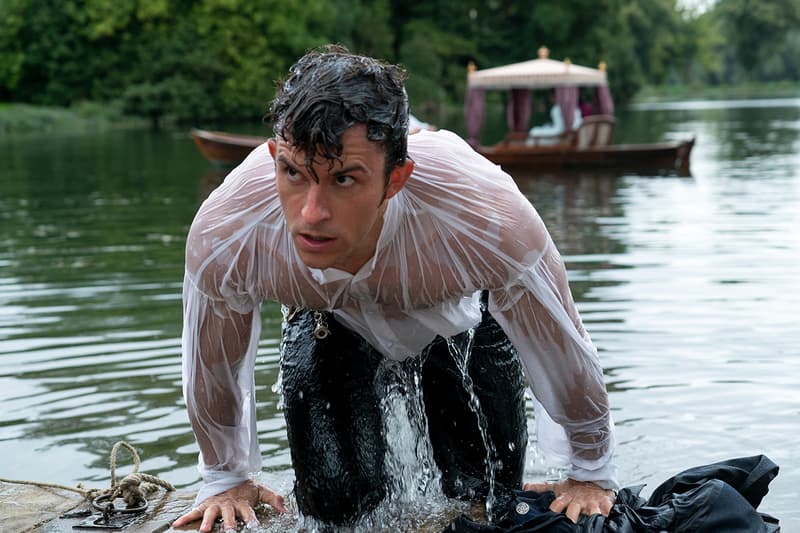 Film & TV
Jonathan Bailey on What It's Like to Film Sex Scenes on 'Bridgerton'
The actor, who plays the Viscount, describes those sensual scenes as a "choreographed dance."
Jonathan Bailey on What It's Like to Film Sex Scenes on 'Bridgerton'
The actor, who plays the Viscount, describes those sensual scenes as a "choreographed dance."
With Bridgerton soon returning to Netflix, it's safe to say fans are questioning what the show's sex scenes will be like without the Duke of Hastings' (Regé-Jean Page) sex appeal. According to the Viscount, played by Jonathan Bailey, Season 2 isn't slowing down on the racy sex scenes. In Season 1, Bailey is known for his appreciation of prostitutes, but this season he gets caught up in a love triangle — with sisters. Recently, the actor has spoken with several publications about filming the second season, special props and what it's like working with his newest co-star, Simone Ashley.
Bailey told Radio Times that filming these sex scenes is actually more hilarious than sensual. In the short time that the cast has filmed Bridgerton, Bailey has noticed a change within the intimacy department. "There are new tricks to the trade … it's amazing what you can do with a half-inflated netball," he shares. "Props such as little netballs are used to keep actors from touching. If there are two people doing a sex scene, the rule is they must have three barriers separating them and there are certain acts where a half-inflated netball can allow for movement without having to connect physically. It's pretty silly really and we have some hilarious moments, but it makes it less awkward."
There were intimacy coordinators on set, as well as contracts to ensure that everything was consensual down to every last detail. These agreements detail what body parts will be exposed and touched, and for how long. "No one goes into a scene quaking, worrying about how it will go — if you are concerned you can talk to them," Bailey continued. "It turns sex scenes into a choreographed dance."
As Sydney Sweeney shared about Euphoria, Bailey told The Times that filming sex scenes is often more exposing for women, so he made it a point to be in tune with his co-star, Ashley. Although there were preparation and intimacy coordinators on set, he went the extra mile to build that bond with her. Ashley even shared with Glamour UK that she received flowers from Bailey upon her first day on set. "We had a very unspoken rhythm going on in that sense, leaving gifts in each other's trailers," she shared.
Tune into the Viscount's chaotic love triangle when Bridgerton Season 2 premieres on March 25.
Share this article