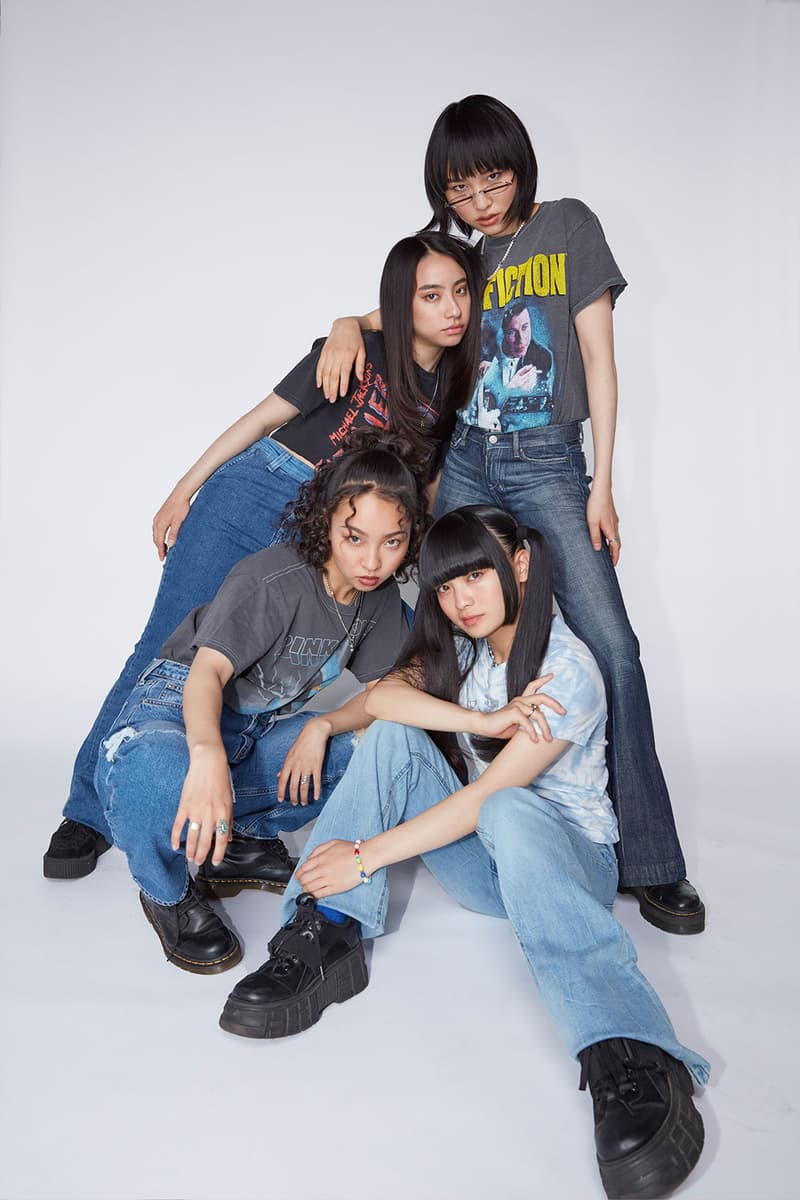 Meet Atarashii Gakko!, Your New Favorite J-Pop Group
You'll find yourself playing the quartet's chaotic music on repeat.
Music
Meet Atarashii Gakko!, Your New Favorite J-Pop Group
You'll find yourself playing the quartet's chaotic music on repeat.
If you have yet to come across the J-pop group Atarashii Gakko!, you're missing out. Comprised of members MIZYU, RIN, SUZUKA and KANON, the quartet is an up-and-coming name with a cult following, thanks to their unique, chaotic music and visuals.
Having joined 88rising in January 2021, the music act is fearless when it comes to expressing their style. In their music videos, you'll see each member wearing Japanese school uniforms as they perform coordinated, self-choreographed gymnastic moves (the group is trained in kumitaiso, a type of Japanese group gymnastics known for its dangerous human pyramids). As for the music itself, they aren't shy about sharing real-life thoughts — in their track "NAINAINAI," they sing about being jealous of their classmate's boobs.
Although they haven't been able to travel as much due to the pandemic, AG! continues to gain attention globally for their fun energy and style. They've been using platforms such as TikTok to show off their headbanging, while releasing Spanish-language versions of their tracks to reach a wider audience. As the world slowly opens up, we can't wait to see what the quartet has in store.
Below, we speak to MIZYU, RIN, SUZUKA and KANON about where they find their inspiration, how they discover their personal style and more.
How would you describe your style in one sentence?
We are the self-proclaimed "Youth Representatives of Japan (Seishun Nihon Daihyou)." It's what is written on our socks.
Where do you get inspiration for your music, and what genre or artists do you enjoy listening to?
We love all genres from J-pop, hip-hop, techno, folk and punk. On SNACKTIME, our last EP that came out via 88rising, we worked with Money Mark in LA and that was the first time we went to the U.S. He taught us a lot about where to find inspiration that led to new ways of discovering sound and music. This ultimately changed the way we make music. We enjoy and appreciate every genre of music because of this experience.
From your performances and music videos, it's clear that your work heavily focuses on dance. Can you talk about the process of developing moves to each song, and how you incorporate traditional Japanese influences, such as butoh dance and kumitaiso?
There is a lot that we naturally draw from Japanese culture, and multiplying that with our individual organic style that is expressed through our entire body. Always giving it 1,000%.
How and why did you end up deciding on wearing school uniforms as a team?
When our group formed, we were still students, and we were wearing school uniforms like everyone else. Now, we wear it as a symbol representing Japanese youth culture to the world. You would think we would blend in wearing a uniform, but we're quite eye-catching.
Since you are all wearing uniforms when on stage, we'd love to learn more about your personal style. What does your off-duty style look like and where do you get your fashion inspiration?
RIN I've always loved mixing styles, finding pieces at vintage or second-hand clothing stores since I was little. It's fun to go hunt for hidden gems at these shops. I also get inspired by my favorite artists, or from flipping through old magazines I find at second-hand bookstores.
SUZUKA I like to pick what to wear by projecting who I am now, or a new me, or an ideal me. It's playing dress-up with all sides of myself.
MIZYU I'm not particularly picky. I tend to go for clothes that I find cute intuitively. If anything, I'd say I've loved Harajuku culture since I was in elementary school. I also like materials that are soft to the touch.
KANON I love beautiful feminine fashion. Like a flowy dress or long skirts worn with classy heels. I imagine a woman I aspired to be and as I grow, so do my fashion choices.
What was the transition to 88rising like? What was your reaction when you first found out about it, and how has your artistry changed ever since?
We couldn't wrap our heads around it when we first heard. It was beyond our imagination so we were super surprised. This opportunity has expanded our potential beyond anything we could have imagined.
How did you end up releasing a Spanish version of "Free Your Mind"?
Money Mark, who co-wrote this song, is half-Mexican and half-Japanese. While we spent time together in LA, he introduced us to Mexican culture. We also have a lot of Spanish-speaking fans. We wanted to reach out to and be closer to them, so we thought we could try singing in Spanish, since we do the same in English. We had fun recording in Spanish.
What's next for AG! and what are you looking forward to the most this year?
There is always after school at Atarashii Gakko!. We are looking forward to more music, more performances globally and we can't wait to see everyone.
Share this article