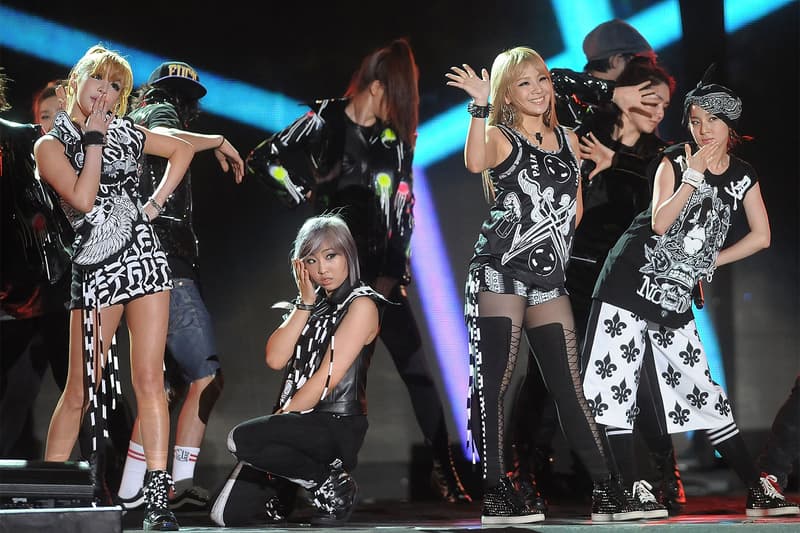 Music
From Wonder Girls to 2NE1, 2nd Generation K-Pop Groups You Should Know
Names that took over the K-pop scene from the late '00s to the 2010s.
From Wonder Girls to 2NE1, 2nd Generation K-Pop Groups You Should Know
Names that took over the K-pop scene from the late '00s to the 2010s.
Although BLACKPINK and BTS are some of the most widely recognized groups in the world today, there were numerous acts from South Korea that have acted as pioneers and helped shape today's global K-pop industry and the Hallyu wave (otherwise known as the K-wave). In our latest roundup, we take a deep dive into the late 2000s and 2010s of the Korean music scene, exploring some of the biggest 2nd generation K-pop groups.
Standouts from our list include 2NE1, the quartet by YG Entertainment that recently surprised fans with an on-stage reunion during CL's set at Coachella. Girls' Generation and Wonder Girls were also some of the hottest names during their time, in addition to f(x) and 4Minute, who debuted in the late '00s. As for boy groups, we're spotlighting TVXQ, Big Bang, SHINee, 2PM and more.
Continue scrolling to learn about some of the biggest 2nd generation K-pop groups.
TVXQ
Debut: December 2003, "Hug"
Original Members: U-Know Yunho, Max Changmin, Hero Jaejoong, Micky Yoochun, Xiah Junsu
Originally comprised of five members, TVXQ debuted with one of their biggest hits, "Hug." Signed under SM Entertainment, the group quickly gained popularity in South Korea, as well as Japan, where they released Japanese language albums. After years of hit releases ranging from Rising Sun to "O"-Jung.Ban.Hap., the boy band eventually ended up with two members (U-Know Yunho and Max Changmin) due to Hero Jaejoong, Micky Yoochun and Xiah Junsu's lawsuit against SM regarding their contracts with the label.
Super Junior
Debut: November 2005, "Twins (Knock Out)"
Original Members: Leeteuk, Heechul, Yesung, Shindong, Sungmin, Eunhyuk, Donghae, Siwon, Ryeowook, Hangeng, Kangin, Kibum
In 2005, SM Entertainment debuted one of its largest all-boy projects, Super Junior. With Kyuhyun joining in 2006, the music act comprised 13 members, operating as a full group rather than a rotational concept, which was the originally planned strategy similar to today's NCT. Like TVXQ, the team marked their breakthrough moment in Japan, which was a huge market for K-pop in the 2000s. After a few changes in their lineup with members departing SM, Super Junior remains one of the longest-lasting K-pop boy groups, having released their latest release The Road : Winter for Spring in February 2022.
Big Bang
Debut: August 2006, "We Belong Together"
Original Members: G-Dragon, T.O.P, Taeyang, Daesung, Seungri
Big Bang, which initially debuted as a five-member group in 2006, was one of the key players in growing the K-wave to a global scale. With signature hits like "Last Farewell", "Haru Haru" and "Sunset Glow," the boy band's 2012 EP Alive became the first Korean album to join the Billboard 200 chart. Following their album MADE that fully released in 2006, Big Bang went on hiatus with T.O.P serving mandatory time in the military. Meanwhile, Seungri announced that he would retire from the entertainment industry following scandals surrounding the "Burning Sun gate" in 2019. Three years later, Big Bang returned as a quartet with their latest single "Still Life."
Girls' Generation
Debut: August 2007, "Into the New World"
Original Members: Taeyeon, YoonA, Tiffany, Sunny, Hyoyeon, Sooyoung, Seohyun, Yuri, Jessica
Girls' Generation, which launched as a nine-member group, is often referred to as "The Nation's Girl Group" in South Korea to this day. Following their debut, they entered the Japanese scene in 2011, becoming one of the top groups to lead the K-wave. Jessica departed Girls' Generation in 2014, with the remaining eight members continuing to release music until 2017, when they released their sixth studio album Holiday Night. Later that year, Tiffany, Sooyoung and Seohyun left SM Entertainment to focus on their solo careers.
Wonder Girls
Debut: February 2007, The Wonder Begins
Original Members: Sunye, Sohee, Sunmi, YeEun, HyunA
JYP Entertainment's Wonder Girls debuted with "Irony" in 2007. Yubin joined the group following HyunA's departure the same year, when they released their breakthrough single "Tell Me." The band made history as the first South Korean act to enter the Billboard Hot 100 with their hit "Nobody" which ranked 76th. In 2010, Sunmi left the group and was replaced by Hyerim. Two years later, with Sohee and leader Sunye announcing their departure, JYP shared that Wonder Girls would go on hiatus. In 2015, Sunmi rejoined the group, and the four members continued to release music until their disbandment in 2017.
Kara
Debut: March 2007, The First Bloooooming
Original Members: Gyuri, Seungyeon, Sunghee, Nicole
Kara made their debut in 2007 under DSP Media, the label behind 1st gen K-pop group Fin.K.L. Sunghee departed the group the following year, with Goo Hara and Kang Jiyoung joining shortly after. As a five-member group, Kara marked their breakthrough with "Honey" in 2009, followed by hits "Lupin," "Jumping" and "Step." They continued to top the charts in their home country as well as Japan. In 2014, Nicole and Jiyoung left DSP Media, while Heo Youngji joined through a reality show titled Kara Project. Kara later disbanded in 2016.
SHINee
Debut: May 2008, "Replay"
Original Members: Onew, Key, Minho, Taemin, Jonghyun
SHINee debuted under SM Entertainment with their single "Replay" and quickly rose to fame for their hits "Ring Ding Dong" and "Lucifer." In addition to their music, the group was loved for their powerful choreography, having won Best Dance Performance Award three years in a row at the Mnet Asian Music Awards. In 2011, SHINee ventured into the Japanese music scene like many other K-pop groups. Originally a five-member team, SHINee remains with four members after Jonghyun's death in December 2017. Their most recent release includes their 2021 studio album Don't Call Me.
2AM
Debut: July 2008, "This Song"
Original Members: Jo Kwon, Lee Changmin, Lim Seulong, Jeong Jinwoon
2AM was created by JYP Entertainment alongside their brother group 2PM through the Mnet documentary Hot Blood. Together, they were a larger 11-member group dubbed One Day managed by both JYP and Big Hit Entertainment (the company that now manages BTS). In contrast to 2PM, 2AM mostly released ballad songs such as "Never Let You Go" and "You Wouldn't Answer My Calls." They made their Japanese debut in 2013, and went on hiatus two years later as Seulong, Jinwoon and Changmin decided to part ways with JYP. Following an indefinite break, 2AM reunited in 2021 with their fourth EP Ballad 21 F/W featuring two tracks written by Big Hit's Bang Si-hyuk and JYP.
2PM
Debut: September 2008, Hottest Time of the Day
Original Members: Taecyeon, Wooyoung, Nichkun, Jun. K, Junho, Chansung, Jay Park
2PM debuted as a seven-member group alongside 2AM in 2008. The septet was known for their acrobatic choreography in which they created human pyramids. Signature hits include "Again & Again," as well as "10 Out of 10" and "Hands Up." Jaebeom (currently known as Jay Park), who was the leader of the group, left shortly after in 2009 due to controversy surrounding his posts on Myspace from 2005. From then on, 2PM decided to move forward as a sextet. The group continued to release music in South Korea and Japan throughout the 2010s until several members enlisted in the military. In June 2021, they returned with their seventh studio album MUST.
2NE1
Debut: May 2009, "Fire"
Original Members: CL, Sandara Park, Park Bom, Minzy
2NE1 was one of the most powerful girl groups to come out of YG Entertainment. The quartet was first revealed through a collaborative single titled "Lollipop" with Big Bang to promote LG's Lollipop phone, followed by their debut and breakthrough single "Fire." 2NE1 was one of the first K-pop girl groups to go on a world tour, traveling from Asia to North America in 2012. The group was not only loved for their music but also their style, wearing some of the hottest designer pieces during the time, from Jeremy Scott to Chrome Hearts. Following multiple awards and collaborations with names like will.i.am, they went on hiatus from 2015 as Sandara focused on her acting career and CL pursued her solo career. In 2016, YG confirmed Minzy's departure and 2NE1 released their final track "Goodbye" for their fans in early 2017. During her 88rising set at Coachella 2022, CL invited her three bandmates for a surprise on-stage reunion that went viral.
f(x)
Debut: September 2009, "LA chA TA"
Original Members: Krystal, Amber, Luna, Victoria, Sulli
SM Entertainment revealed its new girl group f(x) in 2009 with "LA chA TA." The five-member team followed up with "Chu~♡," as well as "Chocolate Love," a collaborative single with Girls' Generation to promote LG's Chocolate phone. They continued to roll out hits such as "Hot Summer" and "Electric Shock" until 2015, when Sulli officially departed the group to focus on her acting career. From 2016 on, they went on hiatus and in the following years, Amber, Krystal and Victoria left SM Entertainment. Although many refer to f(x) in the past tense, the group has never officially disbanded.
4Minute
Debut: June 2009, "Hot Issue"
Original Members: HyunA, Jiyoon, Gayoon, Sohyun, Jihyun
4Minute debuted in 2009 as a five-member group with their hit single "Hot Issue." The team was led by former Wonder Girls star HyunA. In 2010, Cube Entertainment teamed up with Universal Music Group to help 4Minute reach a more global audience as they toured regions like Hong Kong, Taiwan, Thailand and the Philippines. Following multiple EPs and mini-albums, the group collaborated with Skrillex on their 2016 single "Hate" before disbanding later that year.
Share this article