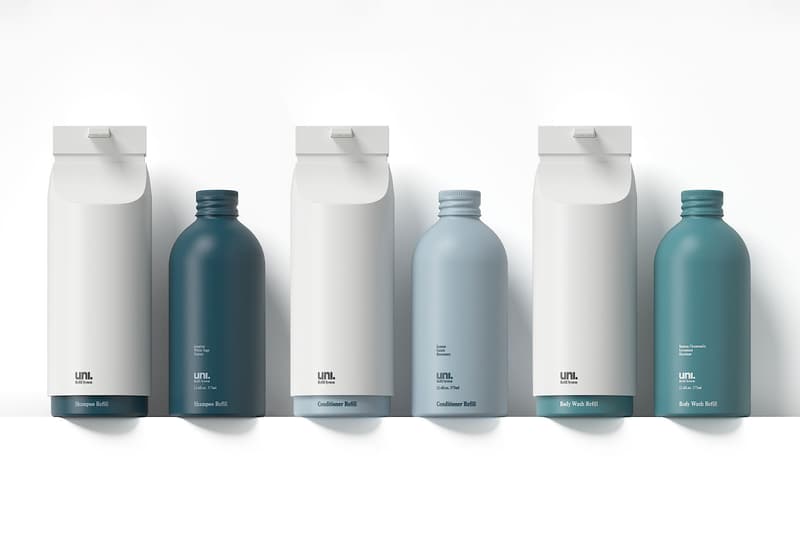 Beauty
Uni's Eco-Friendly Hair and Body Care Kits Are for the Minimalists
The sustainably-minded brand offers clean formulas packaged in chic, recyclable containers.
Uni's Eco-Friendly Hair and Body Care Kits Are for the Minimalists
The sustainably-minded brand offers clean formulas packaged in chic, recyclable containers.
There are tons of body and haircare products on the market that are branded as eco-friendly. However, as a consumer, it can be tricky to find something that is both sustainable and suits my preferences and needs. Enter Uni, an up-and-coming brand committed to zero waste.
Uni is a pioneer in using a closed-loop system, with its products kept in a cycle as circular as possible. Founded by tech entrepreneur Alexandra Keating, the label offers a line of genderless shampoos, conditioners, body washes and hand washes, which are all packaged in refillable bottles with minimalist dispensers. Not only are the formulas created using upcycled and reef-safe ingredients, but the packaging also eliminates single-use plastic and is 100% recyclable.
Hailing from Australia and having grown up being taught to scrub off sunscreen before swimming in the Great Barrier Reef to avoid bleaching the ecosystem, Keating recognizes the impact the beauty industry has on the earth. Through her brand Uni, she aims to help the UN Climate Neutral Now Initiative achieve a climate-neutral world by 2050.
In the latest installment of our Editor's Pick series, we review Uni's minimalist hair and body care products. Continue scrolling to learn more about the sustainability-focused brand.
View this post on Instagram
WHAT IS IT: Uni Shower Kit
WHY IT'S WORTH THE HYPE: Before learning about Uni's story and commitment to sustainability, I had already fallen in love with its packaging when I first came across the brand. I knew the containers were something I wanted to keep in my shower, replacing the bottles of different shapes, colors and sizes sitting on my shelf. The aesthetically-colored aluminum bottles and their white dispensers are designed by Marc Atlan, a creative director and packaging designer who has worked with names like COMME des GARÇONS, Hourglass, Kjaer Weis and more. These packaging options, in addition to being minimalist and aesthetically pleasing, are entirely recyclable. Once you finish using an aluminum bottle, all you have to do is send it back to Uni to have them refilled and used again.
As for the formulas, everything from the shampoo and conditioner, to the body and hand wash is packed with nutrient-dense plant ingredients and natural fragrances that are reef-safe. I appreciated how each of them didn't have an overpowering scent, making my shower routine feel natural and clean. Unlike shampoo and conditioner products I've used in the past, Uni's leave my hair free of grease, which has been a recurring issue in Hong Kong's hot and humid summers. The shampoo's ingredient list includes organic aloe vera, bladderwrack seaweed and Australian Kakadu plum, while the conditioner features arginine and Olea europaea fruit oil.
All in all, I'm pretty confident I'll continue to use Uni's refillable products as they tick all of my boxes, from the impeccable design to the dedication to being eco-conscious.
WHERE YOU CAN FIND IT: You can select from a variety of product combinations based on your lifestyle and needs. Uni's kits are available on the brand's website with varying prices for one-time purchases and subscriptions.
---
Share this article