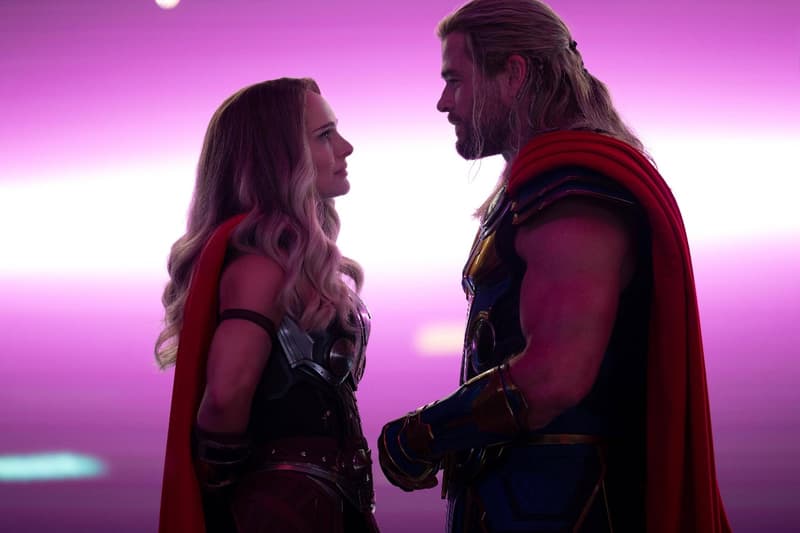 Film & TV
How Marvel Made Natalie Portman Taller for 'Thor: Love and Thunder'
The actor also dishes on getting fit and strong for the film.
How Marvel Made Natalie Portman Taller for 'Thor: Love and Thunder'
The actor also dishes on getting fit and strong for the film.
To make Natalie Portman appear taller next to Chris Hemsworth in their upcoming film, Thor: Love and Thunder, a little "movie magic" was used, according to Marvel Studios president Kevin Feige. However, Portman recently revealed exactly how that came to be.
Portman, who portrays Mighty Thor, is five-foot-three — one foot shorter than Hemsworth, who plays the titular role and stands at six-foot-three. To lessen the literal distance between their heights, the studio had an elevated path built to help Portman stand taller. "We'd rehearse the scene, they'd see the path, and then they'd build a path that was like one foot off the ground or whatever, and I would just walk on that," Portman said told Variety. She also joked about shooting in Australia. She added, "They would call it a deck, but depending on the accent, sometimes it sounded like something else. Because we're all children."
When it comes to getting muscular, though, Portman revealed that was actually all her. "I trained for a long time before and during, and I was doing the whole protein shakes [thing]. It really helped prepare me for the level of action that we ended up doing," she explained. "We had incredible stunt doubles who did the really hard stuff, but there's still a great deal of running and jumping and swords and hammer-fighting. It was definitely helpful to be strong. To have that weight of the cape all day, you want to have some upper-body strength."
Thor: Love and Thunder premieres in theaters on July 8.
---
Share this article