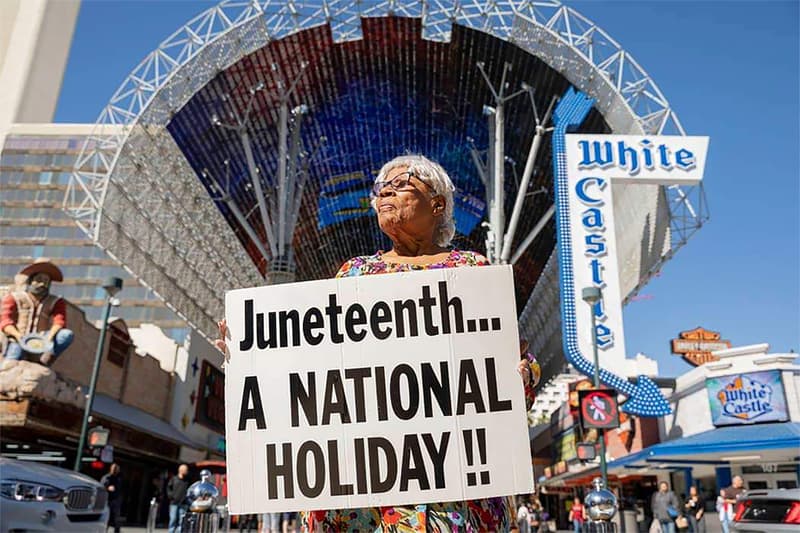 Meet the 94 Year-old Who Made Juneteenth a National Holiday
Give your thanks to Opal Lee.
Forever changed by a hate crime she experienced at age 12 as her family's home was burnt down by 500 white supremacists, Opal Lee's determination and persistence has led Juneteenth to become a national holiday, cementing the importance of slavery to America's collective history.
While the Texas native celebrated the day the last slaves learned of their freedom, the holiday has long since been pushed under the rug, denying many Americans the opportunity to reckon with a crucial part of their history. Lee's steadfast life, advocating for social justice and grass-roots activism led her to walk 2.5 miles from her home in Fort Worth, Texas to Washington, D.C. at the age of 89, symbolizing the two and a half years it took for the Emancipation Proclamation to be enforced in her home state of Texas. It was on June 19, 1865 that federal troops informed enslaved people in Galveston, Texas of their freedom. Five years later, Lee's dedication paid off as she found herself beside President Joe Biden as he signed Juneteenth into law, declaring it a federal holiday.
"People just think of Juneteenth as a festival and as a Texas thing. Unity and freedom are what Juneteenth is all about. So I decided that I would walk from Fort Worth to Washington D.C., doing two and a half miles in the morning and two and a half in the afternoon to symbolize that in Texas, the enslaved didn't know they were free for two and a half years after everybody else. We've carried 1,500,000 signatures to Congress to let them know it's just not one little lady in tennis shoes and her little group called the National Juneteenth Observance Foundation who feel that Juneteenth needs to be a national holiday. Let's celebrate freedom from the 19th of June to the Fourth of July, because we weren't all free in 1776," Lee says in an interview with Oprah Daily.
Working with StoryTerrace to uncover her narrative, Lee authored a children's book on Juneteenth to ensure future generations were aware of their history. Rutger Bruining, founder and CEO of StoryTerrace says in an exclusive press release, "Sharing experiences has always been a powerful tool of expression and preservation. It is also a beacon of hope and inspiration to a younger generation of people looking to change the world for the better. When we take a step back and consider the value of sharing and telling our stories, we see only benefits to the individual, their family, friends, loved ones and members of the public who can relate or be inspired to champion real change. The legacy is literally preserved in an art form to be cherished and passed down."
Share this article