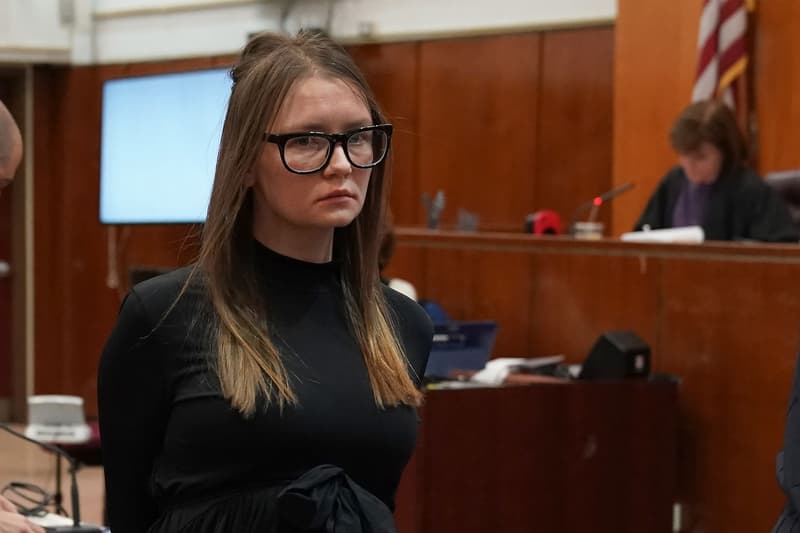 Art & Design
Anna Delvey Continues Her Art Career With Pencil Sketch, "Wish You Were Here"
Revealed exclusively on Hypebae.
Anna Delvey Continues Her Art Career With Pencil Sketch, "Wish You Were Here"
Revealed exclusively on Hypebae.
Anna Sorokin, better known as Anna Delvey — the fraudster who posed as a German heiress and New York socialite, eventually becoming the subject of Netflix's show Inventing Anna starring Julia Garner — has a lot in the works, even while in ICE detention at Orange County Jail in New York. Connecting with Hypebae over email, the 31-year-old, who recently opened a solo art show, shared all the details on her latest piece of artwork titled "Wish You Were Here."
The pencil drawing joins her collection of 20 sketches, which The Cut explains to be "somewhere between fashion sketches and New Yorker cartoons," created throughout her time in ICE detention. "I wanted to capture some of the moments of the past years, both never-seen-before and iconic, using the limited tools I have at my disposal. Some of the pieces are straightforward, others are more abstract and will be unique in meaning and appearance to the observer," she previously told Page Six about her art. With her fashion illustration studies at Parsons in Paris, Delvey uses these drawings as a way to express herself and capture her most recent life.
"Wish You Were Here," as Delvey explains, is a parody of a postcard, offering a witty take on her situation as she sits on a sunbed in jail. "I created this piece for an art collector friend so the idea for this title came to me with that person in mind," she tells Hypebae, further sharing her immediate plans on launching a new mini-collection of art pieces.
Continue scrolling to read our latest conversation with Anna Delvey and view "Wish You Were Here" down below. Those interested can purchase the piece online.
What has life been like recently for you? What are some of your biggest interests at the moment?
I am currently at Orange County Jail in ICE detention. I have a tablet with limited wifi access, so I am able to make regular and video calls as well as message people through designated apps which makes it possible for me to keep up with the outside world. I am lucky to have a great team around me who manage my various ongoing and future projects. I have quite a lot in the works and am looking forward to sharing the news once the time comes.
What is the title of this piece?
"Wish You Were Here."
What was the inspiration behind it?
It's a parody of a postcard. I created this piece for an art collector friend so the idea for this title came to me with that person in mind. "Wish You Were Here" is usually associated with nice holiday spots and I thought it was funny when put across an image of the yard of the jail I'm currently in.
Walk us through each element of the piece you would like to highlight. From "Wish you were here" to "Prada," what does all the text on this piece mean?
With this piece, I was attempting to convey the ambiance of the endless sense of nothingness permeating the everyday existence in this "correctional" facility. People languishing in the background, wasting their days waiting for something to happen, the senseless barbwire above a basketball hoop, countless writing on the walls that convey restless boredom. People who can't help but zoom in on minutiae details that wouldn't normally matter on the outside just to take their mind off of the reality of their situation.
The juxtaposition of a Prada top against Robinson Textiles shorts (a jail clothing supplier brand) is meant to show the pointlessness and half-trying attempts of the system to pretend to be something that it's not. Oftentimes it's easy to get one's own items which one got arrested with from jail property as long as the color scheme is being observed. You see people wear Balenciaga sneakers with Bob Barker blue jumpsuit, which is an interesting statement combination.
How does this piece add to your collection of sketches and what stage of your life does it represent?
This sketch is very current for me — I am still in ICE detention at OCJ awaiting my next hearing. It follows the theme of all of my works being autobiographical and is a visual representation of my reality. I have no ability to take pictures and drawing my surroundings is pretty much the only way.
You showcased your first art show earlier this year. Do you have any upcoming plans, both short and long-term, for your art career?
I am working on a mini-collection of new pieces that are based on what I'm going through right now. I like to use my pieces as a commentary on current events, as a nonverbal way to present my perspective. I have another magazine cover coming out with one of my new pieces next month, and I'm exploring different ways how to expand and take this to the next level. My team has been in talks with a couple of fashion brands about a potential collaboration. I also hope to be free really soon so I can have access to new tools to create my art, make pieces in different sizes and experiment with texture and materials.
View this post on Instagram
---
Share this article