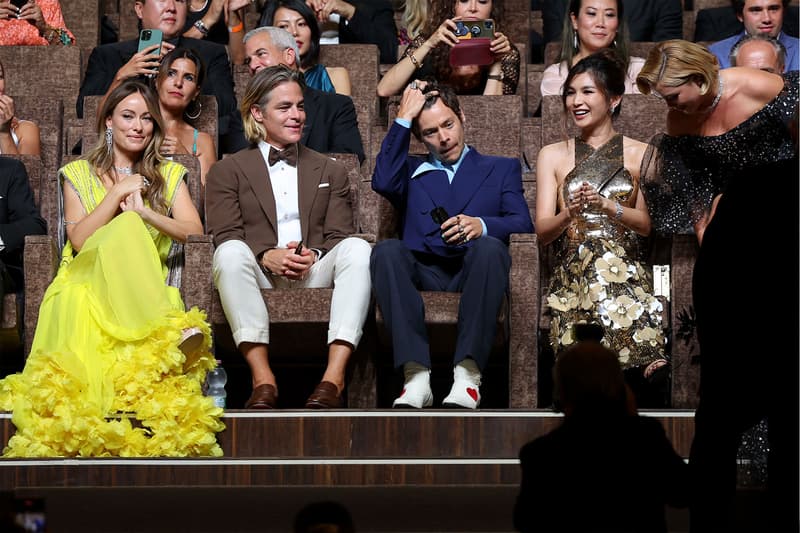 Entertainment
The Internet Thinks Harry Styles Spat on Chris Pine at Venice Film Festival
The 'Don't Worry Darling' drama continues.
The Internet Thinks Harry Styles Spat on Chris Pine at Venice Film Festival
The 'Don't Worry Darling' drama continues.
In case you missed it, there's some drama happening around Don't Worry Darling, and a recent video clip of Harry Styles and Chris Pine has the internet believing that there's even more drama to unpack.
Long story short, the internet has been going wild over the feud between the movie's cast members. According to CNET, Olivia Wilde replaced Shia LaBeouf with Styles to play Jack Chambers. The filmmaker said in an interview, "His process was not conducive to the ethos that I demand in my productions. He has a process that, in some ways, seems to require a combative energy … I believe that creating a safe, trusting environment is the best way to get people to do their best work." LaBeouf later responded by claiming that he wasn't fired, but actually quit himself. The drama also involves Florence Pugh, whom Wilde says she's had conflict with.
Ever since the news broke, Twitter has been flooded with tweets about the drama, which seems to be getting more attention than the movie itself. The buzz escalated in a recent clip in which Styles seems to be spitting on Chris Pine, who stars alongside Styles and Pugh in the film, at the Venice Film Festival.
"The Spit >>>> The Slap," one user wrote, referencing Will Smith's slap at this year's Academy Awards. Meanwhile, others are claiming that there's no way the musician spat on the Star Trek actor. "I think Harry did spit but it was an accident, like he was saying something and spit flew and Chris noticed," a user commented, while another wrote, "Idk, the way Harry sort of looked at him after he did it … it's giving petty."
Watch the clip below.
#HarryStyles appears to spit on Chris Pine i won't sleep until i know the truth pic.twitter.com/wLXjIHTYgU

— JZMaclin (@Mac70J) September 6, 2022
---
Share this article