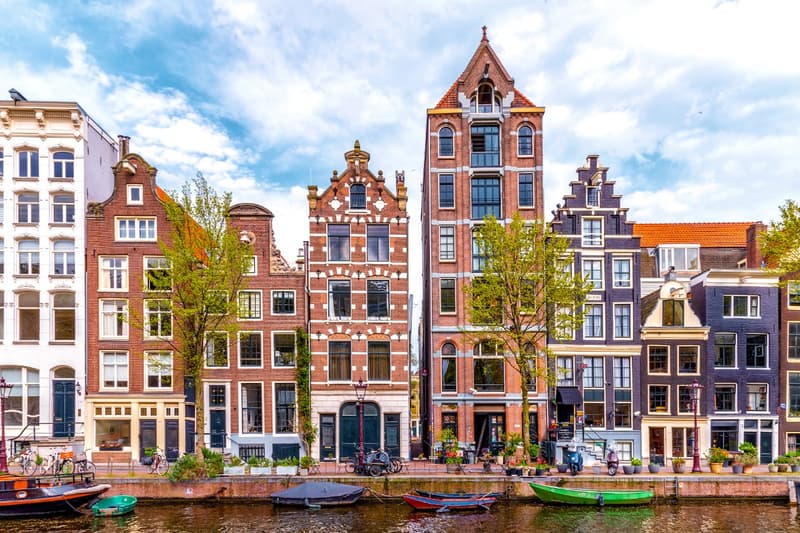 Culture
The Most Instagrammable Hotels to Book (And Fall in Love With) In Amsterdam
You won't want to leave.
The Most Instagrammable Hotels to Book (And Fall in Love With) In Amsterdam
You won't want to leave.
Massive understatement: It's easy to fall in love with Amsterdam. The beautiful city has so much to offer: cyclists pedaling over bridges bedecked with bright flowers, glittering canals and centuries-old canal houses, the majestic museums, the red-light windows and don't get us started on the food. The stroopwafels (waffle cookies with caramel filling), the Dutch pancakes and the psychotically tasty cheese options are all must-haves. But we're here to tell you about the best hotels in A'dam, from a hip 'n' homey canal-side haunt to an opulent labyrinthian property that's as picturesque as an Amsterdam postcard. Keep scrolling to learn more. 
Entering this buzzy hotel's lobby sort of feels like stepping into a fashion editor's moodily-lit living room in their West Village townhouse that you'd see featured in the pages of Architectural Digest. Housed in five 17th and 18th-century canal houses (including a former mayoral residence) and picturesquely perched on the Herengracht canal, this hip haunt — which opened in 2015 — is the Hoxton Hotel brand's first property outside of London. It also attracts a roster of globe-trotting creatives as well as in-the-know Amsterdammers who — street style photographers, take note — are often clad in sartorial-slaying numbers. Perfectly placed on the edge of the trendy De 9 Straatjes (the Nine Streets), you'll find many of the aforementioned typing away behind their MacBooks in the sprawling lobby-slash-people-watching-paradise by day, and sipping cocktails from the stylish bar as a DJ spins tunes by night. Just off the lobby is the fantastic Lotti's, where the lattes and avocado toasts taste awards-worthy, and on sunny days, the restaurant's gorgeous glass roof retracts. As for the 111 rooms that spill out across five floors? Designed in collaboration with local interior design company, Nicemakers, they're all quirkily sophisticated stunners that embrace the charm of the canal houses — some have carefully restored monumental ceilings, some are attic rooms featuring original beams and many offer dreamy canal views.
All rooms come with a stack of novels, a fridge stocked with free water, milk, beer and mid-century modern furnishings, including an angular brass chandelier, a vintage telephone, a large bespoke hexagonal mirror, timber herringbone flooring, modern bathrooms with rainfall showers and copper towel racks and a retro Roberts radio, which is always playing when you first arrive. There's a handful of room options that are aptly named, ranging from the wallet-friendly "Shoebox" to the luxe "Biggy," in addition to three unique concept rooms, including the "Tubby" AKA a faint-inducing attic room that comes with an — open your Instagram right now — roll-top bathtub. But no matter what room you choose, you're absolutely gonna feel like a VIP when staying at this sought-after hotel. Did we forget to mention that, for just four euros, you can wake up every morning to the delightfulness that is a paper bag dangling from your doorknob with a banana, a breakfast bar and a bottle of orange juice inside? #TeamHoxton really is great at everything.
ADDRESS: Herengracht 255, 1016 BJ Amsterdam, Netherlands
Since opening in the Palace Quarter just across the street from Centraal Station in 2017, the pet-friendly Kimpton De Witt has become a traveler's favorite. The lauded hotelier's first luxury European outpost is as stylishly sublime as it gets, with a kaleidoscopic lobby that has an edgy art gallery energy (don't miss out on the complimentary wine hour) and 274 utterly zen-luxe accommodations with a range of room types to fit many budgets. Rooms come in soul-soothing shades of blue and gray and contain custom ultra-comfort Kimpton mattresses, Frette robes, whimsical local art, textured rugs, dark wood furniture, coffee table art books and even yoga mats. Gold-plated door knockers shaped as dragonflies and owls, a geometrical bird-shaped reading lamp and striking Delft-style blue tiling in the bathrooms sprinkle in a very Instagrammable playfulness to the reposeful rooms.
For those into arched wood beams, soaking tubs, and/or private terraces, look into booking a specialty suite. History and design lovers will particularly swoon over Little House, a three-story, two-bedroom slice of heaven that dates back to the 1640s and was once the childhood home of legendary Dutch playwright P.C. Hooft. More than a respite to rest your weary head, hotel guests can work up a sweat by hitting up the fitness center or explore the 'Dam by borrowing a bike from the Concierge. Hungry post-perspiring? For a Californian-inspired meal, pop into the hotel's bright and airy restaurant Celia. And for some killer cocktails poured in an intimate, severely cool setting — a 17th-century Dutch house — grab a bar stool under the hot pink glow of neon lighting at Super Lyan, which just so happens to be the first international venue from the award-winning bartender Mr. Lyan.
ADDRESS: Nieuwezijds Voorburgwal 5, 1012 RC Amsterdam, Netherlands
Expect to forever find the famed Pulitzer Amsterdam within the top five of any and all "Best Luxury Hotels In Amsterdam" guides. Located in the fashion boutique-soaked Nine Streets and overlooking the gorgeous Prinsengracht and Keizersgracht canals, it's instantly clear that this five-star hotel, which opened its doors in 1960 and completed a full renovation in 2016 under the direction of Creative Director Jacu Strauss, is something truly special upon arrival. The labyrinthian — and endlessly Instagrammable property — is superbly stretched across 25 restored Golden Age canal houses. The Pulitzer immaculately blends quintessential Dutch elegance with a chic modern touch, starting with its posh yet eclectic lobby, with beamed ceilings, head-turning flower arrangements, jewel-toned velvet upholstery and opulent oil paintings dotting charcoal-painted brick walls. Then there's the subtly sexy Art Deco-style Pulitzer Bar, replete with a fireplace and shelves of books, and the high-end restaurant Jansz, which serves elevated classic Dutch dishes. And don't get us started on the exquisite tranquility that is the courtyard and garden that's enchantingly tucked away at the center of the hotel where guests can unwind and/or socialize post-sightseeing amongst seasonal plants, sculptures and swingy chairs.
Speaking of tranquility, while each of the 225 rooms and suites is individually designed, they all beckon well-heeled travelers with a warm color scheme, rich materials, and a decadent albeit welcoming feel: heavenly beds with grand headboards, cinematic (canal, courtyard or garden) views through towering windows, Tom Dixon table lamps and luxurious bathrooms with D.S. & Durga toiletries. A cheerfulness is peppered in with a vintage telephone, a vintage drinks trolley and an Amsterdam-friendly bicycle repair kit. For those ready to splurge, the suites are spectacular — and inspired by the flamboyant Dutch aristocrats who once called these dreamy canal houses home. (Tip: to take your stay to an even more luxurious level, inquire with the Concierge about the breathtaking boat tours.) Simply put, five stars all the way for this elegant home-away-from-home.
ADDRESS: Prinsengracht 323, 1016 GZ Amsterdam, Netherlands
The swanky Sir Albert Hotel is a global creative's hotspot located in the heart of the De Pijp district, which just so happens to be the hippest part of town. Housed in a 19th-century red-brick diamond factory, stay here if you want to feel like you're checking into an achingly cool majestic manor with a sexy, urban industrial edge — and at a reasonable price. Locals and guests alike relax on brown leather reading chairs by an open fireplace in the atmospheric study, where lots of engaging books and quirky artwork are on display. You'll find that things are always lively at the hotel's high-end Japanese restaurant, IZAKAYA, but if ordering room service in bed is more your thing, you won't be disappointed by the custom-made linens. Each of Sir Albert's 90 slick accommodations contains lofty ceilings, rainfall showers and a "goody box with guilty pleasures." Just make sure to venture outside into the bustling neighborhood at some point, as it's awash with authentic pubs, brunch spots and vintage shops. Plus, the famous blocks-long outdoor Albert Cuyp Market is just a short stroll away from the doorstep of this bold and beautiful boutique.
ADDRESS: Albert Cuypstraat 2-6, 1072 CT Amsterdam, Netherlands
Move over capsule hotels and hostels, and meet the gem of a small boutique hotel that is Mr. Jordaan, located in — you guessed it — the Jordaan, arguably Amsterdam's most Instagrammable and artsy district. Set in two 17th-century canal houses and tucked away on a surprisingly quiet street just steps away from the Anne Frank House, Mr. Jordaan has a warm, Airbnb-ish ambiance, which makes sense considering its origins: the founder began renting out rooms to tourists in the '60s, and post-makeover, it opened its doors as this charming boutique in 2016. The hip and homey enclave's aesthetic is warm with a side of retro (exposed brick walls, vintage furniture) and the 34 rooms, while on the snug side, emit an inescapably cheerful aura. That has a lot to do with every room boasting views that are fit for a postcard, varying from the gleaming Bloemgracht canal to sun-kissed neighboring rooftops.
We highly suggest booking the comfortably cozy attic room, replete with rustic wood beams, tall windows and a to-die-for bed. We also suggest setting your alarm and heading to the café-like space off the lobby where a delicious continental Dutch breakfast is served daily. Don't worry if you oversleep at this hotel-that-doesn't-feel-like-a-hotel, as there's a sea of dining options in the neighborhood. Stop by the very friendly front desk on your way out for some suggestions — and for a complimentary coffee.
ADDRESS: Bloemgracht 102, 1015 TN Amsterdam, Netherlands
For those wanting to live like a local without living in a stranger's apartment, it's all about Zoku Amsterdam's home-office hybrid loft apartments that are ideal for both short and long-term stays. Opened in 2016 and located slightly removed from the touristy chaoticness in the Eastern Canal District, Zoku has swiftly become the must-stay home base for hip global digital nomads. Each of the 133 effortlessly cool, clean and minimal Zoku lofts come with innovative stowaway furnishings, like an elevated bed with a retractable staircase to offer additional space, a workstation with office supplies and majorly equipped kitchens with espresso machines and dishwashers. You just may never want to leave your room, but if you do run out of olive oil or require some cleaning supplies, restock from the complimentary pantry conveniently found on each floor. You can even personalize your pad by picking your favorite artwork to hang on the walls from the art swap in the hallways. There's a lot to keep you from ever becoming homesick if you do leave your room: there's a breezy rooftop garden and greenhouse, a spirits bar, a laidback organic restaurant that serves dishes using fresh ingredients from the garden and greenhouse, a laundrette, a massage room, numerous co-working and kick-it spaces (including a music room where you can borrow a hanging instrument from the wall) and the list goes on and on at this digital nomad's magnet.
ADDRESS: Weesperstraat 105, 1018 VN Amsterdam, Netherlands
---
Share this article