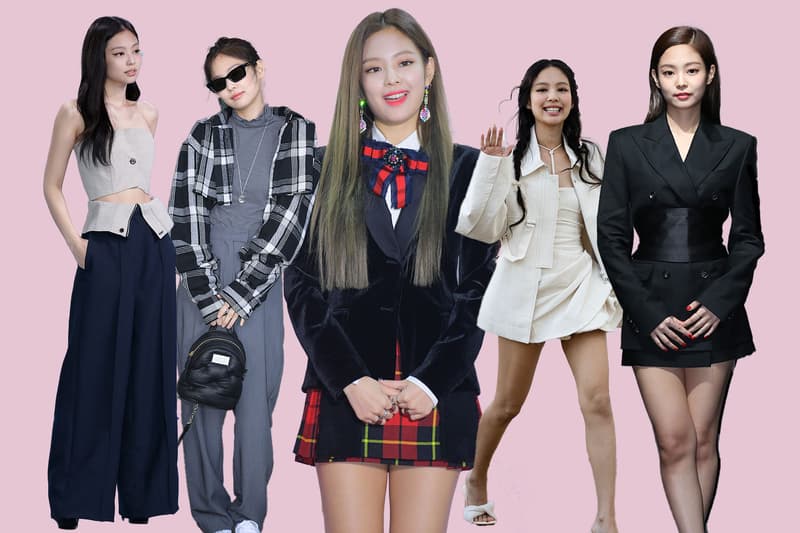 Fashion
Jennie's Style Evolution: From Chanel Poster Girl to Jacquemus Chic
We tracked the BLACKPINK star's best looks from 2016 to 2023.
Jennie's Style Evolution: From Chanel Poster Girl to Jacquemus Chic
We tracked the BLACKPINK star's best looks from 2016 to 2023.
BLACKPINK's Jennie has become nothing short of a style icon ever since the K-pop band made its debut in 2016. Since the band's formation, Jennie has worked with the likes of Gentle Monster and Jacquemus and starred in multiple Chanel and Calvin Klein campaigns. As a result, we've seen an immense style transformation as she's gone from a K-pop star to an all-round fashion favorite.
Over the years, we've seen Jennie sport many preppy Chanel dresses and skirts with matching accessories, often paired with platform court heels, eventually opting for more subtle trouser suits and sleek black gowns. Following the pandemic, we got more of a glimpse of Jennie's off-duty style, often characterized by pleated high-waisted trousers, plaid cropped shirts and Margiela backpacks alongside double denim fits and a laidback, layered approach to styling.
As Jennie began to attend more Fashion Week showcases and brand events, the K-pop star's style shied away from coordinated sets and separates and instead began to exude more of a subtle luxury approach to dressing. With more of a focus on tailoring and silhouettes, Jennie finally entered her Jacquemus era, attending the brand's stellar "Le Raphia" show at the end of 2022.
Continue scrolling for a complete history of Jennie's style evolution, from 2016 to 2023.
January 2016
In January 2016, Jennie attended the Melon Music Awards at Gocheok Sky Dome in Seoul, South Korea. The then-emerging star wore a preppy tartan skirt with a velvet black blazer and white shirt. Jennie also donned some pretty bold accessories and a bright red lip.
January 2017
In line with her love of minidresses and vibrant prints, Jennie attended the 31st Golden Disc Awards at KINTEX the following year wearing a musical note-printed dress with a diamante belt, collars and cuffs alongside dangly pearl earrings.
March 2017
Jennie's next look felt like quite a departure from her typically vibrant fits, as she instead opted for a sleek black Saint Laurent blazer and trousers, paired with black platform court heels and a YSL envelope bag.
June 2017
Attending Chanel's Mademoiselle Prive exhibition in South Korea, Jennie wore a white tweed minidress complete with layered necklaces, dangly earrings and a Chanel bag.
June 2018
Not too dissimilar to her previous Chanel look, the BLACKPINK star was spotted attending the brand's pop-up in Seoul the following year, where she donned a red and white sailor-style co-ord complete with beige platform heels.
December 2018
Every now and then, Jennie's style portfolio features an unexpected look from the star, with this sleek lace corset dress being quite a change from her usual preppy style. Jennie wore her hair tied back with dazzling earrings to complement the chic black look.
February 2019
Spotted outside of the Good Morning America studios, Jennie returned to her usual tweed co-ord look, this time paring it back with clean white sneakers and her favorite pearl earrings.
March 2019
Attending HERA's Black Foundation launch in South Korea, Jennie arrived in a black blazer dress, accessorized with a classic red lip and red nails. Another pared-back look for the BLACKPINK star, the simple outfit proved that sometimes, less is more.
March 2019
At the Chanel x Pharrell capsule launch party in 2019, Jennie opted for a yellow tweed dress worn over a sheer white turtleneck. The K-pop star paired her sweet look with a white bow headband and subtle, pink-hued makeup.
April 2019
Performing on stage at Coachella, Jennie wore a bold pearl-encrusted dress with lace detailing and sheer sleeves. It's a more adventurous look for the BLACKPINK star, allowing for plenty of movement and shimmer.
February 2020
Jennie was spotted at Incheon International Airport in 2020 sporting a much more laidback look. Pairing high-waisted grey trousers with a grey turtleneck and plaid shirt, the BLACKPINK star completed the cozy fit with a black Margiela bag, silver necklace and black sunglasses.
February 2020
Sliding back into her Chanel era, Jennie was seen leaving the airport in a sweet double denim look, complete with a white Chanel jacket and pearl necklace.
October 2022
Heading out for Paris Fashion Week, Jennie opted for black leggings and a Chanel dogtooth dress, complete with Chanel bucket bag and subtle jewelry. This look feels like a departure for the star, as she moves away from pastel-hued Chanel fits and begins to introduce a darker color palette.
October 2022
Another chic ensemble for Jennie, the BLACKPINK star attended a Porsche event in 2022 wearing wide-legged tailored trousers with a folded-down waistband and matching bandeau.
November 2022
Once again departing from the airport, Jennie headed towards BLACKPINK's European tour in 2022 wearing brown cargo-style trousers, an orange T-shirt and cozy crochet cardigan. Jennie completed the off-duty look with a sleek black Jacquemus bag.
December 2022
Finally, Jennie recently attended Jacquemus' "Le Raphia" show wearing an all-white outfit from the brand. The singer opted for padded white sandals, paired with a ruffled minidress and matching jacket, alongside a fluffy Jacquemus bag. Jennie continues to experiment with new color palettes, opting for monochrome fits and different textures and honestly, we love to see it all.
---
Share this article