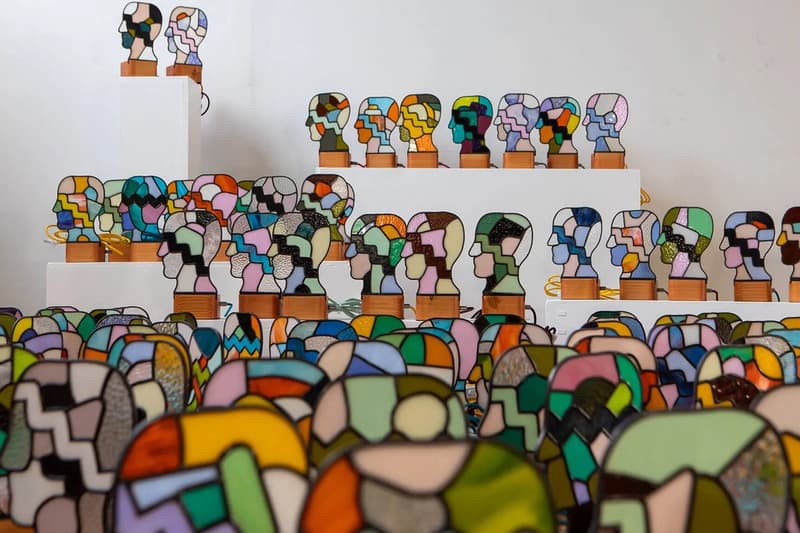 Art & Design
Brain Dead x Kerbi Urbanowski Brighten Your Home Office With Stained Glass Desk Lamps
Shining a light on 2023.
Brain Dead x Kerbi Urbanowski Brighten Your Home Office With Stained Glass Desk Lamps
Shining a light on 2023.
Brain Dead and Kerbi Urbanowski are lighting up 2023 with their latest collaborative collection of one-of-a-kind stained glass desk lamps.
The joint offering features a myriad of shapes, colors, and textures add a heavy dose of color and whimsy to the home. The lighting fixtures arrive modeled in the Brain Dead face logo for an extra touch of kitsch and eccentricity. The silhouette is attached to a wooden base outfitted in a mid-century modern orange hue, the bottom of which is engraved with Urbanowski's signature. The power cord continues the lamps rainbow-colored aesthetic as it appears in shades of red, blue, black, orange and yellow.
Reflecting on her work, Urbanowski said, "Over the past few years I've dedicated the majority of my time to studying the foundational history of stained glass. I've honed my skills to become clean and precise. This is where I part ways with traditionalists, embracing craftsmanship and technique while leaving behind templates, prefab designs and old-school aesthetics."
Brain Dead's range of Kerbi Urbanowski stained glass desk lights are available for at Brain Dead Studios Fairfax and Sunset, as well as online at 10 a.m PT on January 3 for $350 USD.
---
Share this article