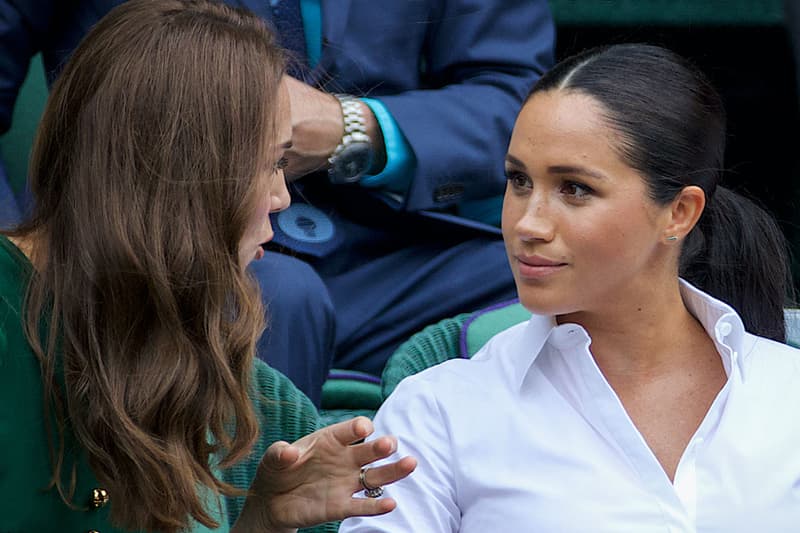 Entertainment
Meghan Markle's Tailor Weighs In on Bridesmaids Dresses Drama
"If anything happened in the background, it didn't happen in front of me."
Meghan Markle's Tailor Weighs In on Bridesmaids Dresses Drama
"If anything happened in the background, it didn't happen in front of me."
Meghan Markle's tailor has spoken out in an attempt to clarify the situation involving Kate Middleton and Markle's bridesmaids dresses.
While the supposed conflict took place nearly five years ago, the conversation has found itself back onto social media as a result of Prince Harry's memoir, Spare. Harry details the exchange in his book, recounting text messages that were sent by Middleton and Markle, which reportedly played a big part in the fallout of their relationship.
Now, Markle's tailor, Ajay Mirpuri, has shared his thoughts on what actually happened that day. In a recent interview, Mirpuri confirmed that "If anything happened in the background, it didn't happen in front of me. But yes, weddings are stressful at the best of times – and especially one at this high level; you've got to respect that."
He went on to clarify the problems regarding Princess Charlotte's dress, explaining that "They were faced with a problem like anyone gets at a wedding, with last minute hitches. I can understand why anybody would be upset if the dresses weren't fitting – it's nerve-wracking. I feel for them all, because you wouldn't want the children to go out on a big stage in an ill-fitting dress – and that's what they were."
Mirpuri then confirmed that all six of the bridesmaids' dresses needed to be altered, as was suggested in Middleton's text. "I'm a royalist and I wanted to do whatever I could with my small business to serve the Royal Family," the tailor added. "I won't say it upsets me, but in that whole big event, this [the argument] is what's spoken about the most – it should be the fact that they [the bridesmaids] looked fabulous."
For more on the Royal Family, check out our roundup of the biggest takeaways from Prince Harry's book.
---
Share this article