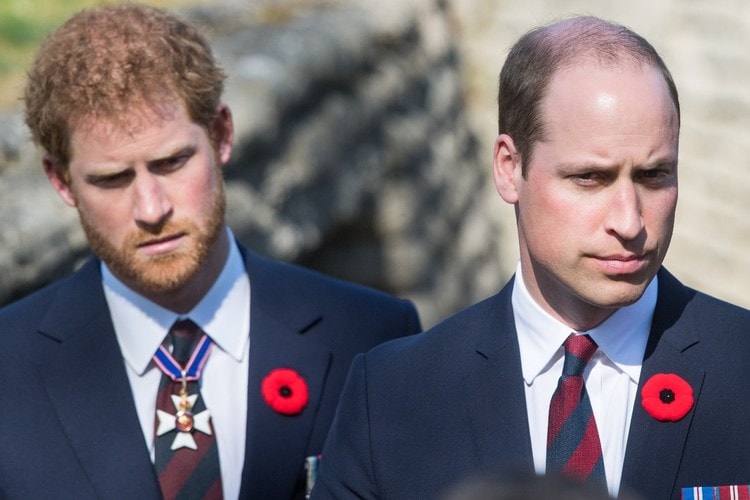 Entertainment
The Biggest Takeaways From Prince Harry's Tell-All Interviews and Memoir
Including his thoughts on his mother's death, his relationship with brother William and his views on racism in the institution.
The Biggest Takeaways From Prince Harry's Tell-All Interviews and Memoir
Including his thoughts on his mother's death, his relationship with brother William and his views on racism in the institution.
It's been a pretty big week for Prince Harry, and as a result, the Royal Family, as the Duke of Sussex publishes his tell-all memoir, Spare, and agreed to an in-depth interview with British news channel ITV and on CBS's 60 Minutes. As expected, there's been a lot of information — both new and old — shared regarding Prince Harry and Prince William's tumultuous childhood, the death of their mother Princess Diana and the racial controversy surrounding Harry's relationship with his wife Meghan Markle.
As a result, it's been tricky to keep up with the constant stream of news and so-called shocking revelations, so we've compiled a list of the biggest takeaways from both Prince Harry's interviews and his soon-to-be published memoir. Whether it's his arguably confusing stance on racism within the institution, his surprising arguments with brother Prince William or his desire to eventually reconcile with his family, despite their many differences, there are a few major moments and plot points that got everyone talking.
Read on for the five key takeaways from both Prince Harry's interviews alongside his autobiography.
While you're here, check out the details of Prince Harry and Meghan Markle's latest documentary.
Prince Harry Still Doesn't Think the Royal Family are Racist
During Harry's ITV interview with Tom Bradby, he opened up about the viral Oprah Winfrey interview in which he did alongside Markle back in 2021. Harry confirmed that the pair did not refer to the Royal Family as "racist," and that the word was one used by the British press instead.
Harry suggested that there were differences between racism and unconscious bias — which many members of the public have since disagreed with — suggesting that "Once it's been acknowledged or pointed out to you as an individual, or as an institution, that you have an unconscious bias you, therefore, have an opportunity to learn and grow from that in order [to make sure that] you are part of the solution rather than part of the problem. Otherwise unconscious bias then moves into a category of racism."
Harry believed Princess Diana "Faked Her Death" for Many Years
During both interviews, Harry confirmed that both he and William were of the belief that their mother, Princess Diana, had "faked her death" for many years. "I just refused to accept that she was gone," the Duke told Cooper during his 60 Minutes interview. "Part of [it was that], she would never do this to us but also part of [it was that], maybe this is all part of a plan," he added. At the time, Harry believed that Diana had "decided to disappear for a time," but was sure that she would call him and his brother to join her when the time was right."William and I talked about it as well. He had similar thoughts," Harry confirmed.
Harry Admitted to Taking Various Drugs as a Coping Mechanism
In the past, the press published countless allegations of Prince Harry's drug abuse following his mother's death, which, naturally were always denied. In the wake of the Duke's memoir and interviews, he's since admitted to heavy drinking and psychedelic drug use as his way of coping. "It was obvious to us as kids, the British press' part in our mother's misery and I had a lot of anger inside of me that luckily, I never expressed to anybody," he told Cooper. "I resorted to drinking heavily. Because I wanted to numb the feeling, or I wanted to distract myself from how… whatever I was thinking. And I would, you know, resort to drugs as well," Harry confirmed.
The Duke added that "For me, [the drugs] cleared the windshield, the windshield of the misery of loss. They cleared away this idea that I had in my head that– that my mother, that I needed to cry to prove to my mother that I missed her. When in fact, all she wanted was for me to be happy."
Prince William Forced Harry to Shave His Beard for His Wedding
One of the strangest talking points from Harry's memoir, Spare, was about the decision behind Harry shaving his beard off for his wedding day. To the average person, this may not seem to be a huge controversy, but as a royal, such decisions are met with intense deliberation and as a result, represent something far more important. For Harry, the beard discussion represented an underlying power struggle between him and his brother.
"This beard felt to me at the time felt like the new Harry. As almost like a shield to my anxiety," he confirmed. It appeared that William had been told to shave off his beard for his wedding, and as a result, wasn't impressed by the fact that the Queen had reportedly allowed Harry to keep his.
Prince Harry and William Both Asked King Charles Not to Marry Camilla
It's no secret that the relationship between King Charles and Camilla is a rocky one, even if The Crown is not to be entirely believed. However, what viewers might not have known prior to Harry's book or interviews, is the fact that both he and William asked their father not to go ahead with the marriage. In his book, Harry claimed that Queen Consort Camilla had "launched a campaign" to marry his father, suggesting that she was only after the Crown and had King Charles' blessing to take it.
During his ITV interview, Harry clarified that despite he and William not wanting the marriage to take place, they saw how happy Camilla made Charles and both were supportive of them during the wedding day.
Reconciliation Is "100% a Possibility" According to Harry
Finally, Harry confirmed that despite all that's been revealed and the ensuing damage that has occurred, he's still open to forgiving his family and hopes that they can one day reconcile. "Forgiveness is 100 per cent a possibility," he said to Bradby, adding that "At the moment I don't recognise them and they probably don't recognise me."
The Duke also opened up about the fact that he's made multiple attempts to contact his family and address matters privately, but they've "shown absolutely no willingness to reconcile up until this point." Harry also shared an intimate moment between him and William which took place at Prince Philip's funeral, where William said that all he wanted was for Harry to be happy, "on mummy's life." The reference to their mother was one the boys hadn't used since they were younger, and only in "emergencies," according to Harry.
"It is heartbreaking, this whole thing is completely, not only unnecessary but incredibly sad. But there is a way out of it and that's what I'm focussed on now," he said. "I love my father, I love my brother, I love my family. I always do. I want reconciliation. But, first, there needs to be some accountability," Harry added.
---
Share this article