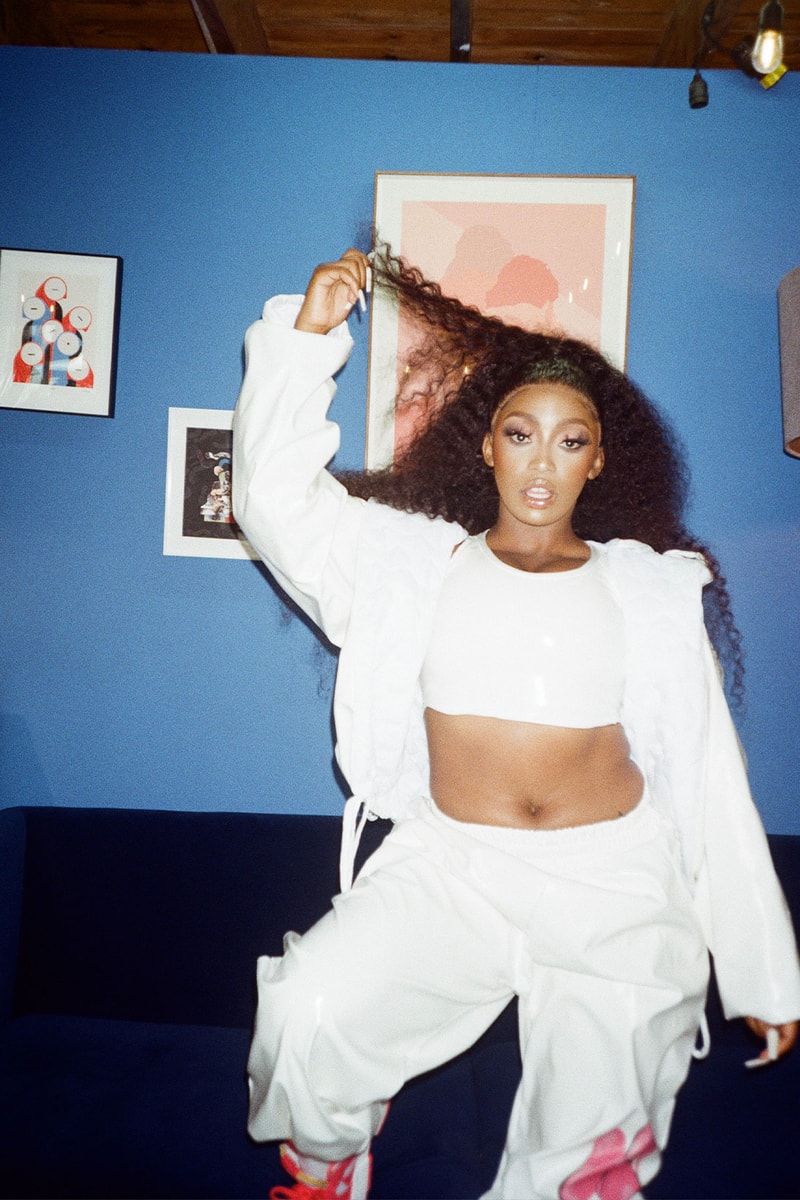 As Kamo Mphela Says, Amapiano Is Not Just a Genre, but a Lifestyle
We speak to the breakout South African artist about her love for the welcoming spirit of the genre.
Music
As Kamo Mphela Says, Amapiano Is Not Just a Genre, but a Lifestyle
We speak to the breakout South African artist about her love for the welcoming spirit of the genre.
Over the course of the pandemic, a music genre dubbed amapiano has been brewing in South Africa, expanding overseas as it continues to make its way to global music and nightlife scenes.
You may have heard the emerging genre yourself if you're into house music. Recognized for its synths, high-pitched piano melodies and Kwaito basslines, amapiano — Zulu for "the pianos" — first emerged in the mid-2010s and began expanding from South Africa to other parts of the African continent thanks to platforms like TikTok, where Gen Zers started viral dance challenges featuring the sound. The genre grew at an exponential rate during lockdown as major names like Burna Boy teamed up with South African DJ Kabza De Small. It continued onto gaining international recognition as Sha Sha (dubbed the "amapiano queen") won Best New International Act at the 2020 BET Awards.
As the world comes out of the pandemic, it's now time for amapiano to shine even more. As part of its ongoing partnership with Boiler Room, Scotch whisky brand Ballantine's hosted a True Music Studios experience in Soweto, one of the biggest townships in Johannesburg, to celebrate the genre and its core community. The global residence project, which will be celebrating its 10-year anniversary in 2024, featured events such as parties, talks with industry pioneers, a dance masterclass and a vogue ball, highlighting amapiano as a lifestyle, in addition to the creative scene of South Africa.
View this post on Instagram
One of the leading names throughout the four-day program was Kamo Mphela, a breakout amapiano dancer and musician who jumped into the scene after blowing up via a viral video clip on social media. Hosting an amapiano dance masterclass to her latest single "Hannah Montana," the 23-year-old brought members of the Sowetan community together — a true reflection of the welcoming and diverse nature of amapiano. The essence of the genre is also shown with more female artists like Mphela, DBN Gogo, Uncle Waffles, Kmat and more taking over the scene that has mostly been driven by male musicians in the past.
During our trip to Soweto, Johannesburg, Hypebae spoke to Mphela about her growth as a musician, her love for amapiano, being a woman in the scene, her future plans and more. Continue scrolling to read our conversation with the star at the latest installment of Boiler Room x Ballantine's True Music experience in Soweto.
Who are you and what do you do?
My name is Kamo Mphela. I'm a South African amapiano artist who's blowing up in the scene internationally! I dance, create amapiano music and am an all-around entertainer.
How did you first get into the music scene?
I blew up on social media after posting a dance video that went viral and then released my first single shortly after that. That was when amapiano was just starting to blow up in South Africa before it started reaching global listeners.
Tell us about your latest single, "Hannah Montana."
It was all about making a dope vibe, and it was an introduction to my alter ego "Kiki." That's where I made the connection to the show Hannah Montana where the main character lives two lives. Through my single I kind of created the distinction between Kamo Mphela and Kiki but expressed it in a fun way.
What is an overarching theme you aim to deliver through your dance and your music?
I just want to deliver good performances and a different vibe as a South African musician. I feel like South African artists are rarely given opportunities on an international stage to showcase what they really stand for in a creative way. We've always seen the more mainstream parts of the world doing that. Genres like house music have done well worldwide, and now I think it's time for female vocalists who are part of the house and amapiano scenes to step forward, and that's what I'm trying to be.
You've paid homage to names like Michael Jackson in your music. Who are some other musicians you've loved listening to and are inspired by at the moment?
Rihanna — obviously she's huge but everything she's doing is so crazy. Doja Cat is someone I'd really like to have a feature with. And GloRilla has a dope rapping vibe and I think she would sound amazing in amapiano.
For those who don't know, how would you describe amapiano as a genre and what is your own interpretation of it?
Amapiano is basically a lifestyle. It's natural, very diverse and it just relates to everyone, which is why I think it's becoming such a big thing. Amapiano is not about flexing in any way — in my previous track "Nkulunkulu" I was praying to God. The genre is very dynamic and it's about the real South African lifestyle seen from the eyes of people who are typically not seen as "valuable" in society. Amapiano is just raw and original, and that's what makes it so amazing. It makes everyone feel included and involved. Social media platforms like TikTok have also acted as a great medium to spread amapiano to the world, allowing people anywhere to connect with the community.
It's the first time Boiler Room and Ballantine's are putting on a True Music show in Soweto, just a few years after you performed in London. Where do you think amapiano, as a genre and a lifestyle, is headed in the next few years?
I definitely think amapiano has the potential to grow on a larger, global scale. Right now, it's growing in places we've never even expected and I truly think it's going to be as big as hip-hop or Afrobeats. What's great is that it's a sound from South Africa.
What are some challenges you face as a female musician in the scene as you continue to pursue your career?
I wouldn't say it's necessarily a challenge but one thing I do wish to see is more collaborations between female artists in the amapiano space. I don't think we're collaborating as much as we should. If we all come together one day, with names like DBN Gogo and Uncle Waffles, that would be a great push for all of us in the scene.
As social media continues to take over our lives, do you think it has had a positive impact on music in the sense that people are more easily exposed to sounds from around the world?
I think social media is almost the only way we're able to reach audiences around the world. Amapiano did blow up because of social media because we were actually in lockdown due to the pandemic. For instance, someone in Asia would probably get exposed to amapiano on social media than anywhere else. In that sense, the internet has been used as a great tool to push for diversity and inclusion in music. It's something that's inevitable with most of the world living in the digital space.
Tell us about your involvement with Ballantine's and Boiler Room's True Music experience. 
I performed a set alongside Njelic, Kabza De Small, Daliwonga, Toss, Playgal, Kmat and Thabza Tee, and I'm also hosting an amapiano dance masterclass with the members of our community. It's exciting because the dance component is quite new for Boiler Room and I do think amapiano is about more than just the music.
What are some next steps for you?
I'm planning to do a show in the U.K. this year, probably around December. Some next steps for me include some clothing launches and international features. Just big dreams and big plans! And more music — I'm probably dropping a new album either this or next year. We'll see how everything goes.
This interview has been condensed and edited for clarity.
---
Share this article