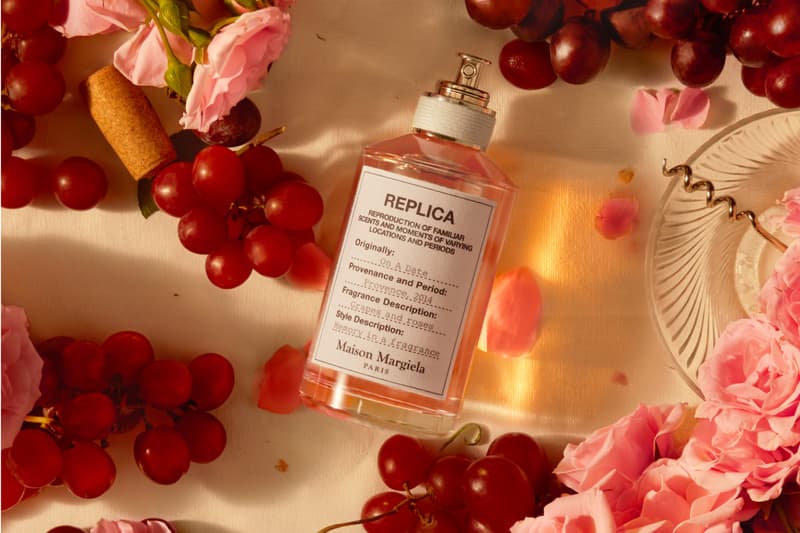 Beauty
Maison Margiela Captures the Joy of Falling In Love with "Replica On A Date" Fragrance
The latest "Replica" fragrance explores the worlds of perfume and wine.
Maison Margiela Captures the Joy of Falling In Love with "Replica On A Date" Fragrance
The latest "Replica" fragrance explores the worlds of perfume and wine.
Encapsulating the golden light of a late summer evening as the scent of ripe grapes and fresh roses fill the air, "Replica On A Date" is the latest Maison Margiela "Replica" fragrance. Created to reflect the sense of joy and excitement one feels on a date, the thrilling scent is inspired by the magnificent vineyards of Provence and is a creative exploration between the worlds of perfume and wine. 
Spawning a collaboration between master perfumer, Carlos Benaim and master sommelier, Manuela Peyrondet, "Replica On A Date" sets the senses on high with a unique, profound fragrance that evokes a sweet, seductive quality that captures the invigorating, addictive fruitiness of ripe grapes bathed in warm sunshine and the delicate character of wild roses. "First, I sought the best way to express the aromas of red wine. "I translated its finesse and freshness by using Crème de Cassis, Davana and then I also explored the aromas of rosé wine by expressing its energy and roundness," master perfumer Carlos Benaim says. 
Imbued with sustainably and ethically sourced ingredients, the fragrance includes notes of sparkling Bergamot, luminous Rose, Patchouli Essence, Rose Petal Essence and Blackcurrant Liquor Accord, adding a magnetic woody signature while evoking the soil of the Provence vineyards at the early stage of the night. "For me, perfumes are all about making you feel good and "On A Date" was inspired by the exceptional terroir of Provence, which offers a contrast of unique aromas," master sommelier Manuel Peyrondet adds. 
"Replica On A Date" from Maison Margiela will be available in 100ml, 30ml and 10ml formats along with a "Replica" candle and available for purchase on Sephora's website. 
---
Share this article