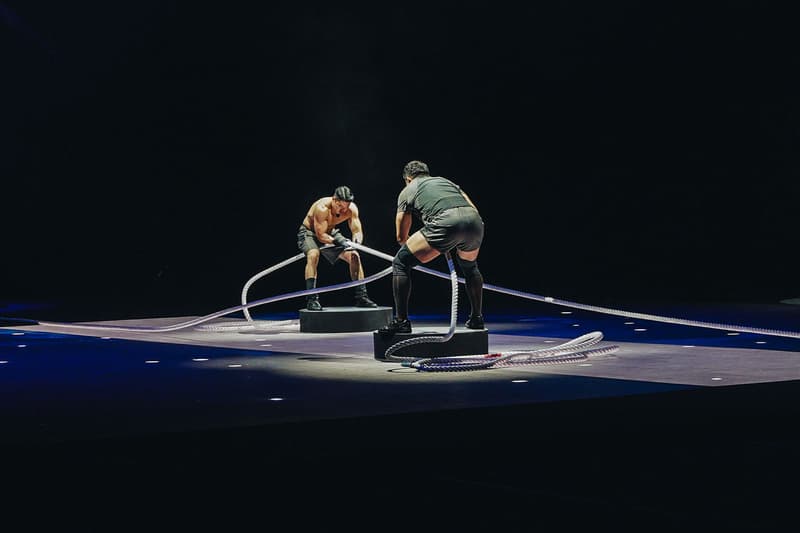 Entertainment
The Controversy Behind Netflix's Competition Show 'Physical: 100,' Explained
Some viewers are claiming that the competition was rigged.
The Controversy Behind Netflix's Competition Show 'Physical: 100,' Explained
Some viewers are claiming that the competition was rigged.
Social media has been flooded with posts and memes based off of Physical: 100, the newest Netflix reality competition show. Upon its premiere, the South Korean series topped the streamer's charts, gaining traction for its Squid Game-like design and well-known names such as MMA fighter Choo Sung-hoon (aka Sexyama).
For those who have yet to watch it, the 10-episode show features 100 contestants in Korea who are given quests and matches to compete in to become the last one standing. Each round is meant to challenge participants' physical abilities such as agility, balance and endurance, with elements like teamwork also coming into play.
While the series has been one of the most talked about in recent weeks, Physical: 100 has been embroiled in controversy surrounding the finale, which involved a rope-pulling competition.
Continue scrolling to read about Physical: 100 and the controversies that have risen since the finale premiered on Netflix.
Warning: This post contains major spoilers for Netflix's Physical: 100. 
What is Physical: 100 about?
Physical: 100, which premiered on Netflix at the end of January, is a reality competition show that tests contestants' physical abilities. In the series that is often compared to Squid Game for its set design and format, 100 competitors are challenged to take part in physically challenging matches to become the last person standing. Challenges range from individual to team formats, with a variety of games focused on strength, agility, balance, endurance and more. The final winner of the tournament was awarded ₩300 million KRW (approximately $230,000 USD).
What was the controversy surrounding the final match?
In the final round of the series, CrossFit athlete Woo Jin Yong beat cyclist Jung Hae Min in a match that required the two to pull ropes as fast as they could. However, once the final episode was aired, viewers pointed out that it seemed as if Woo's spool of rope was easier to pull in comparison to Jung's.
There are allegations suggesting that the final match had to be played in three separate rounds due to technical issues. According to some claims, Jung was winning the first round until Woo flagged to the production staff that there were issues with his spool. Jung also allegedly won the second round, but they had to proceed to a third match because there were issues with picking up the audio. After being convinced to play a third round, Jung ended up losing against Woo.
"Jung Hae Min is very discouraged by what happened on the show. I think Jung Hae Min is not associating with Physical: 100 at all after the show because of what happened on set," an anonymous insider stated. MBC, the network that produced the show, stated, "We can confirm it's not true the final game was done three times. The production team is discussing taking legal action against these baseless rumors."
How did Netflix respond?
Responding to the rumors of the show's finale being rigged, Netflix Korea stated, "The rumors that we conducted multiple rematches for the final round are not true. We did not manipulate the results nor make the match easier for any contestant. There were no 'rematches' that reset the progress or altered the game results." ​
How did Jung Hae Min respond?
Jung Hae Min, the runner-up in the competition, issued a statement regarding the controversy. He began by sharing that the show was filmed in July 2022. "When we started the rope-pulling match, there was a big difference. Even members who were watching said that I was about three times faster. But that was when Jin Yong raised his hand and stopped that game. He said the spool was making too much noise and told the production staff his equipment was faulty." The producers then lubricated his wheel.
Jung further noted that in the second round when he finally thought he'd reached the end of the competition, the production staff paused the game once again due to audio problems. "We were told to take a break only for the staff to come back, saying that they couldn't use the footage they filmed because of an audio problem. They said that as long as I was okay with it, they would cut the rope and film again. Jin Yong agreed too." Jung ended up agreeing to do a rematch the same day, because he couldn't come to ask hundreds of contestants and staff members to come out again the next day.
"The producers said they would cut the rope as much as I had already pulled out, but I don't know if they really did that or not. They also mentioned a fault with the equipment, but I'm not even sure if that was really true. I eventually ran out of strength, and the rope would no longer budge."
He added that the producers told him "contestants couldn't intervene with the editing process," although he wished for them to show why exactly it was that he lost. He continued to explain that as an athlete, it's hard to accept that it was shown as if he had lost without much context.
Jung stressed that the reason for issuing the statement isn't because he wants the money. "I don't want to be in first place nor do I want a rematch, and I hope that there is no aggression against Jin Yong." He added that he doesn't want to attack anyone and was simply frustrated so he wanted to share his piece.
Producers reveal unedited footage at a press conference
Updated on March 9, 2023: Following weeks of controversy and speculation, the producers of Physical: 100 held a press conference in Seoul to reveal the original, unedited footage from the final game. They shared that the match had to be stopped for the first time due to audio issues, apologizing to viewers, cast members and the contestants for the disturbance. Woo Jin Yong's wheel of rope started making noise, followed by Jung Hae Min's and the shoot had to come to a pause.
26 seconds later, the match was paused for a second time. The producer explained that this was due to the knotting on the pulley on Woo Jin Yong's rope. "We explained the unprecedented situation to both contestants and we made sure they were both okay with it. We asked if they would like to redo the match a few days later but they wanted to continue on the same day. It is not true that the production team manipulated the results to make a specific contestant a winner."
---
Share this article