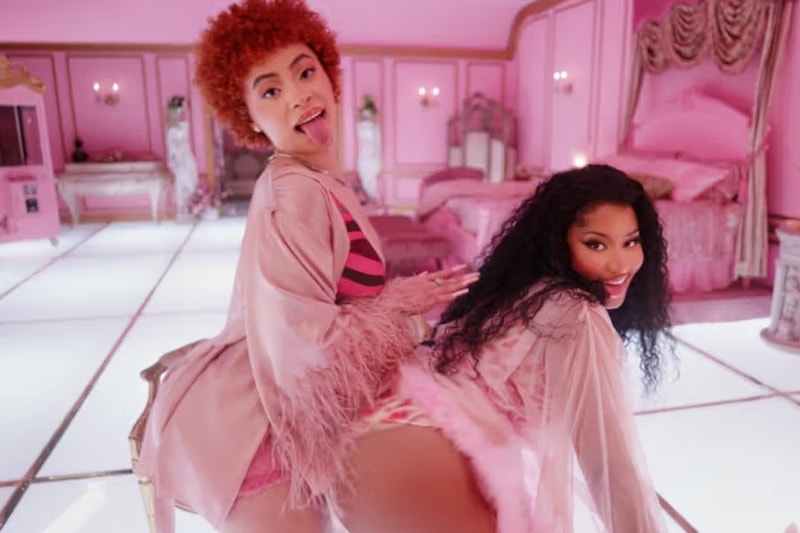 Music
Best Music of April: Nicki Minaj, Bebe Rexha, Grupo Frontera, Linkin Park and More
Featuring some of this year's best collabs so far.
Best Music of April: Nicki Minaj, Bebe Rexha, Grupo Frontera, Linkin Park and More
Featuring some of this year's best collabs so far.
April is always a big month in music thanks to Coachella. However, this year, April has been extra memorable because of all the amazing drops. The following unexpected collabs have proven to give us songs we're playing on repeat for months to come: Ice Spice x Nicki Minaj, Grupo Frontera x Bad Bunny and The Weeknd x Future. Additionally, it's also been a time of nostalgia thanks to Linkin Park's special 20th-anniversary re-release of their 2003 album, Meteora, and Bebe Rexha's self-titled '70s-inspired album. For more on April's best music, keep scrolling.
Ice Spice and Nicki Minaj — "Princess Diana" Remix
Ice Spice and Nicki Minaj dropped the remix to "Princess Diana." The original version first appeared on Ice Spice's debut EP, Like..?, which she released in January. The remixed version took the track to another level; the music video gives Barbiecore, fully supporting both rappers' aesthetics. The collab also shows how far Ice Spice has made it as she's always looked up to Minaj.
Grupo Frontera and Bad Bunny — "un x100to"
Grupo Frontera and Bad Bunny joined forces to deliver "un x100to" (one percent) — a norterño song with hints of reggaeton. The song is an unexpected collab from both acts as they've managed to mix two completely different genres and make it sound so good. As a result, it's created a new wave of fans. Of the collab, Bad Bunny told Apple Music, "I've been in love with this whole movement, this new movement of Mexican music. I think it's beautiful what is happening. It's very necessary because the world needed, I think the world needed to know more about all culture, the Latin culture."
Bebe Rexha — Bebe

Bebe Rexha dropped her third studio album, Bebe. The new LP is inspired by the '70s as it features a mix of pop and disco vibes. Her lead single, "Heart Wants What it Wants," perfectly sets the tone for the rest of the album — fun, energetic and simultaneously fresh and nostalgic. Bebe is made up of 12 tracks, two of which include features by Snoop Dogg and Dolly Parton.
The Weeknd and Future — "Double Fantasy"
The Weeknd and Future have once again joined forces and this time on "Double Fantasy." The track was first previewed online, then debuted during Coachella weekend 1. "Double Fantasy" is part of The Idol soundtrack. Lily-Rose Depp, who plays Jocelyn, AKA The Weeknd's love interest, is featured in the music video, giving fans a taste of the show's tone.
Drake — Search & Rescue
Earlier this month, Drake released the controversial track "Search & Rescue," which samples Kim Kardashian and Kris Jenner's voices. The song garnered attention online as many believed this was a diss towards Kanye West, especially since the voice recording he sampled was a convo about Kardashian and West's divorce, which was first featured in Keeping Up with the Kardashians. However, Drake's dad, Dennis Graham, took to social media to assure there Drake "is not trolling anyone."
Linkin Park — Meteora 20th Anniversary Edition
In 2003, Linkin Park released their sophomore studio album, Meteora, which took the band to new levels as it became one of their biggest LPs with hits, such as "Somewhere I Belong" and "Numb." In honor of the album's 20th anniversary, Linkin Park released a special 20th-anniversary edition, which contains live sets, demos and "Lost," a song that up until last month had been unreleased for two decades.
Jhayco and Quevedo — "Mami Chula"
Jhayco and Quevedo collaborated on "Mami Chula," which loosely translates to an attractive It girl in Spanish. "Mami Chula" is a feel-good, celebratory song, especially for women as both artists sing about adoring and being mesmerized by the "mami chula" in their lives.  Though released in the spring, "Mami Chula" is setting the tone for the summer.
Daniel Cesaer — Never Enough

This month, Daniel Ceaser returned with his third studio album, Never Enough. The LP, which is comprised of 15 tracks, was first formed during the COVID-19 lockdown. The R&B singer created this album with one ultimate goal — to help fans "understand themselves better." During an appearance on Deconstructed with Alex Narvaez, Cesaer said, "I hope they take their own lives and hold it up against their own lives and measure it and figure how they feel."
---
Share this article